If you have ever listened to any music in your lifetime the chances are high that you will have heard one of these guitars. A few guitars have become icons in their own right and have also become musical objects of desire. Music is and always will be the thing that moves us. It motivates us and it consoles us like no other thing on earth.
Gretch acoustic guitar
I bought the guitar above with a income tax rebate that I got way back in 1977-78. I wanted to buy something that I could enjoy and didn't want to waste the tax windfall of £75 ($90.90) that I had just recieved.
I had no idea that this guitar would be my constant companion to this day? Many things change with the passage of time but this guitar has always been there through all of life's up and downs and never demanding anything other than an occasional strum.
You may find this hard to believe but every time I get this guitar out of it's hard case it is always in tune. To be totally honest I did not know much about guitars when I bought it but it was a toss up between this and a Fender acoustic. I just liked the tone of the gretch better.
I couldn't play guitar when I bought it but I did learn over the coming months and years to knock out the odd tune. My influences were the Beatles, Bob Dylan, Paul Simon and the Eagles to mention just a few of the bands that I praticed playing their tunes.
I began to take lessons in rock, classical and spanish guitar methods and it was one of the most absorbing things that I have even done. I formed a few bands and created a collective of musicians called the Island Music Project.
We played live in pubs and clubs and actually got paid in a time when bands were not getting paid.
How did we get paid? We guaranteed the pub owner at least 30 people would turn up for the gig and of course the 30 people were all musicians in the collective.
When other people see a pub rocking they want to come and see what is going on so the pubs were always packed wherever we played. Eventually with a partner we founded a record company called World Music Ltd. (this was way before world music became trendy)
My guitar has traveled with me to many countries around the world and the first trip in 1979 was to the U.S.A. I rode the Greyhound bus across the country from New York to Los Angeles and it was a mindblowing 6 weeks adventure. I fully understand why @ned seems glued to his guitar. It can be a comfort in difficult times. Hope you are well btw.
I met so many brilliant people on my journey that it left an indelible mark on my psyche. The Americans that I met were just super helpful and considerate and at that time few Brits were crossing the Atlantic. So I was a bit of a novelty.
So why am I telling you all this, you my loyal readers may wonder? Well I haven't been playing much over the last few years but the itch to play has never gone away.
Recently after meeting up with fellow steemians @steevc and @adetorrent and watching the fun that steve has with his guitar. I began looking at the guitars that I had always wanted but could never afford.
Steve told me that he had sold some steem on just a couple of occasions, one being to buy his guitar which gives him so much pleasure.
I have never taken a single cent off of the platform and after two years of constantly buying steem and powering up I have stacked over 6,000+ steem. Not much but not bad either.
My rep score just passed 69 last week and I took a week off to consider what way to develop my future strategy on steem.
I have written 578 posts and made 7,417 comments and had 8,345 replies in the last two years I have learned so much about the crypto space and improved my skills on my new love - photography.
I teach computer science all day long so I really don't want to code in my free time which was one option. Still a possiblilty but more along the lines of forming a community using a steem-engine.com token.
Pivot point - My plans for the future
This is a pivotal moment for me going forward and I decided that I am going to buy a new guitar and I'm going to have some fun with it and maybe schill a few in the process.
My plan is simple. I will buy various models of Thormann branded guitars and amplifiers and make videos about the unboxing and playability of each model. Nothing new there but in my plan.
After I have reviewed and fully tested the guitar or other products I will auction them off, with the proceeds going to either a charity or new struggling members on the steem network who need a boost in steem power.
Buying a new guitar is not easy
Buying a new guitar is a bit of a minefield and very confusing even for an establised player like me so this last week I have been researching the guitar market for #marketfriday initiated by the amazing @dswigle
The legenday guitars are still way to expensive for me but there are many alternatives now with great promise and super low prices.
The technology to make a good guitar has become so much cheaper to manufacture and prices are super low on copies of branded guitars like Gibson, Fender and PRS.
These newer brands are not the cheap knock offs commonly known as Chibsons but are quality controlled and overseen by a German company called Thomann.
I have seen so many rave reviews and videos about their branded Harley Benton guitars and even some blind tests were the players could not tell the difference in sound between a $6,000 guitar and the Thormann version at just over 200 bucks! I think I can risk some steem to check one out.
After much research I have settled on this Harley Benton SC-450 CB Classic Bundle 1(Gibson classic Sunburst style) from their wide range on offer. This combo is priced at €195 £178.39 ($216.51)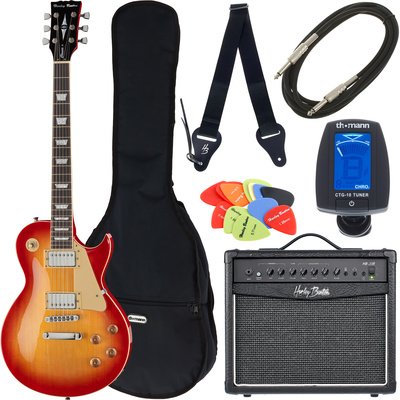 All that stuff for $200 bucks and free delivery to the UK? It's a no brainer to me. Hope it sounds as good as the ones I have seen online?
Disclaimer:- I have joined Thomann as a partner. If you buy through my link I may get a small fee (3%) for any sales.
The rewards are in the form of credits. Assuming that the guitar lives up to expectations I will be talking to Thomann about creating a steem token that they can use to promote their business.
Thank you for reading. This post is a bit long but it is important to me that you understand my shift in this new direction.
If you can take some action to generate an alternative onchain business for yourself too. Why not try something new and different?