The Hong Kong Police Force has done it again this weekend!! They have infamously put Hong Kong on the international platform with their brutal attacks on citizens. This weekend, when chasing protesters, they stormed into the Prince Edward underground station, onto the platform, into the train carriage and then indiscriminately started beating people. They also sprayed pepper spray into the carriages. Many of these were normal citizens, normal passengers on a Saturday night.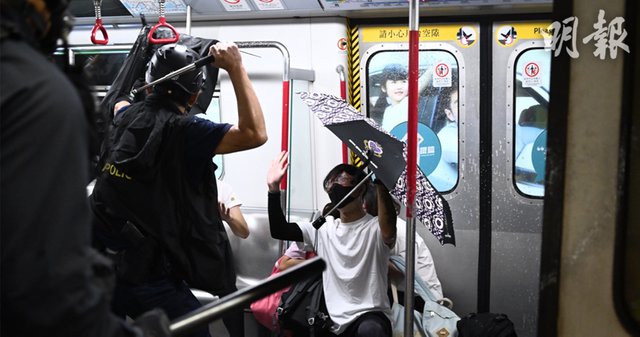 Source : Mingpao News
This is the news article from The Guardian, UK.
Hong Kong protests: riot police storm metro station with batons
The events over the weekend has angered more and more Hong Kong people, condemning the HKPF over their brutal actions. Football fans are well known for their loyalty and staunch support for their team. The Hong Kong ones are also crystal clear between right and wrong, black and right. On Sunday, the official Chelsea FC Supporters Club in Hong Kong issued a statement, saying that due to the conflicts between police and citizens and in order to protect members' safety during their events, they requested all police officers to withdraw their membership from the club. This quickly gained support from their own members as well as rival clubs members. During the day, many other HK football supporters clubs issued similar statements, condemning police actions. As of Sunday evening the following have voiced out:
Chelsea
Liverpool
Manchester United
Man City
Newcastle
Parma
AC Milan
Leicester
Valencia
Spurs
The best response I saw wasn't from a football supporters club. It was actually from the Anti Man United supporter's club, who said, for once, they stand with Man United supporters. That was gold.
Hubby was over the moon when he learnt about all this, till he couldn't find an announcement from his club on the list . And when they drew against Spurs m on Sunday night, he wasn't a happy bunny at all. Damn Gunners!!!
This morning as I was writing this post, I thought I'd check out the situation with Arsenal HK supporters club. Turns out they finally issued a statement after being slammed by members and rival clubs. Better late than never.
Considering not all clubs have a supporters club in HK, these cover a good majority of footie fans and clearly demonstrates football is not only about club colours, but about black and white, right and wrong in life.