The bravest journalist in the world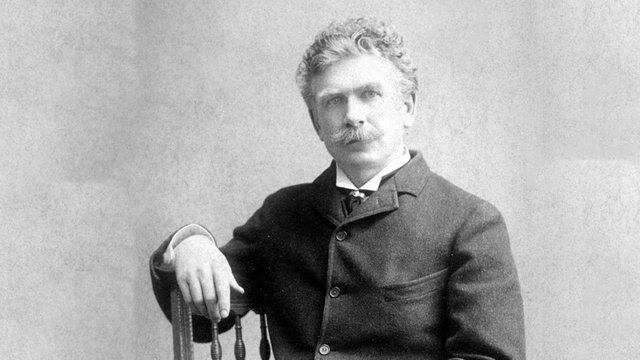 source
If Don Ambrose Bierce were alive, we would have to take off his hat in his presence. He was the bravest journalist ever. On his desk he had a skull: "It is from an old friend", and next to it, a transparent box, with ashes: "They are those of an old enemy."
Bierce was the son of a gringo religious fanatic, that all he had were 13 children, a wife who supported that huge family and a Bible, which was the only book admitted at home. For some reason, Ambrose Bierce hated his entire family, including his sister, a missionary in Africa, who was eaten by cannibals.
Bierce could barely study a year, against all odds. And even then, he became the most famous and influential journalist of the 19th century in the USA. After a career in which his word was the most respected and feared, one day he wrote a letter to his niece.
In it he said: "I am 71 years old. I do not want to work anymore. At any moment I can die, and I don't want to do it when I slide down the stairs, or wet in my urine, in bed. The best way to die is to shoot. I'm going to Mexico, to live and die the revolution. If you hear that I have been placed against a stone wall and I have been shot to become rags, please understand it." And so it happened. Bierce left for Mexico and simply disappeared. He died, apparently shot by either side, against the wall of a cemetery. But before he died he had written this fable against his colleagues, the journalists:
One day three ladies called Intelligence, Honesty and Dignity arrived in town. It had rained and the road from the train station to the hotel was covered in swamp. Given this circumstance, the Mayor, to protect such distinguished visitors, offered them rubber boots, which covered them to the knees. "You can wear these boots. That way you will be safe from the thick layer of mud that covers the street," said the Mayor.
Before the proposal, the ladies Intelligence, Honesty and Dignity, simply refused: "Do not worry. Nothing can stain us," said the three, in unison. "Then, before your refusal, the journalists of the city have prostrated themselves, so that you walk on their heads," the Mayor said. "In that case, we demand to wear boots," the three ladies replied.
Ambrose Bierce, master of satire, was a thinker of an aristocratic, acute spirit, whose neck was never bent before anyone of the human race, a species he considered "a thing halfway between sheep and cows." I do not count what he said about other human beings, because they would go looking for his bones to shoot him again.
In chess too, it's about living, that is, killing and dying with elegance.
Fuster-Balogh, Budapest, 1964.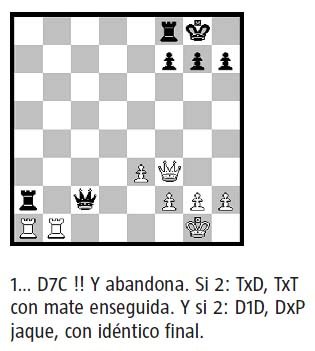 1... Q7N !! And leave. If 2: RxQ, RxR with checkmate right away. And if 2: Q1Q, QxP check, with identical end.
This story was originally written by my friend Ramiro Díez in Diario EL TELÉGRAFO under the following address: https://www.eltelegrafo.com.ec/noticias/columnistas/1/el-periodista-mas-bravo-del-mundo If you are going to use it, please quote our source and place a link to the original note. www.eltelegrafo.com.ec