Artistic space #56 - Art and Ecology by Nick Gentry
Hi Steemit family!
I don't know if you've noticed, but this week, I've dedicated it to the great artists who make their works based on the garbage they collect, and I think this is simply great, it's an encouragement to move forward in the midst of so much chaos and pollution, thanks to these artists, you can reach the population and generate awareness. Hopefully, it will motivate new generations to change the radical course of the production of consumer goods. Yes, those consumer goods that we long for and buy with such care and that only bring us unprecedented destruction of our mother nature.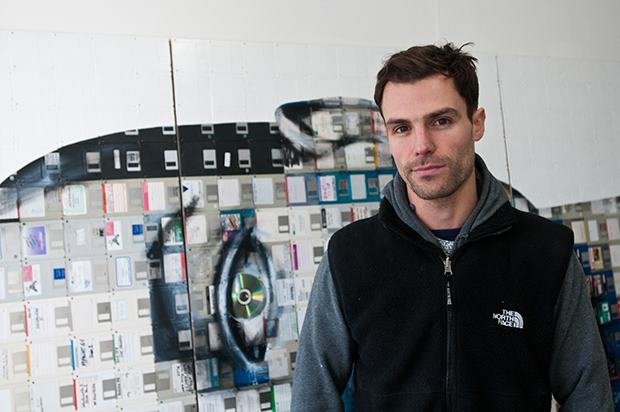 source
Today I will be telling you a little about the life of, a British artist who uses technological rubbish to make his works of art.
Nick Gentry is a British artist who accompanied him through a turbid childhood and adolescence, in student matters, especially since he was a child he felt an affinity for drawing, he studied at Central Saint Martins, London 2006 graduating with a degree in arts.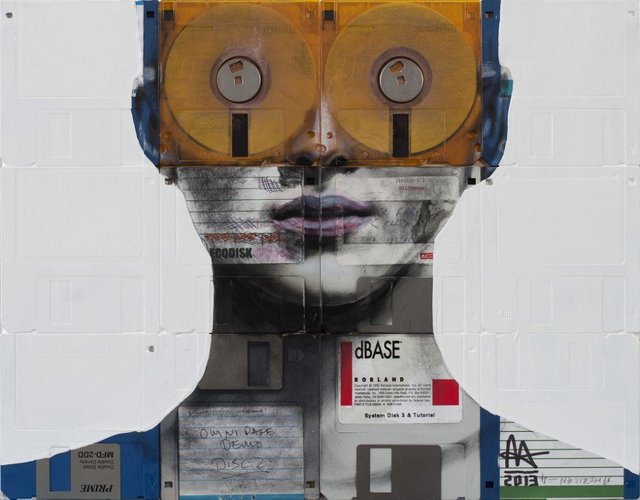 source
He has created different artistic proposals such as his portraits created from used film negatives and X-rays, many of them collected from people close to him and from hospitals. His technique is based on a selection of tone by stratification of the film, creating pronounced contrasts and shapes on the face, as the artist manages to transmit the biological emotions that are hidden and with this technique are possible to observe them.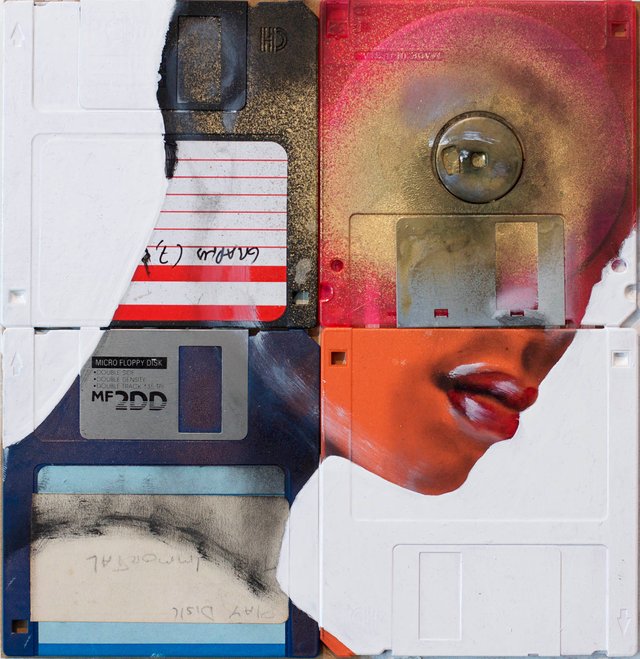 source
He is also known for his famous diskette paintings, one of the most used technological objects of the last century and that the new generations, if it is not for classes at school, get to know the function they had, the artist proclaims as generation X, where the metallic center serves as if it were the same human eye. For this series, the artist called on the public to donate the material. Which the artist brings us closer to social art.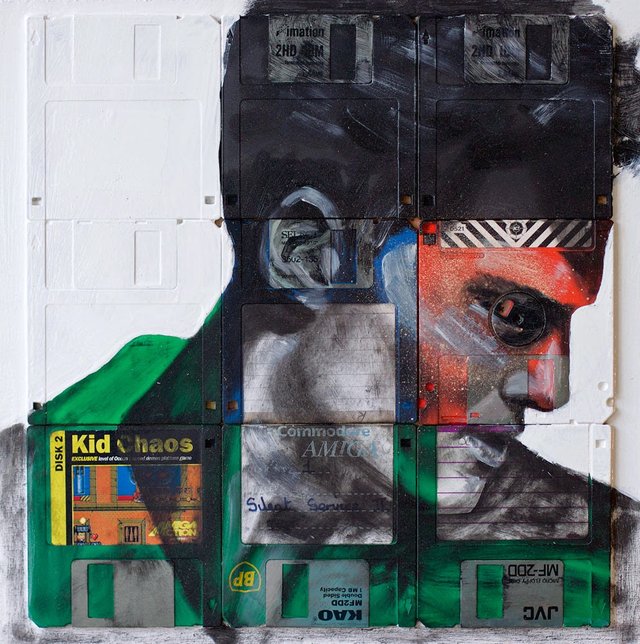 source
Other of his artistic facets are his sculptures among which the most recent, a sculpture of rhinoceros, a work inspired by the brutal slaughter to which this African animal is being subjected and is about to disappear, in total are 21 rhinoceroses that are part of Tusk RhinoTrail, were exhibited publicly in different places in London. And then finally auctioned, whose proceeds go to Tusk Trust conservation projects that protect African species on the brink of extinction.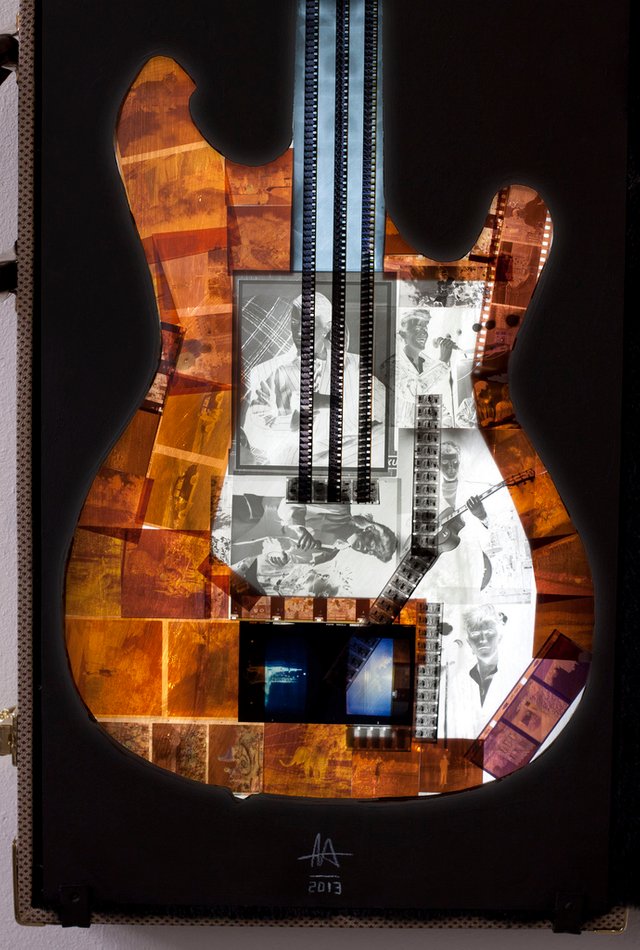 source
This noble artist is very concerned about environmental causes and in favor of rescuing animals, in 2017 he was invited as one of the 7 artists who participated along with the World Wide Fund for Nature and Tiger Beer, which is joining efforts to bring to light the illegal market of tiger sales.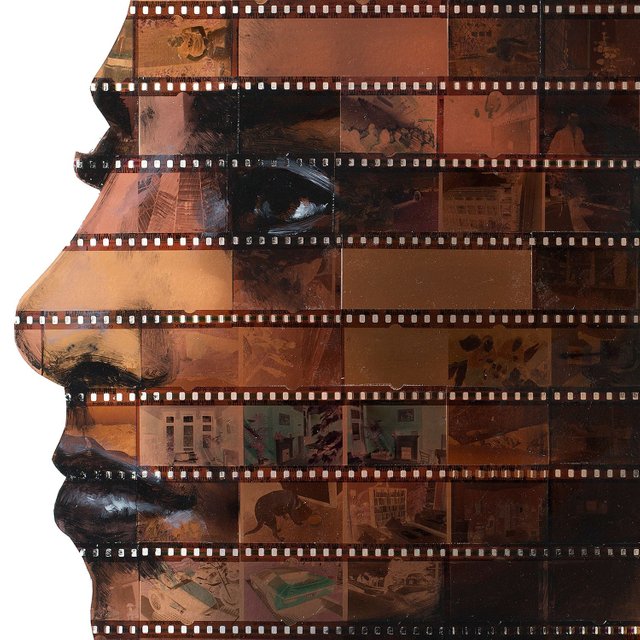 source
This conceptual artist has done incredible things like leaving paintings on the streets for passers-by to pick up as gifts. Making the notion of art as merchandise and value disappear for a moment.
One of his collective exhibitions was the many faces of David Bowie in making a replica of Bowie's red Fender guitar with the original negatives of Bowie's film, today is a mystery of how he got the original negatives, whether it was David Bowie himself who donated the material or was through third parties who were in contact with the artist.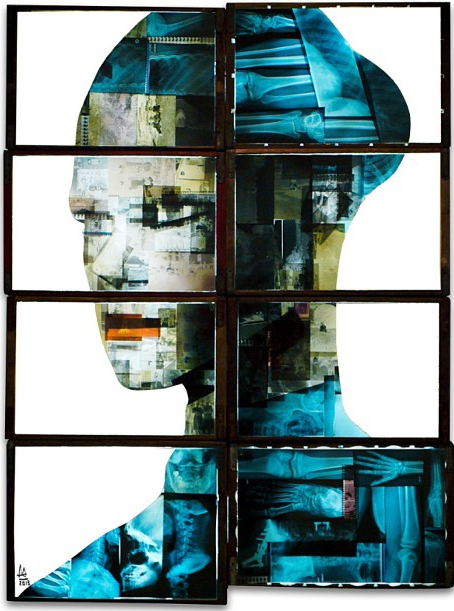 source
Thank you for reading
---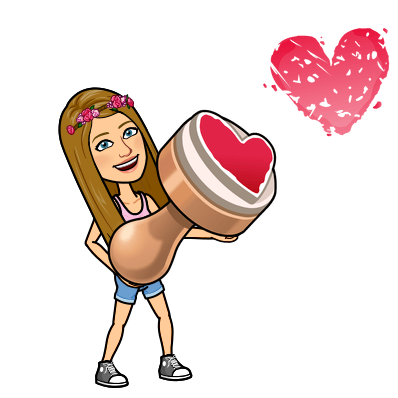 If you liked reading this article, feel free to FOLLOW ME, UPVOTE and RESTEEM! It's always appreciated =D. Thank you all for your support and see you soon for the news flamingirl's adventures!