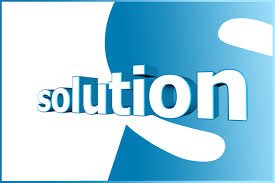 Source
So guys, as you go into the coming week, I need you to know that each and everyone of us have been created with the ability to SOLVE a PROBLEM.
We attain GREATNESS by finding the SOLUTION that we naturally can do, master that solution and locating the people who have the problem.
This is because every time you SOLVE a PROBLEM, you create VALUE; every time you create VALUE, you create WEALTH; If you can MANAGE & MULTIPLY the wealth, then you are guaranteed PROSPERITY ...
But it all starts with solving a PROBLEM!
So this week, I want you to see the POSSIBILITY in every problem that arises. I believe very strongly that you are there for a time like this.
... So go ahead, BE A SOLUTION PROVIDER and not a part of the problem to be solved.