Beetok crypto exchange - One of the most active exchanges in the world
Beetok
Beetok crypto exchange - One of the most active exchanges in the world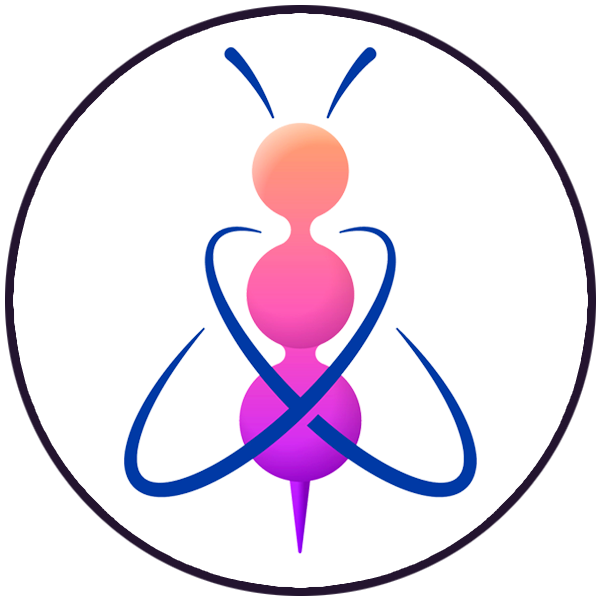 Introduction
The world of cryptocurrency and blockchain influences the entire globe, creating a reliable non-cash economy. These technologies change the intellectual process of startups, entrepreneurs, investors, and companies, allowing many of them to move beyond fiat to digital currencies.
The cryptocurrency market has been through a lot, the total capitalization reached up to 800 billion dollars, and the number of cryptocurrencies themselves and various tokens exceeds one and a half thousand. However, in order to buy a cryptocurrency, or sell it, it is necessary to use cryptocurrency exchanges. The use of such exchanges is safer than other exchange methods, and the number of cryptocurrencies and various tokens on exchanges can reach several hundreds. By investing in your own cryptocurrency exchange, your company can become a part of this digital revolution.
Beetok Exchange is a centralized exchange for cryptocurrency. The base platform provides people with all the necessary tools for professional trade and high-speed transactions. You can add any functionality that is needed right up for your exchange. Once you have added it, you will receive a unique and reliable solution in the shortest possible time.
Development of a cryptocurrency exchange is a serious business. Developers must take into account complex logic and data processing for complex orders, partial fillings, cancellation, rejections, trailing stops, etc. At the same time, they must address issues of risk management, security, data processing, multithreading, and scalability - all must be in accordance with strict standards of state regulation.
Opportunities for monetization
You, as the owner of your own exchange, have the opportunity to profit from the exchange in the following ways:
To receive interest for transactions Trade commission is the simplest and most common way to monetize crypto-exchange; it can be fixed, or may depend on the trader's trading turnover.
To resale the trading leverage Resell the trading leverage (conduct margin trading) and profit from the interest collected for the use of leverage.
To charge a fee for listing from the owners of coins and tokens The developer can bring new developed coins and tokens into the exchange for a fixed fee or a percentage of transactions.
Welcome to your personal exchange. Here you provide traders with the opportunity to
trade in pairs, which you can choose for your platform.
The main page is the trading page. The list of quoted cryptocurrencies such as bitcoin,
ethereum, litecoin, and zcash (BTC, ETH, LTC, ZEC) is displayed in the market panel. A
table of quotations with other currencies is opened for each quoted currency. The
working area of this page in the base version contains:
• OHLC chart
• Buy order creation window
• Sell order creation window
• Buy or sell stop order creation window
• Order books
• Market depth chart, which is built on the data from the order books for buying and
selling
• The history of transactions committed by the user in this mode
Check our Website and Whitepaper for more Information.
Beetok Coin - Specs
BTK Coin
Name - Beetok
Ticker - BTOK
Type - POS/MN
Block Time - 60 seconds
Block Reward - 90-95% MN / 5-10% PoS
Masternode Collateral - 2000 BTOK
Algorithm - QUARK
Total Supply - 82M
Premine - 1%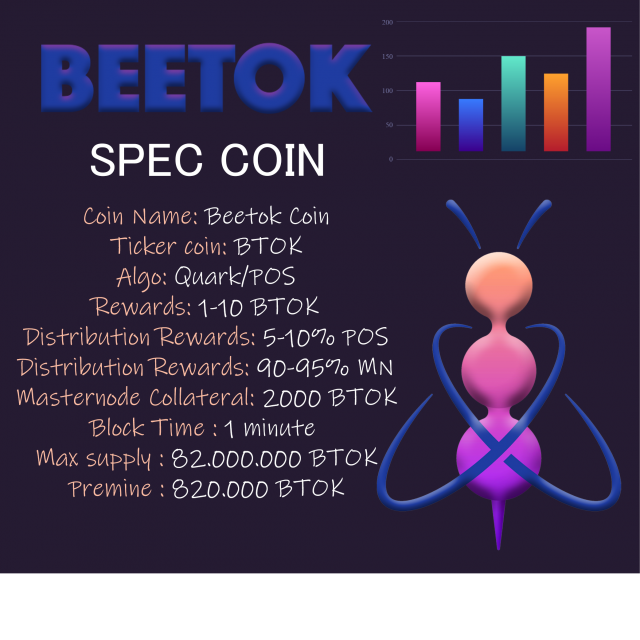 Official Links
WEBSITE:https://beetok.io/
DISCORD: https://discord.gg/ARZWYwG
FACEBOOK: https://www.facebook.com/Beetok-710810279350723/
TWITTER: https://twitter.com/Beetok1
WHITEPAPER: https://drive.google.com/open?id=1NSyph47UAxBXuP4CgFh6_JS1qCoXMl18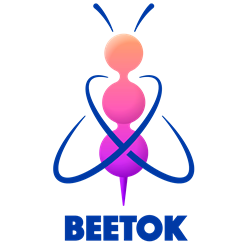 Cryptocurrency exchange is an online platform that acts as an intermediary between buyers and sellers of cryptocurrency. Anyone who wants to buy, sell, or trade cryptocurrency such as Bitcoin, Ethereum, Litecoin, and others, can do this through the cryptocurrency exchange.
The exchange accepts cash and cryptocurrency from our users, after that these users are able to trade with each other with the funds that they placed into their balance account.
In other words, we allow our users to exchange money for cryptocurrency or vice versa.
The platform itself does not buy anything and does not sell anything, only your users do it.
Although some crypto-exchanges support only a limited number of digital and traditional currencies, our customers can choose those ones that are worth implementing into the platform. Cryptocurrencies such as BTC, ETH, LTC, and ZEC are set by default.