Odd Little Rescues
On the farm we often have rescue projects, like housing orphaned wildlife through a stage of rehabilitation, this has included in the past animals like wild deer, warthogs, mongoose, owls but also goats, cows and piglets that were orphaned over time has been hand raised on the farm.
But ever so often we have 'smaller' little rescue missions that might not be as spectacular to many people, but I do feel that all creatures have a special place in nature, and where we could help without disturbing the natural balance too drastically, we should.
One such small rescue was a really cool blue tailed rainbow skink, that managed to get himself stuck in a old containers and couldn't get out.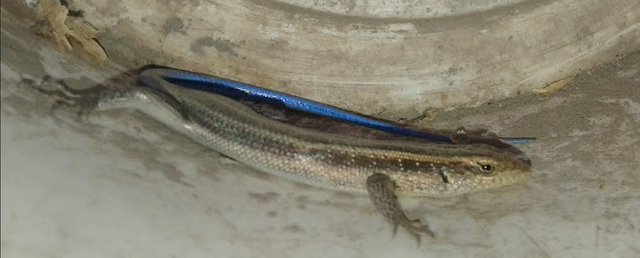 And although rescuing this little guy was as simple as tipping the bucket over so that he can safely get out, I feel that so often in life it is the smaller things we do in life that really makes a difference, and in this case not only a difference to the lizard, but a difference in myself as well.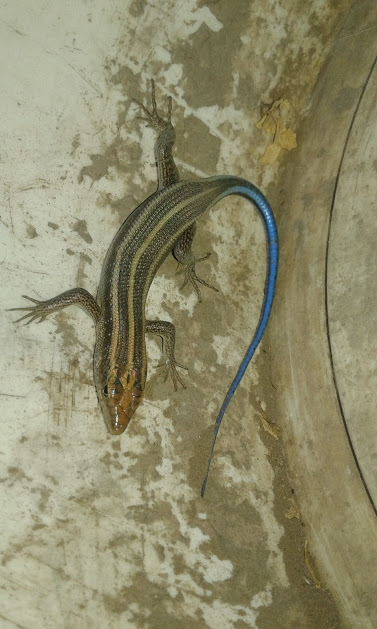 The wonderful thing about this as well, is the fact that it gave me an opportunity to take some pictures of this otherwise elusive little creature in the process (seeing that I do not have a decent camera any more and my phone is not the best for taking action shots)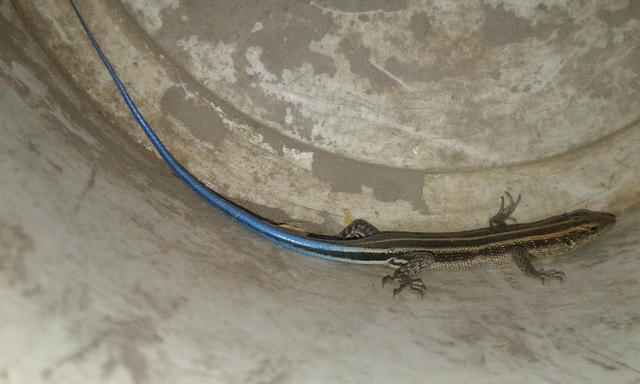 Really is such a gorgeous little creature all being said, I love the electric blue tail that is in complete contrast to its otherwise dull coloured body.
---
Another little rescue project was compliments of my daughter, who brought home a tiny LBJ bird one Friday after school - of course the little bird soon became my problem.
Normally when a small bird falls out the nest, the mother would go and feed it on the ground until it is ready to take off on its own, but because the bird was found in a school yard where there are high volumes of kids disturbing the situation, this was highly unlikely.
I couldn't identify the little bird, but judging by its beak, it looked like the type that would eat seeds as well as small soft insects, so I started it off on a fitting diet. I cut some fresh branches every other day to put in its cage, and fed it a pureed diet with a syringe at first, progressing later on to feeding it all kinds of wild seeds as well as small grubs with a tweezer.
Eventually I would just put food into its cage and see if it would take it. Once it did and the little birds wings and feathers were better developed, we took the bird back to the school where it was found.
My daughter kept it in her hostel room, putting food in the cage for it daily, but keeping the cage open in front of an open window, so that he could leave whenever he felt that he was ready.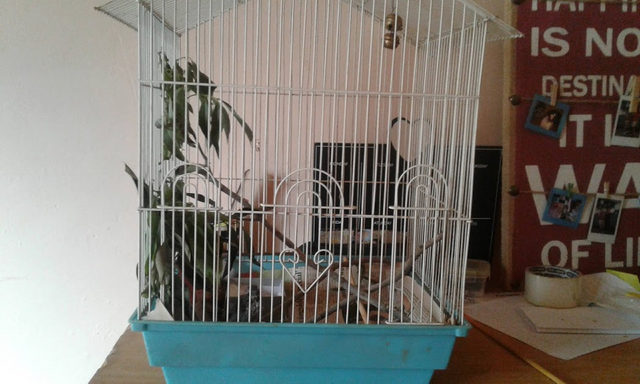 Meggan dubbed the little bird Comma. Her reasoning was that when he fell out of the nest and he did not get a helping hand, there would have been a full stop to his life story, but in stead, it was just a comma, a temporary setback before he could be released back to where he came from.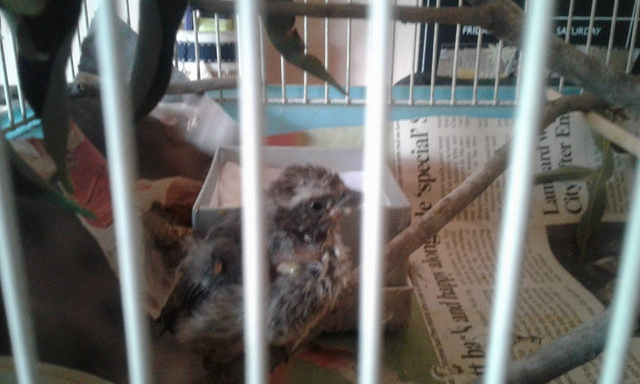 I know that this might not be as glamorous as most of the other rescue work or conservation work that I do from time to time might appear, but the thing is working with animal rescues or even conservation work is not a glamorous task at all, it is a time consuming tiring labour of love, and for me, it does not matter if the animal is big or 'inferior I will always try to help where I can, and I will do so while respecting nature and the eco system. It just is who I am I guess.
"I shall pass through this world but once. Any good therefore that I can do or any kindness that I can show to any human being, let me do it now. Let me not defer or neglect it, for I shall not pass this way again."
~ Stephen Grellet