Making A Healthier Lifestyle Just A Little Bit Sweeter
There is nothing quite like natures medicine cabinet, and although they sometimes come in delicious packaging, we are not always that lucky!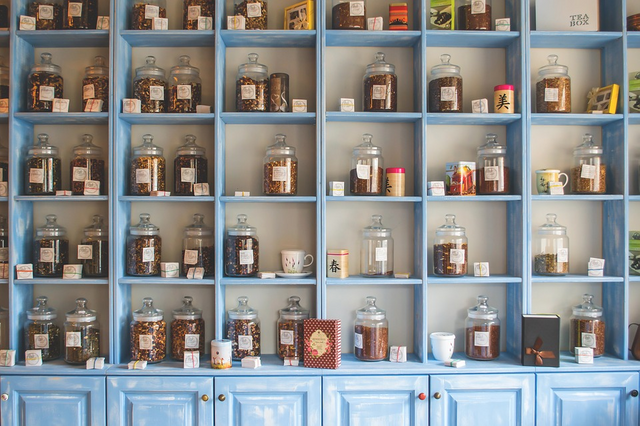 image credit
Lets take moringa for example - what an extremely wonderful plants with a list of beneficial properties that will make a pharmaceutical company shy. And although fresh moringa is still slightly palatable, making use of the dried herb or tincture in itself is not so pleasant when taken on its own.
Adding dried moringa, moringa poweder or extract to your daily meals is one way to go, and for adults and people that has acquired a taste for things like this, it is normally not a problem. Another way forward of course is to add morninga to a morning smoothie - but lets face it, not everyone has the time to make fresh morning smoothies every day. So I decided to try and find a more fun way to ingest this wonderful daily supplement...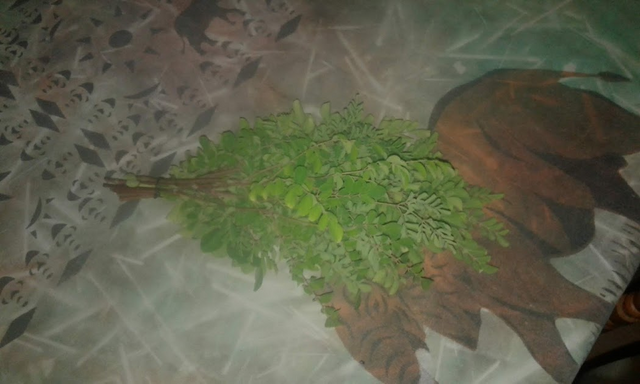 Let me start by saying that I had no idea what I was doing when I started this, so I looked up the basic recipe and steps to make simple jelly sweets at home, online, and then I adjusted the recipy to include moringa. It seemed simple enough, so I decided to jump right in and give it a go.
The ingredients were simple:
1 x 10g packets of unflavoured gelatine
1 x packet of flavoured jello
and 3/4 cup of water
Lucky for me - I had all those in the house already - perfect, I thought. There I was none the wiser - but one step closer!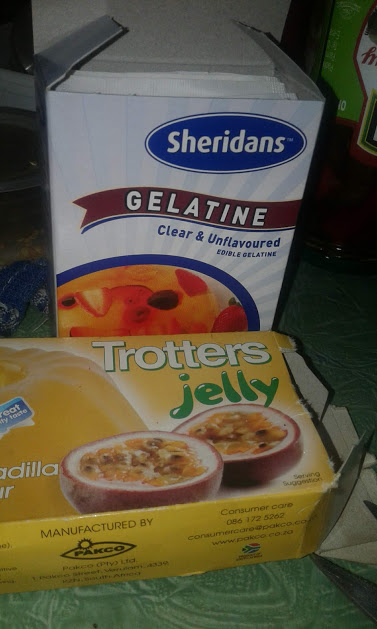 I am not in any way shape or form a vegan - so I really didn't mind using good old fashioned gelatine and jelly, however the jelly brand name 'TROTTERS' did make me shudder ever so slightly. I mean as descriptive as it might be - it is certainly not a pleasant thought. But moving along - while I was looking for the recipe online - I did notice that there were plant based gelatine options available as well, just in case someone who does not use animal products has any incline to try this for themselves.
Lets get going
I started off my making a moringa tea, by simply soaking some moringa leaves in boiling water for a short while. Thereafter using a very fine sieve, I strained all of the liquid from the moringa leaves, so that I was left with a dark green strong smelling moringa tea. Then I placed the concoction one side in the refrigerator and waited for it to cool down completely.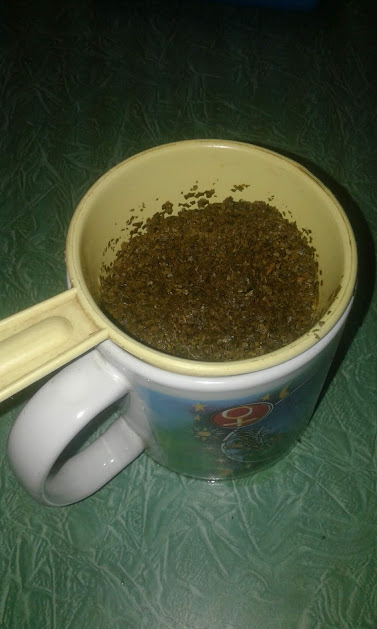 Once that was nice and cold I measured out 3/4 cups of this extract, and I supplemented it for the normal water in the recipe. (The original recipe stated that the water that you mix the jello in should be very cold - I complied!)
To this I slowly added the gelatine and the jelly (I used granadilla flavour - because that was what I had in the house, but any flavour will do.) Next time I will definitely go for a stronger flavour.
I stirred this mixture well until the gelatine was mixed in well with the moringa mixture, then I placed the lot into a small saucepan, and started heating the lot up gradually over low heat until all the gelatine was properly dissolved. Then I threw it over into a pouring jug and started moulding the sweets.
I didn't have any cute little moulds accessible, but I figured this mini muffin pan would work just as well for the cause - I mean this is simply a trail run - right?
So I carefully poured the jello sweet mixture into each cavity - trying to get it more or less the same, and then placed them in the freezer to set.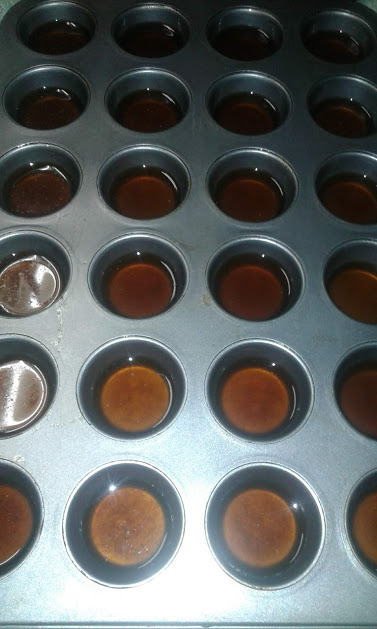 Once the set I carefully removed them from the baking pan, and halved each circle, then I dipped them in a sweet/sour sugar coating.
The final product did not taste all that bad, in fact so much better than I expected - but the sweets came out all but perfect.
The first issue, was that the sweets had a strange texture - I learned later on that this was from leaving it in the freezer too long. Next time I think I will use the fridge in stead.
The other problem was that these sweets ended up melting once removed from the fridge for a little while. This might be contributed to our heat, but then again store bought jello sweets don't melt so easy. Next time I will try adding a bit more Gelatine, as I saw afterwards that other recipes use two packets, some even three on the same amount of water. (this might also have something to do with me accidentally freezing the sweets)
And lastly - the appearance. because the sweets would melt reasonably quickly - the sugar coating would merge into the sweets, making them look worse than they already did - I will definitely try a different colour next time, these look all but fun.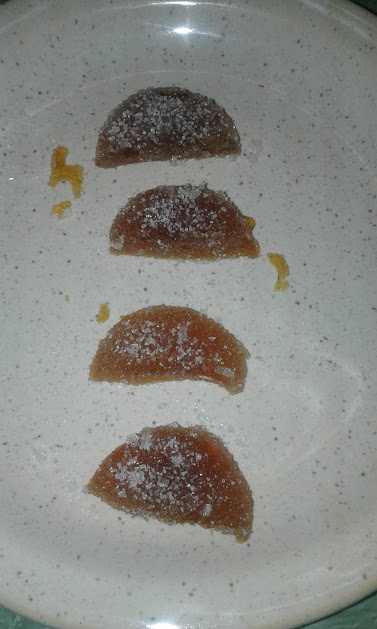 At the end of the day I think it is definitely a recipe worth developing and experimenting more with, as they were quite nice to eat, and certainly will be a fun way of getting a healthy dose of daily moringa in.
If you would like to learn a bit more about moringa and its benifits, feel free to have a look at one of my earlier posts on this amazing plant.