Ever get that feeling that you were being watched?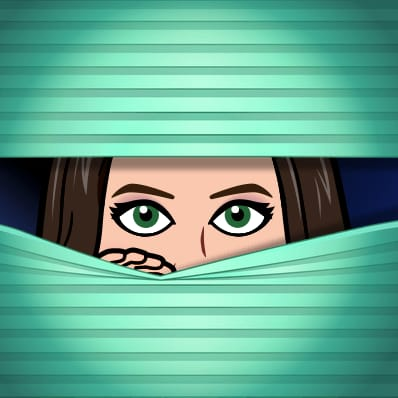 A few months ago, me and one of my friends decided to take a little break and go visit another friend that lives on a game reserve. The first night that we were there, we sat around the table on the veranda having wine and reminiscing about the good old days and all that.
Eventually a few bottles of wine later, we all decided to go to bed.
Now it was about 3am that I woke up that morning, I could certainly feel the repercussions of that last glass of wine as I lifted my head from the pillow, but nature was calling so there was no hope of lying back down immediately.
I slowly got up and stumbled my way towards the bathroom in this unfamiliar house. As I passed by the large glass sliding doors, I couldn't help but get the feeling that something was watching me.
But I shook the feeling and quickened my pace towards the bathroom - Priorities, I thought to myself.
I stopped to grab some water on the way back to the room, but again as soon as I passed the oversized sliding doors, I got that same peculiar feeling of being watched.
I took a deep breath then stopped and turned to face the doors that looked out over the scenic bush veld, there was little to no light outside, but there was definitely something there.
I rushed to switch on the porch light, that merely dimly lit the situation. But it was enough for me to see what was going on.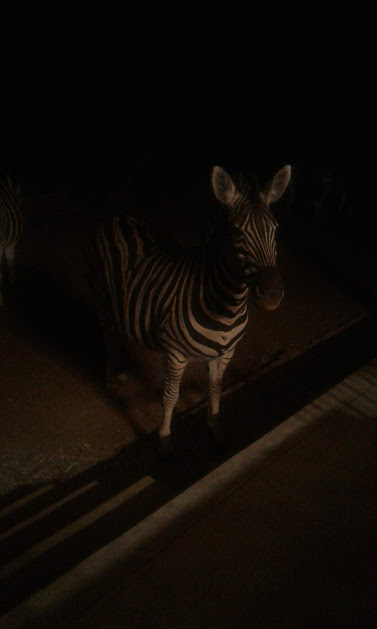 Right there at the steps of the porch he was,
A Zebra curiously watching me inside the house, there was a sigh of relief followed by a moment of awe, then I grabbed my phone from my pocket, and took the best pictures I possibly could given the circumstances before I was promptly reminded of that last glass of wine by the ever persistent throbbing in my brain.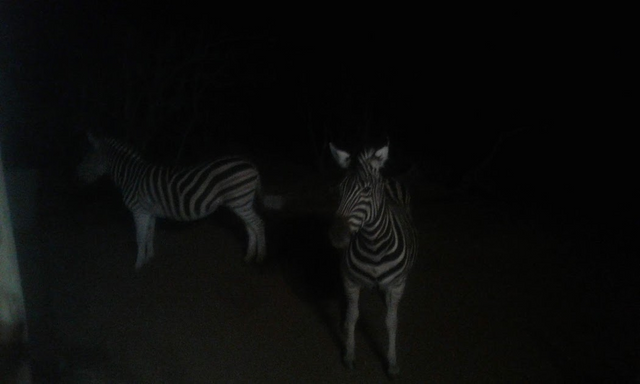 There were five zebra in the garden in total, one mother with a yearling fowl, another mother with a suckling fowl and the stallion; who was curious enough to investigate the house from close by.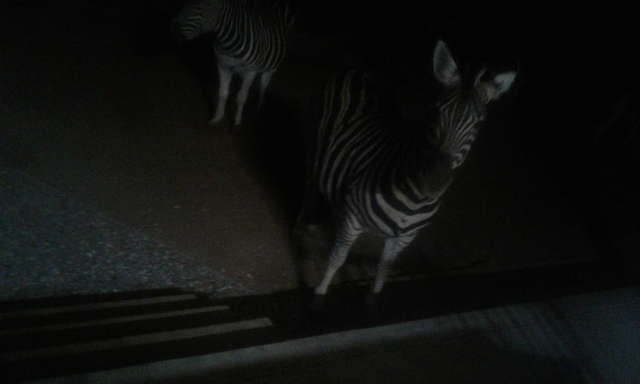 I stood there watching these beautiful beasts for a little while, but my bed was beckoning me, and I eventually answered its call.
The next morning however held a surprise of its own, when we were greeted by some warthogs that decided to come closer to the house while we were having our morning coffee.
Again, there were five animals at the door, this time a mother warthog with her three piglets, and a very intimidating warthog boar curiously investigating us.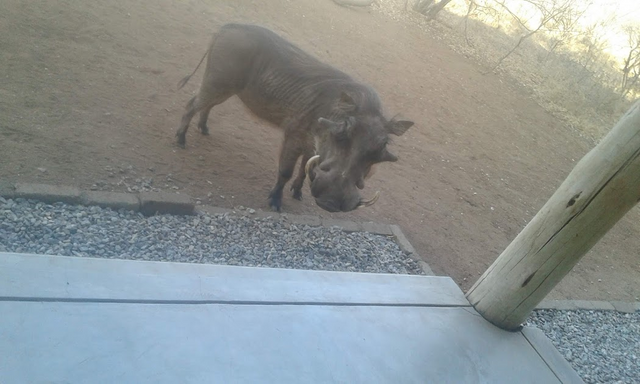 At this stage the bush was still very dry, and there was not a lot of grazing for the animals, which I feel might have contributed to the animals moving closer to the residence.
None the less it was two great unexpected sightings, and I was grateful for them. I simply wish that I had a better camera with me at that stage.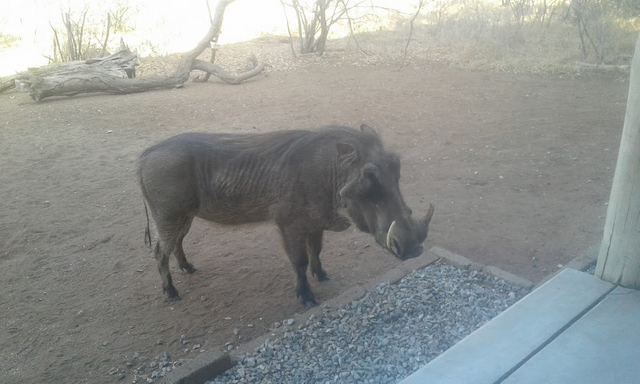 Below you can see the mother and her piglets, foraging for grubs or whatever they can find in the barren earth. I simple love the way that the piglets always eat on bended knee.