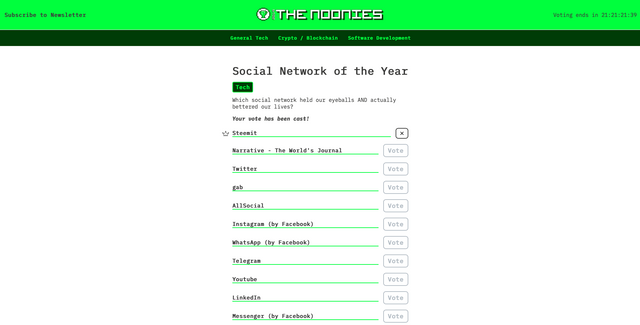 Let us all vote STEEMIT!!
Here is the link and cast your vote here at Noonies!!
I was checking out the featured post on steemit.com, usually I use @esteem but 2 days ago went to check out the steemit.com and saw a post about voting steemit to be the Social Network of the Year! There are many blogger here on steem! Let us all suppport and win the award!
https://steemit.com/steem/@matt-a/go-vote-for-steemit-as-social-network-of-the-year-on-hackernoon-s-the-noonies-awards
It would be good for steem marketing, hopefully can encourage more people to join steem and create awesome content. The past 1 year plus, I have read, watch, admire the arts that was created by fellow steemians. I'm amaze that they're really talented and detailed in their craft. A lot of hardwork had been done behind the scene that we didn't know, hour of practice just to perfect a simple line.
No regret at all joining the steem and be part of amazing community! Steem was my first invested cryptocurrency project! I do have high hope on this blockchain!