Today I woke up with the desire to participate in another contest on the black and white photography of @derangedcontests and I decided to do it with another portrait of the beautiful Giulia.
We were in Venice, and to take this shot I needed an area with little light but facing a canal with water, so as to have natural light on Giulia's face and side.
Even in this shot, Giulia made a natural expression that gave the portrait a sense of innocence and youth.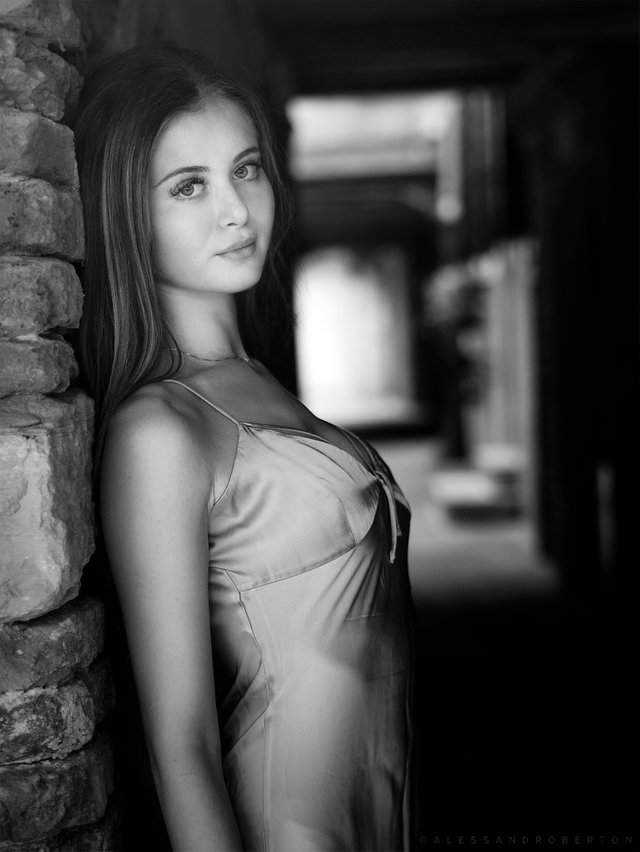 Panasonic G80 - Zuiko 45mm f/1.8 1/60 iso 200
ITA
Oggi mi sono svegliato con la voglia di partecipare ad un altro contest sulla fotografia in bianco e nero di @derangedcontests e ho deciso di farlo con un altro ritratto della bellissima Giulia.
Eravamo a Venezia, e per fare questo scatto avevo bisogno di una zona con poca luce ma affacciata su un canale con l'acqua , in moda da avere la luce naturale sulo sul volto e sul fianco di Giulia.
Anche in questo scatto Giulia ha fatto un'espressione naturale che ha donato al ritratto un senso di innocenza e giovinezza.
---
I wish everyone a nice Sunday!
Auguro una bella domenica a tutti!