U.S. Mint's First Palladium Proof Coin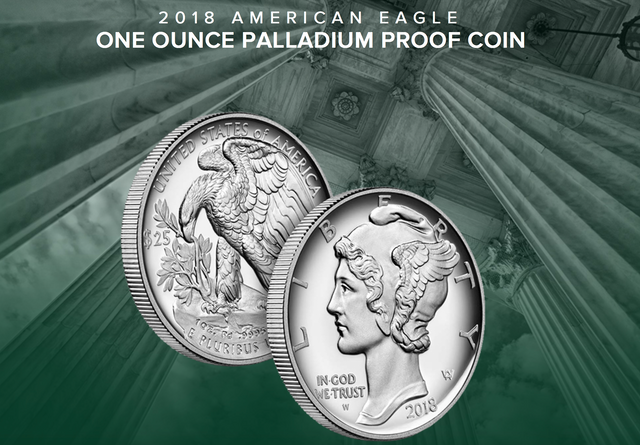 Source
One of my main objectives when investing and dealing with money is to ensure I am well diversified and exposed to enough asset classes to balance where income and capital appreciation can come from under any type of market cycle. While cryptocurrencies are one of my favorite sectors, another that that I like are precious metals. Whether it be the collector spirit in me or the fact to have real assets that I can control fully, I like to add to my precious metal collection every once in a while.
I saw that the United States Mint is offering a Palladium Proof Coin for the first time. The offering will be limited to 15,000 and subject to a one per household restriction. I had never saw a Palladium coin so I was immediately interested as it could be something different for my collection.
I read that Palladium as a metal is 15 times rarer than Platinum and 30 rarer than Gold so I see it interesting that these rarer metals have been trading at a discount to gold. However, it seems to be because the demand for these metals in industrial and manufacturing have gone down due to substitutes while gold has the benefit of the investment and jewelry side.

Source
However, I like rarity so thought it would be interesting to add this to my collection. I know there is a big Gold and Silver Community here on #STEEM so I am wondering what have others been thinking about this.
I was convinced to buy it the morning of the launch as I got an email from a supplier I have used in the past for other coin purchases offering $225 above the purchase price to buy for them. I guess it had to do with the sale being limited.
Only 10 minutes after the purchase I decided to go back in and see availability and there were already sold old! I am glad I was there exactly at the time of launch as I would have missed what seems to be a great opportunity for my collection.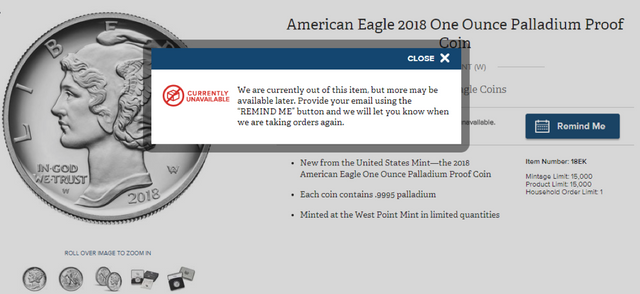 Source
What do you think of this recent addition! I know there are some stackers out there so I want to hear from you! Let me know your thoughts and feedback in the comments below!
Title Image is A Screenshot Taken from an Email from the United States Mint

Follow me on Twitter: @NAICrypto
If you are like me and interested in continued personal growth, invest in yourself and lets help each other out by leveraging the resources they provide by using my referral link:
https://www.minnowbooster.com/referral/530636

DISCLAIMER: The information discussed here is intended to enable the community to know my opinions and discuss them. It is not intended as and does not constitute investment advice or legal or tax advice or an offer to sell any asset to any person or a solicitation of any person of any offer to purchase any asset. The information here should not be construed as any endorsement, recommendation or sponsorship of any company or asset by me. There are inherent risks in relying on, using or retrieving any information found here, and I urge you to make sure you understand these risks before relying on, using or retrieving any information here. You should evaluate the information made available here, and you should seek the advice of professionals, as appropriate, to evaluate any opinion, advice, product, service or other information; I do not guarantee the suitability or potential value of any particular investment or information source. I may invest or otherwise hold an interest in these assets that may be discussed here.