Holy Crap! Jam, That's Paleo and Raw.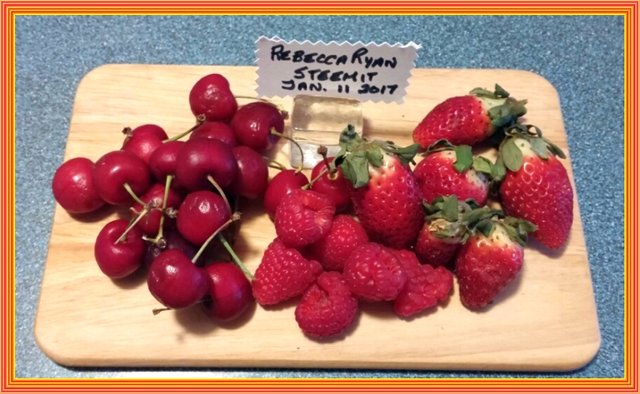 Holy Crap! Is that even possible? You bet it is, if you use Chia Seeds, but I want you to take the "Holy Crap" statement, literally. 
Really.
(I don't want you to be shocked by your own bathroom accomplishments if you add chia seeds to your eating lifestyle. You will likely be exclaiming "Holy Crap!",  just like the rest of us.) 
Chia is a plant that belongs to the mint family. It original grew in Central American countries, like Guatemala and Mexico.
The Tarahumara Indians, a tribe from the Copper Canyons of Mexico, have made their little Chia seeds famous. The seeds are their preferred fuel source and the Tarahumara claim that these little seeds make them some of the fastest, long distance runners in the world.  
Chia seeds are tiny and are packed full of minerals like calcium, magnesium, iron and copper. Plus, they are loaded with antioxidant vitamins like A,B and E.  They are also a good source of Omega 3 fatty acids, (containing more than salmon does). In addition, they are an excellent source of plant-based protein and are loaded with fibre. (Hence, the "Holy Crap".)
What you should also know is that they are exceptionally hydrophilic.
This means that they love water and as a result they can absorb up to 30 times their own weight in water.
Whatever liquid you mix with chia seeds, whether they are whole seeds or ground, they will absorb it and your entire mixture will become gelatinous and firm. (Firm enough to stand a spoon, independently upright in).
For this reason, chia seeds mixed with water or coconut milk are often used as an egg replacement in vegan-inspired  baking recipes or for those who are allergic or sensitive to the protein found in chicken eggs.
The seeds can be purchased whole or already ground, packaged or in bulk form. There are black chia seeds and white chia seeds.
Here's what they look like: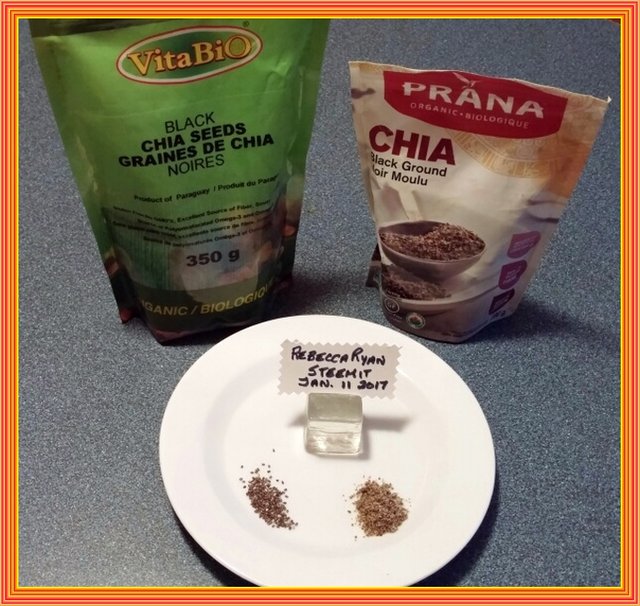 Let's take a closer look: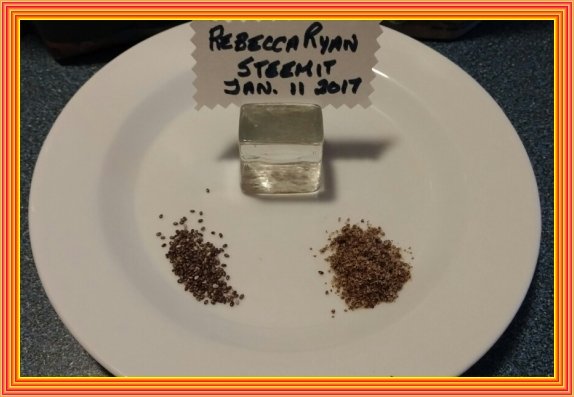 The seeds on the left are whole and the seeds on the right are ground.
1/3 of a cup of whole chia seeds mixed with 2/3 cup of coconut milk, 1/4 tsp of vanilla extract and 2 tbsp of maple syrup will make a very nice Chia seed pudding. It will take about 10 minutes to absorb the coconut milk and solidify. Theoretically, you could mix all the ingredients together, first thing in the morning, go have a shower and by the time you're dressed, the pudding will be ready to eat. It's easier than making oatmeal and is more nutritionally dense.
Let's look at the process: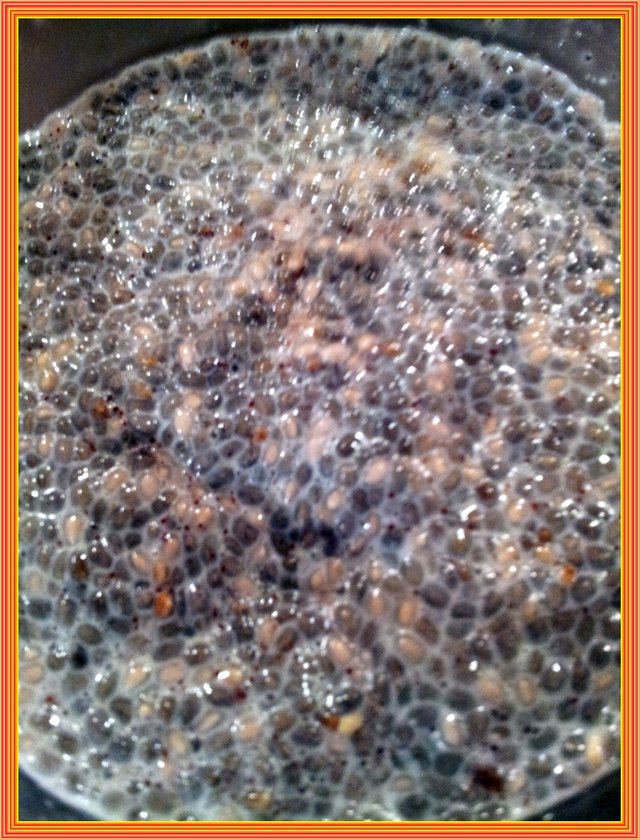 I wasn't kidding about it becoming thick enough to stand a spoon up in. I never add chia seeds to my juice blends for this reason. It will turn your smoothies into puddings and you'll need to consume them with a spoon.
(It gets really thick within 10 minutes, so if you want to add them to a drink, drink it right away or you won't be able to drink it through a straw.)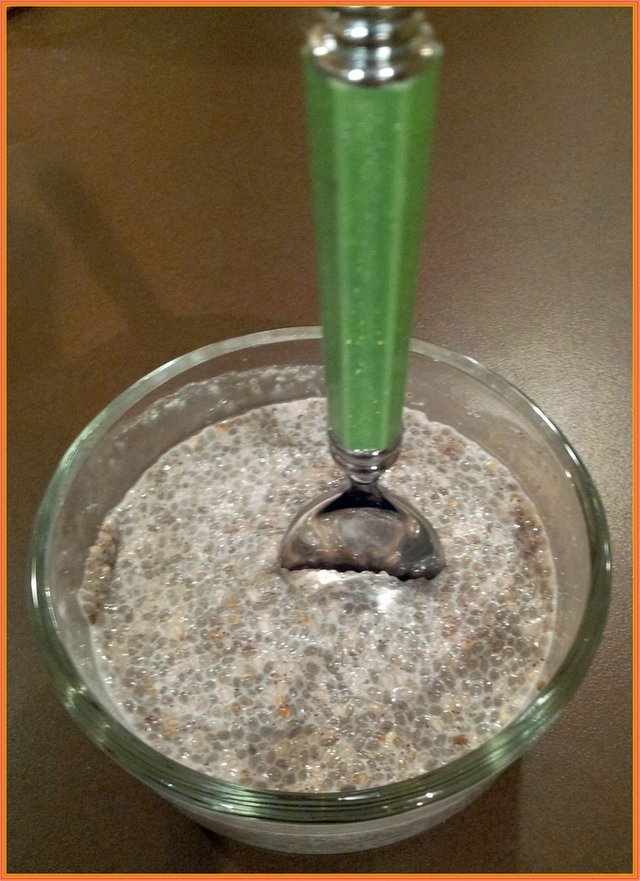 In this photo, I have used the chia seed pudding over a slab of chocolate cashew cake. It illustrates the gelatinous transformation of the seeds quite nicely.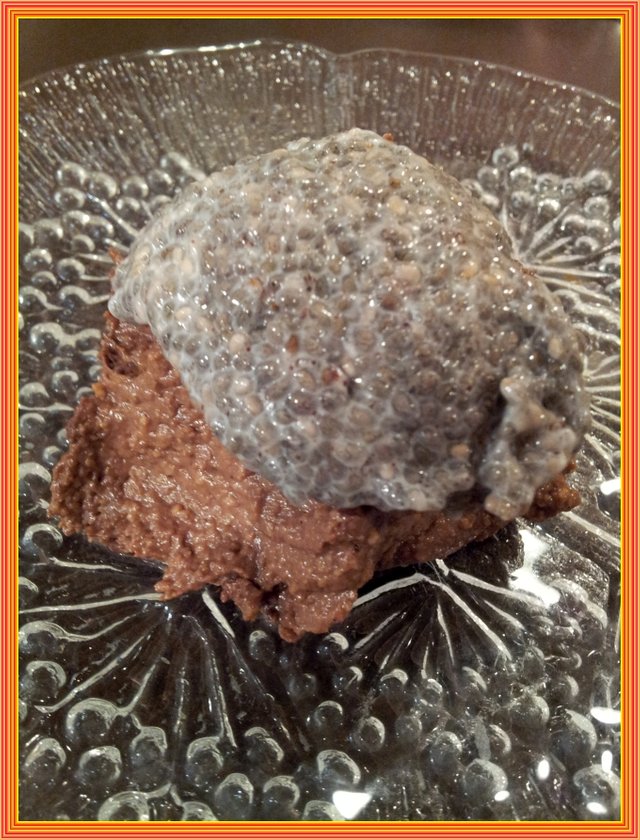 Now that you understand how chia seeds work, let's make raw chia seed jam. 
The ingredients you will need are:
1 lb or 454 grams of  the fruit of your choice. Berries are Paleo-friendly fruits because they score the lowest in their glycemic or sugar load. Today, I'm using strawberries;
4 tbsp of chia seeds;
2 tbsp of freshly squeezed lemon juice;
and up to 4 tbsp of maple syrup.
The tools you will need are:
a paring knife;
a high speed blender or food processor;
a tbsp measuring spoon;
a small size bowl for the lemon juice;
and a medium size bowl or 500 ml sealer jar to store the finished jam in.
Directions:
Clean and cut the leaves off the strawberries.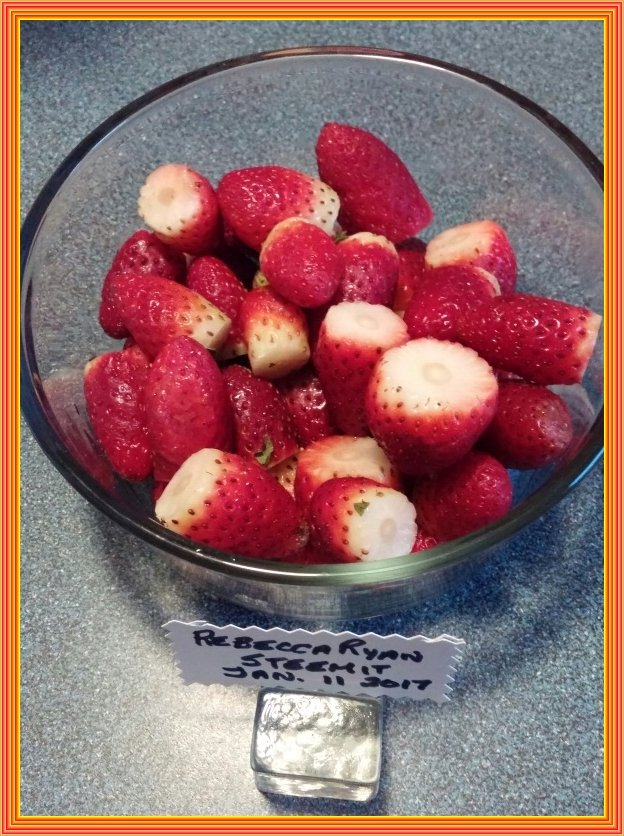 Squeeze half a lemon and add 2 tbsp of fresh lemon juice to the blender.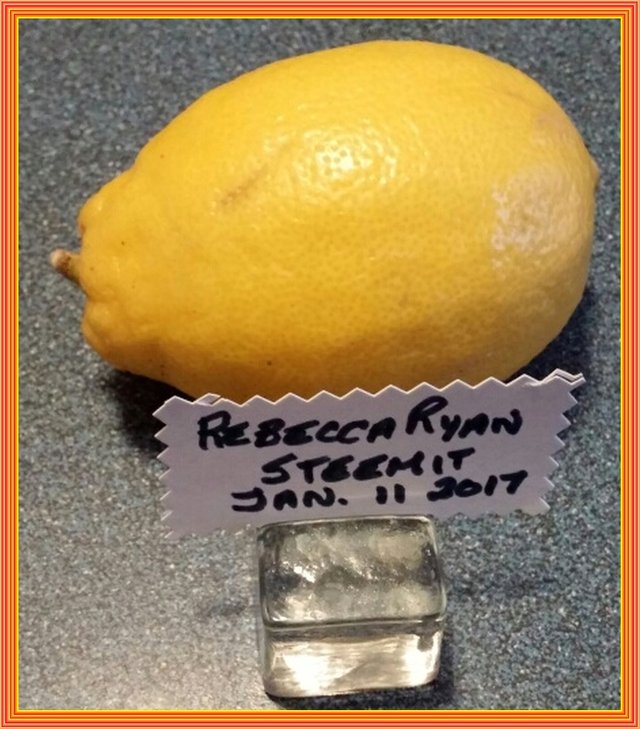 I squeeze the juice into a small glass container first, so that I can make sure there aren't any lemon seeds going into my jam.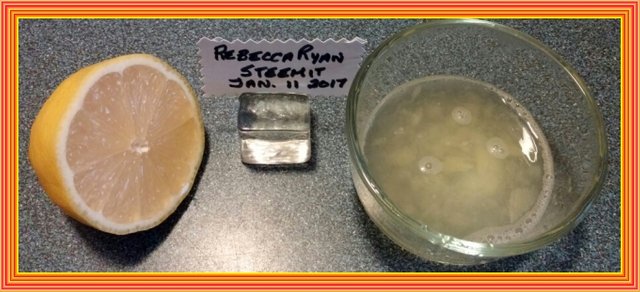 Add the strawberries and the chia seeds to the lemon juice in the blender or food processor.
 blend well.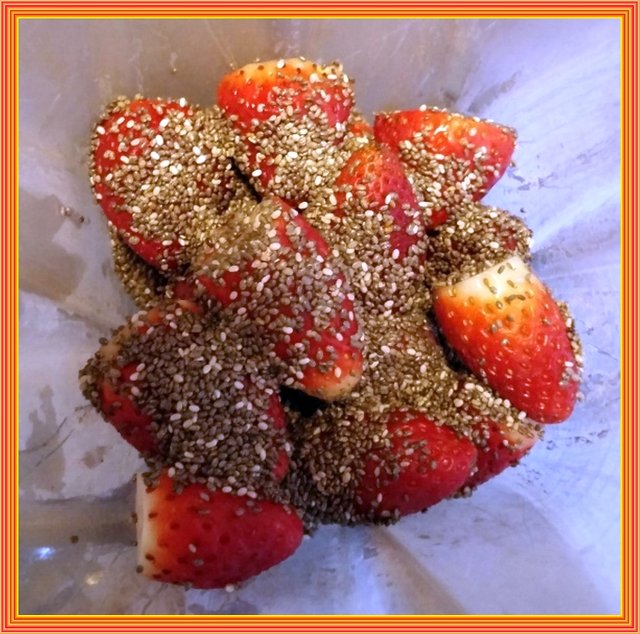 Taste the mixture and start by adding 1 tbsp of maple syrup to the jam mixture and blend well. You may have to add up to 4 tbsp of syrup just depending on how much natural sugars are present in the fruit you have chosen. Some fruits are sweeter than others and might not require syrup at all. Sweeten to your taste. (Honey, agave and stevia could also be used instead of maple syrup.)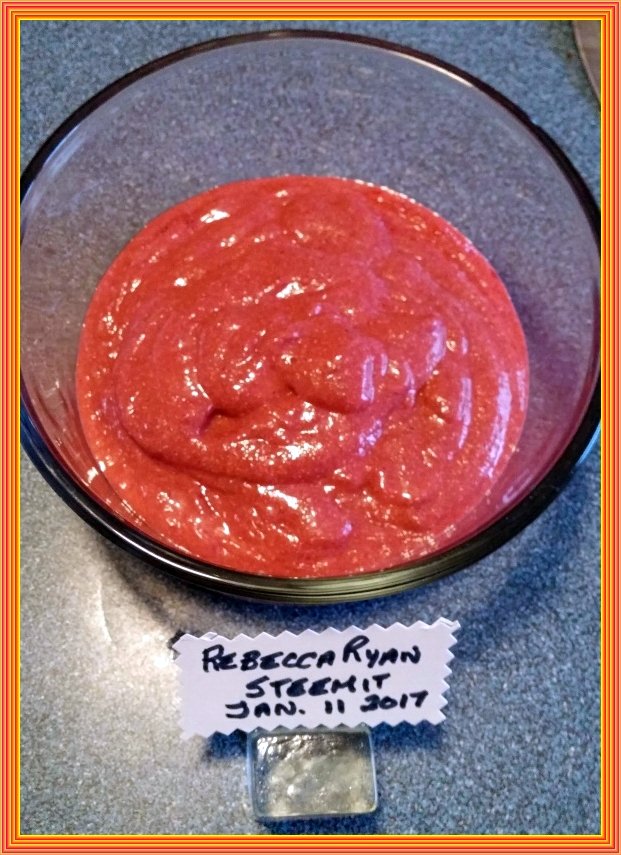 This is the "finished" Raw Strawberry Chia Jam.
This jam should be stored in the refrigerator and it will keep for up to 7 days.
Enjoy this protein, fat and fibre packed jam. ;)
I welcome your comments and invite you to follow me on my journey.
~ Rebecca Ryan