Clown number two
I had so much fun filming my last clown drawing that I thought I would make another video. I love drawing these creepy clowns I think they are kind of silly. I find drawing generally therapeutic and these guys are just extra fun to create!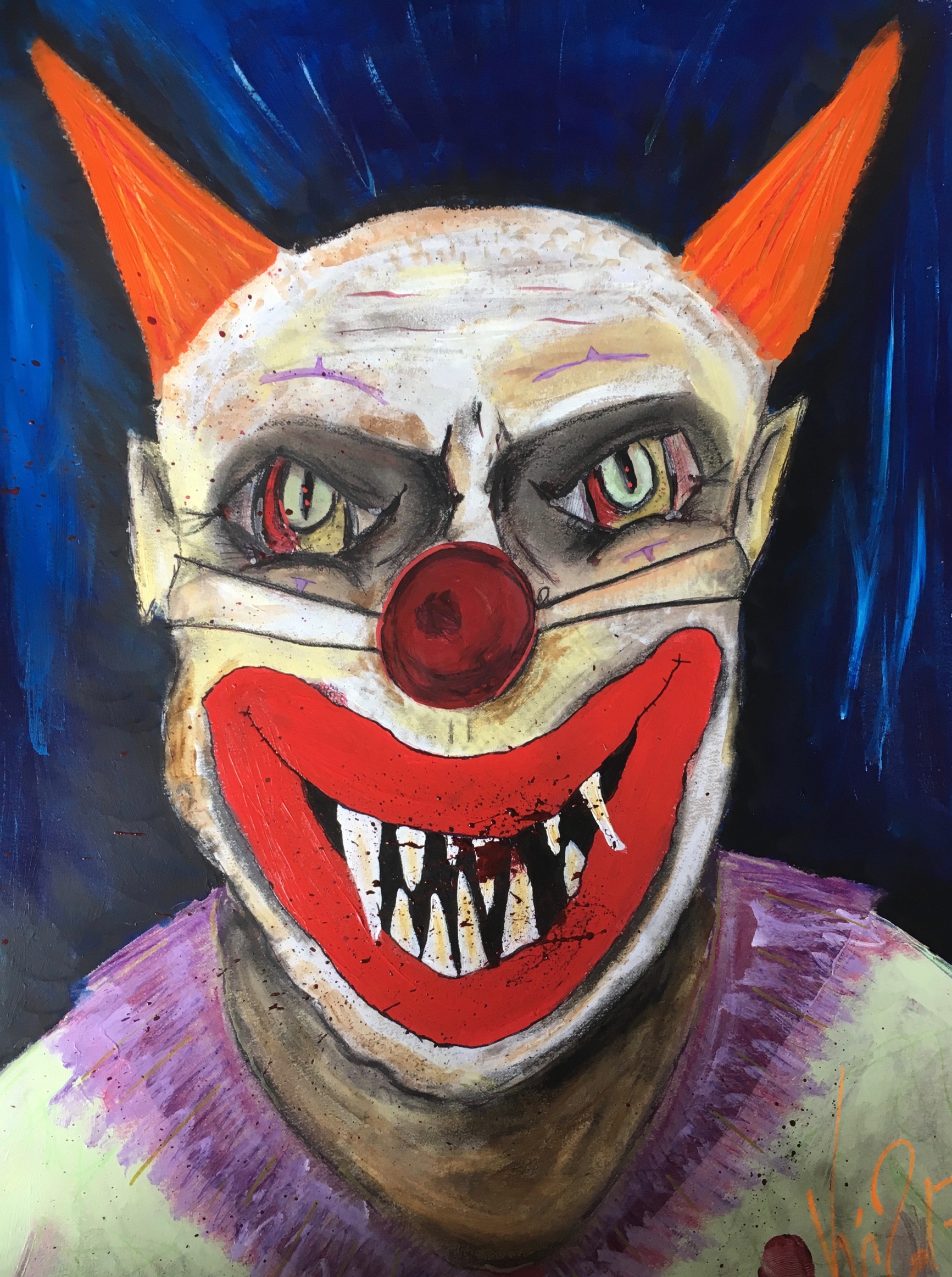 I used a lot of paint in this piece and spent a little over an hour, not including drying time. I have named him 'Dodgy'
Myself drawing scary clown video:
I had heaps of fun making this video I will be filming some drawing sessions soon, I hope you enjoyed watching
Close ups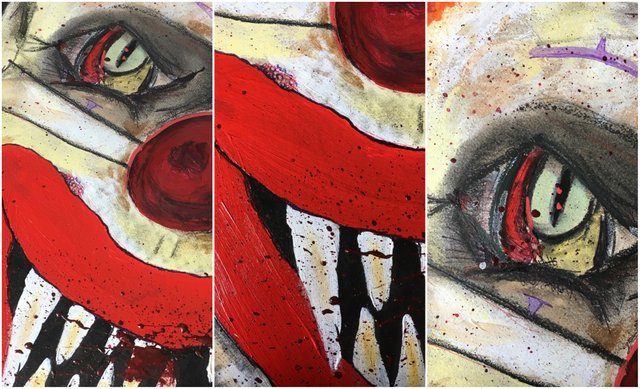 I really like the texture of the splattered paint and the effect the red paint pen has in the eyes.

Graphite pencil(greylead)
Markers/Textas(water based)
Aquarell pencils ( coloured and graphite)
Ink(chinese)
Paint pens (like Poscas)
Dry pastel
Graphics pen/fineliner
Acrylic paint (Mont Marte dimension series)
Watercolour paint
Colour pencils
Smudging sticks (more of a tool than material but I thought I would include it anyway)
Paper
This was done on the cardboard backing of my sketch book it is about 0.5mm thick. Roughly 440 H X 325 W mm. I really like the effect the colour of the cardboard has as it shows through in places.
Final notes
I hope you enjoyed watching and checking out my scary clown. If you are interested in what materials I use please check out my post( https://steemit.com/art/@pixelminx/drawing-sessions ) for a detalied descriptions of most of the materials I use at my drawing desk. If you enjoyed my post please leave a comment below I really love feedback! If you have any questions about materials, my method or anything relating to my work, feel free to ask and I will respond.

Thanks to all the steemians who have left nice messages, upvoted and followed. I really appreciate the support I have received so far. I recently discovered a great artist I don't know how often she posts but her work is pretty unique and she is very talented so it's worth visiting her blog @dillemma

Untill next time, Peace out and love each other