Portrait hawk painted in oil
Retrato de halcon pintado en oleo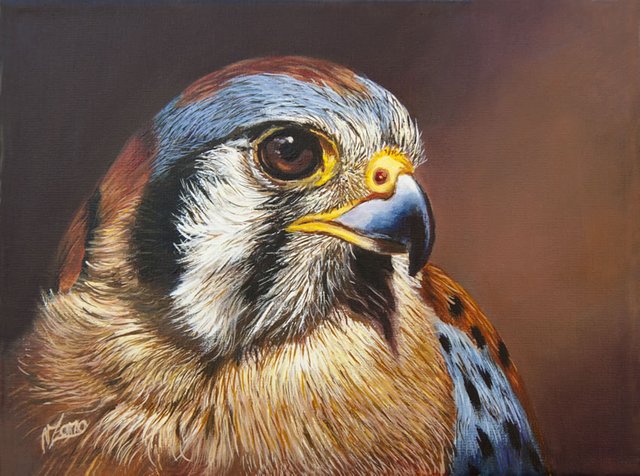 oil on canvas 18x24 cm - 7x9 inches
This is a small and common falcon in my country, Argentina. It is characterized by "hawking", that is, staying for some time in the air in one place, flapping vigorously, while locating its prey on the ground, on which it rushes to capture them. It feeds on rodents, insects, reptiles, and sometimes other birds. It does not build a nest, and it puts up to five beige eggs with reddish spots, in holes located in trees, ravines or human constructions. It seems to me a beautiful example, that's why I paint it!
Este es un halcon pequeño y comun en mi pais, Argentina. Se caracteriza por "halconear", esto es, mantenerse durante cierto tiempo en el aire en un mismo lugar, aleteando vigorosamente, mientras localiza sus presas en el suelo, sobre las que se abalanza para capturarlas. Se alimenta de roedores, insectos, reptiles, y a veces de otros pájaros. No construye nido, y pone hasta cinco huevos de color beige con machas rojizas, en huecos ubicados tanto en árboles, como en barrancas o construcciones humanas. A mi me parece un bello ejemplar, por eso lo pinto!!
Thank you very much for watching my artwoks !!!!
Mi website: http://normazaro.com/