American bison painted in oil
Bisonte americano pintado en oleo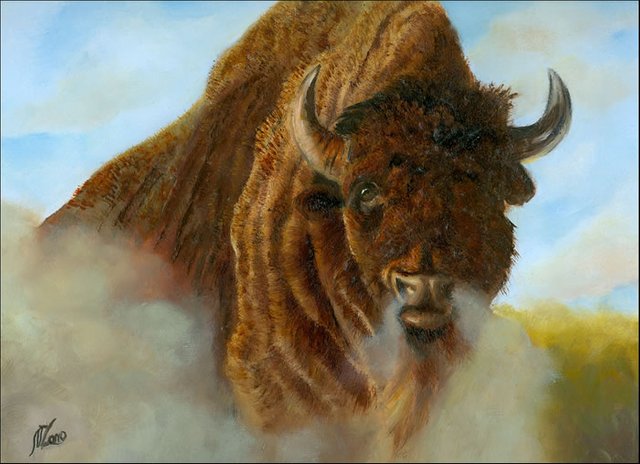 oil on panel 20x25 cm - 8x10 inches
It is the largest land animal in America. It is very heavy, between 500 and 1000 kilograms. One of the most outstanding things about this animal is its great head. Formerly the American bison was a migratory animal that went from one place to another in search of fresh food according to the time of year. But with the arrival of man and the creation of urban areas, his behavior has changed radically. To this day the bison has stopped migrating and usually inhabits the same areas. In the world there are two main species of bison. It can be said that the American bison is the most predominant and therefore is not in danger of extinction, although it is protected. On the other hand, the European bison is the one that is in danger of extinction. It is estimated that there are no more than 4000 specimens of this species. In spite of their care it is costing a lot that the number grows, without forgetting that for example in Spain they are trying to reintroduce in the places that they lived.
Es el animal terrestre mas grande de America. Es muy pesado, entre 500 y 1000 kilogramos. Una de las cosas que más destacan de este animal es su gran cabeza. Antiguamente el bisonte americano era un animal migratorio que iba de unos sitios a otros en busca de alimento fresco según la época del año. Pero con la llegada del hombre y de la creación de zonas urbanas, su comportamiento ha cambiado radicalmente. A día de hoy el bisonte ha dejado de migrar y suele habitar siempre las mismas zonas. En el mundo hay dos especies principales de bisonte. Se puede decir que el bisonte americano es el más predominante y por ello no está en peligro de extinción, aunque sí que está protegido. En cambio, el bisonte europeo es el que si está en peligro de extinción. Se estima que de esta especie no hay más de 4000 ejemplares. A pesar de sus cuidados está costando mucho que el número crezca, sin olvidar que por ejemplo en España se están intentando reintroducir en los lugares que habitaba.
Thank you very much for watching my artwoks !!!!
Mi website: http://normazaro.com/