Cheetah painted in oil
Chita pintado en oleo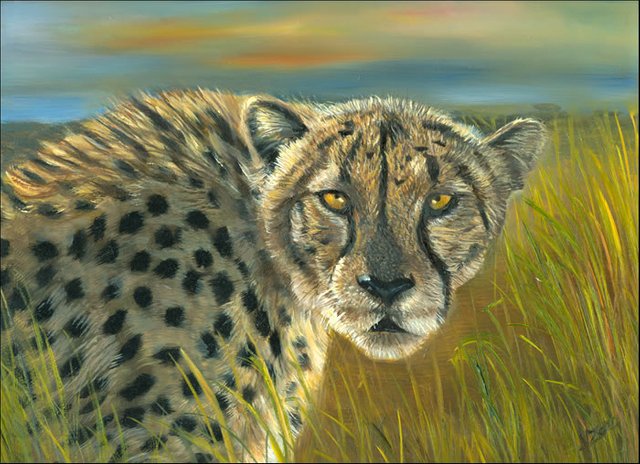 oil on panel 23x30 cm - 9x12 inches
A classic pose of cheetah. The fastest land animal. It weighs between 40 and 65 kilos, it can develop 92 km / h in just 2 seconds. It lives in sub-Saharan Africa, south of Algeria and north of Niger, but more is found in African parks east and south of the continent. El Chita is a carnivorous animal, feeds on gazelles, impalas, rabbits, boars, antelopes, among others. Hunt when the other predators sleep to avoid running into them, observe their prey 50 meters away or from the trees, when ready, attack at full speed.
It seems to me a beautiful cat, that's why I paint it!
Una clasica pose del chita. El animal terrestre mas veloz. Pesa entre 40 y 65 kilos, puede desarrollar 92 km/h en tan sólo 2 segundos. Habita en el África subsahariana, al sur de Argelia y al norte de Níger, pero en mayor cantidad se lo encuentra en parques Africanos al este y sur del continente. El Chita es un animal carnívoro, se alimenta de gacelas, impalas, conejos, jabalíes, antílopes, entre otros. Caza cuando los otros depredadores duermen para evitar toparse con ellos, observa a su presa a 50 metros de distancia o desde los arboles, cuando esta listo ataca a toda velocidad.
A mi me parece un hermoso gato, por eso lo pinto!
Thank you very much for watching my artwoks !!!!
Mi website: http://normazaro.com/