Chimeria 2018
The show is launched!
In 2010, I discovered like-minded symbolists at the french bienalle: Chimeria. It was a turning point in my life. At that time I had given up on the gallery scene because i could find no group which was ready to embrace my mystical "weird" world of symbolism. Lo and behold through this large show, i found the doorway into a great adventure of discovery, synchronisation, inspiration and collaboration.
I was so blown away that so many like -hearted artists existed but were so invisible, I started making a series of books which flourished into shows, events, concerts, conferences all over the planet. At the last bienalle, Chimeria invited my group as the guest of honor. It was a moment of full circle. I was now able to bring new International artists back into the fold where my own adventure had begun.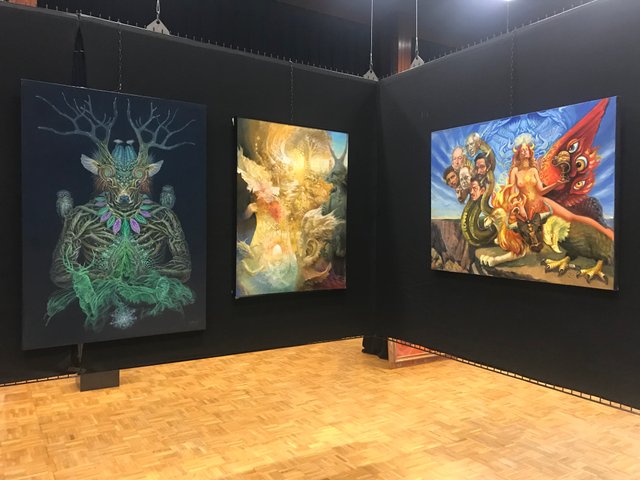 paintings by Luis Tamani, Roku Sasaki, Carrie Ann Baade
The events take place in three buildings and we had an inauguration in two of the buldings: Salle Marcilette being the first stop.
Seen here: Mayor of Sedan, myself , Carrie Ann Baade, Alain Margotton, Martina Hoffmann, Emma Watkinson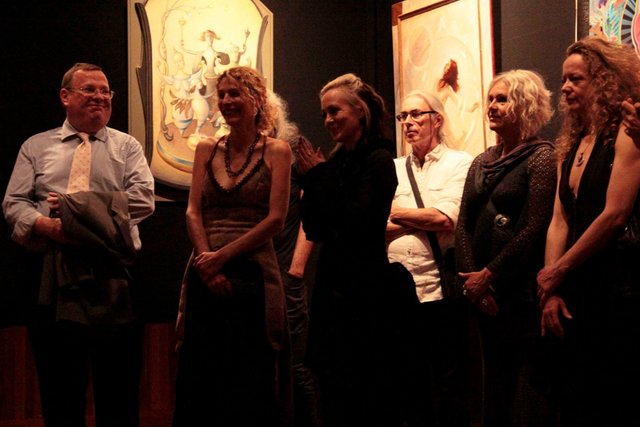 and then on to the inauguration in the castle.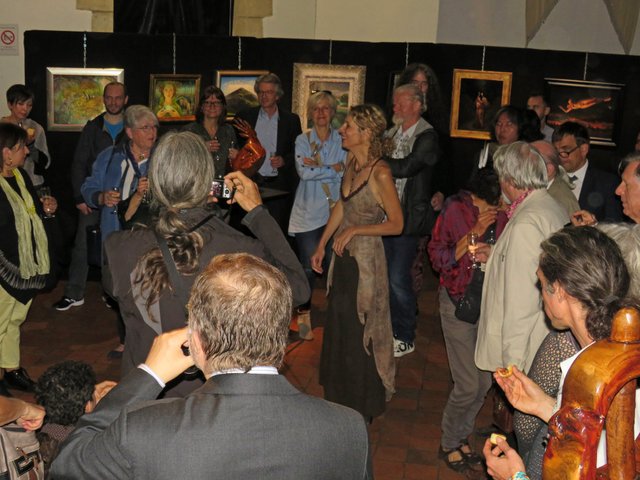 Roku Sasaki in front of his beauty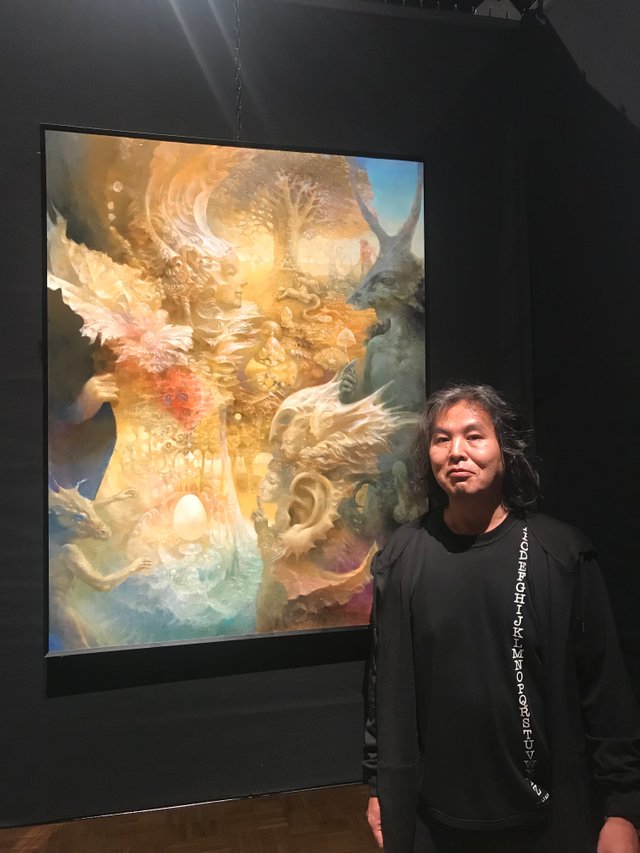 Pascal Ferry and Martina Hoffmann in front of their delicious pieces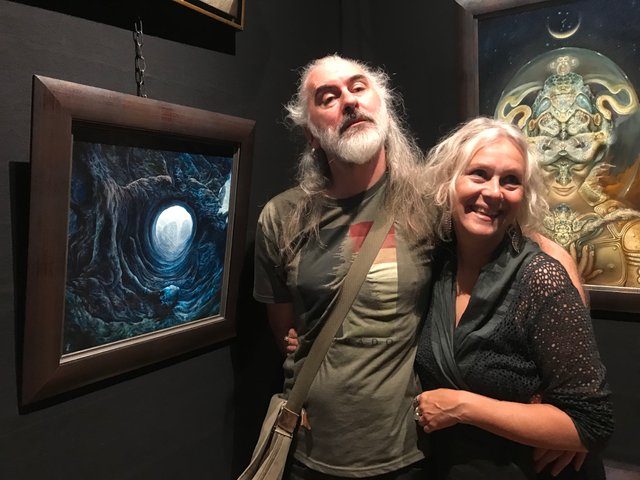 I had my four courtcards for my upcoming Tarot deck: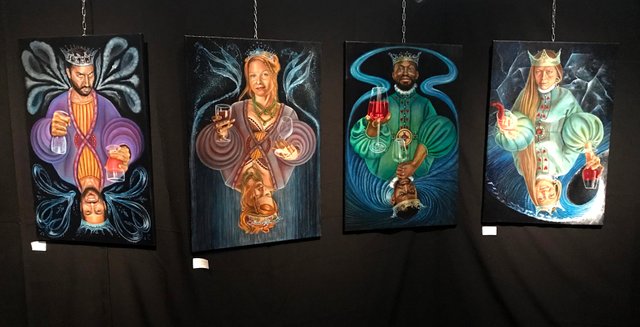 Iain Whittaker hanging with Hannah Faith Yata (top to bottom)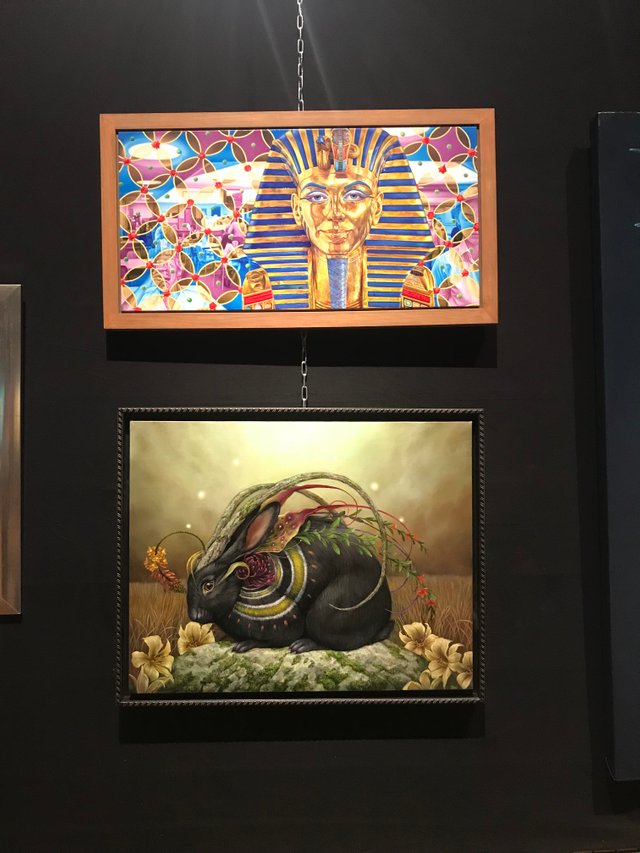 A Julie Baroh and two from Steven Kenny (left to right)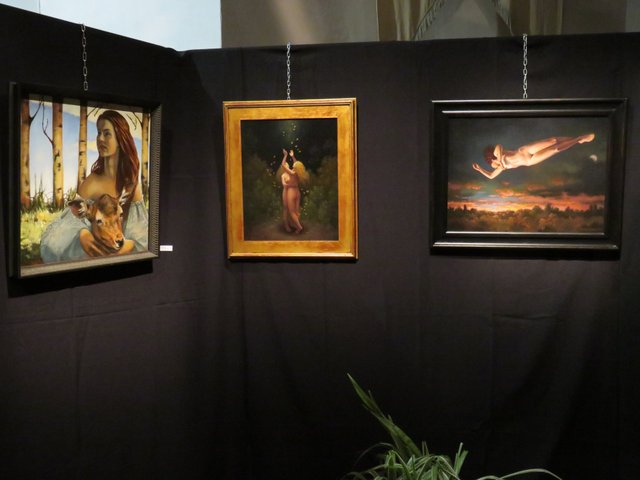 My angry Prince hanging with Romualdas Petrauskas (right to left)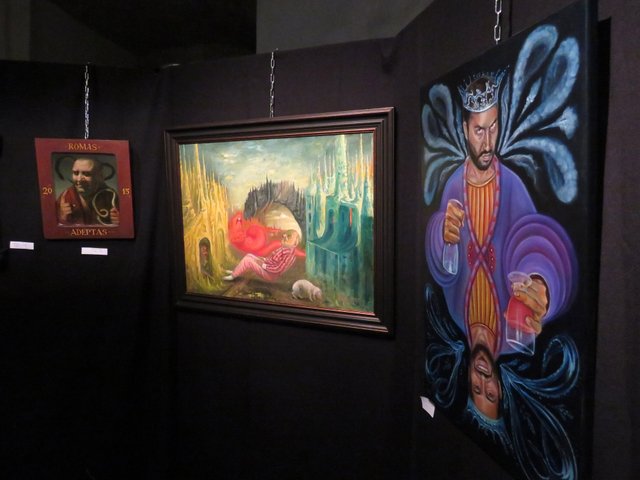 Don Farrell with his two pieces (closest to him) and a collaboration from David Heskin and Aloria Weaver.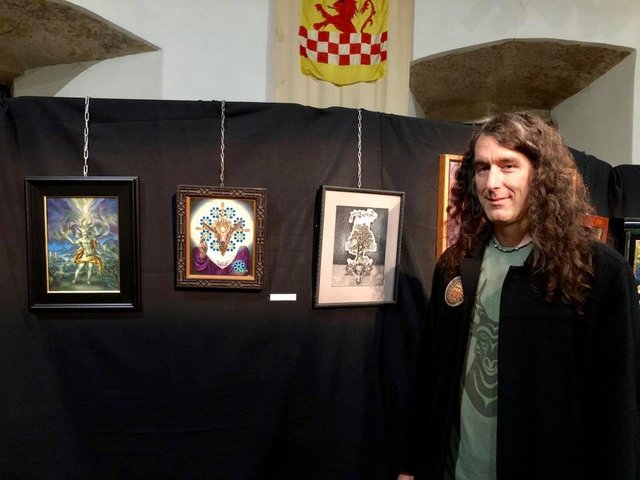 Kim's wonderful piece next to Pit Hubert's sculpture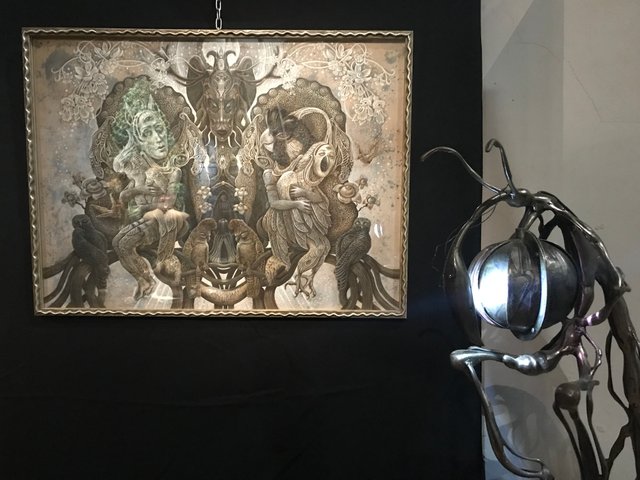 Our very own Otto Rapp in front of his piece with Andrew Jones' piece peeking through.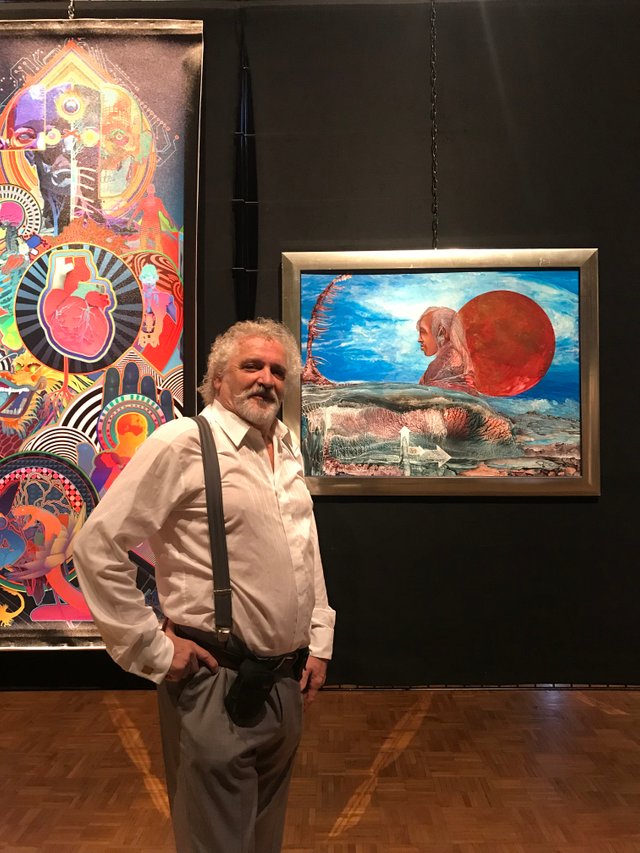 People enjoying the show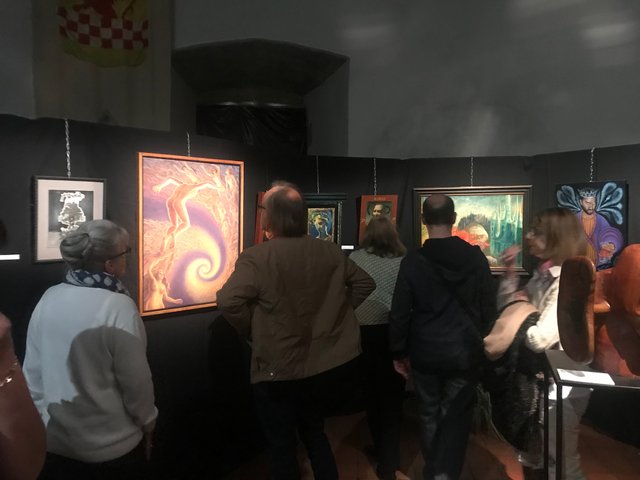 there were a lot of other good artists in our group and at the show but I only have so much space on this page. I would however like to share a picture from the Peruvian group of artists. Their stand was amazing: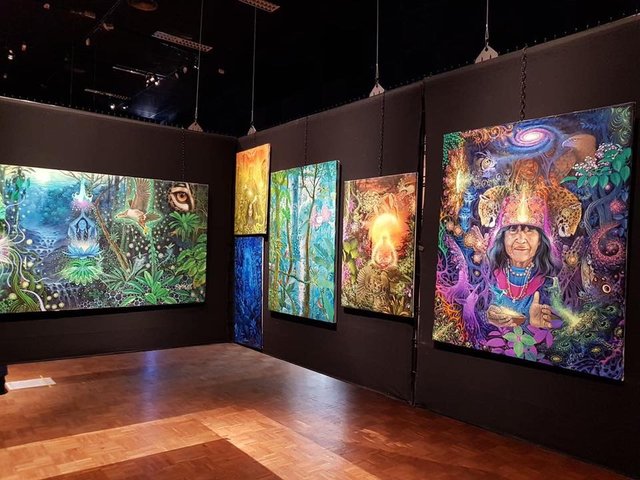 ...and to sign off a fun picture of Marylene Leterrier, the head of the bienalle with myself.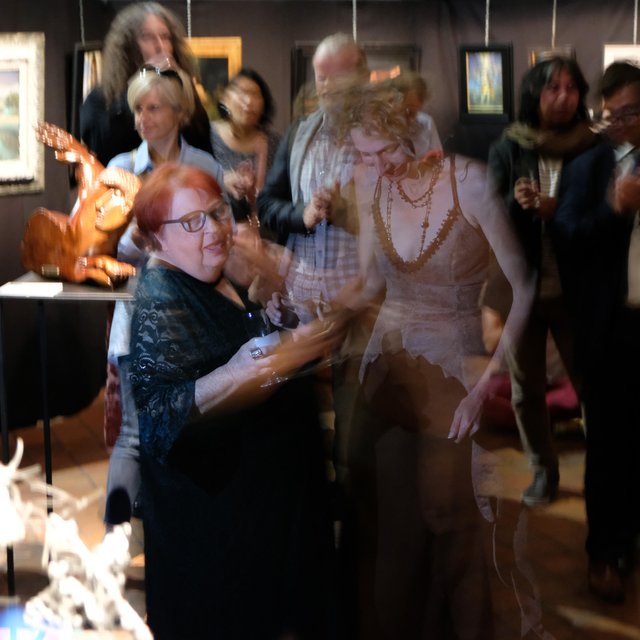 To see an album of the Dreams and Divinities paintings:
http://www.dreamsanddivinities.com/2018/09/chimeria/
To see the full facebook album of the show:
https://www.facebook.com/pg/Dreams.and.Divinities.AOI.Europe/photos/?tab=album&album_id=1956623314398596&xts%5B0%5D=68.ARD2bKu1eTUeYSGYbD6b6d9bH2B8lJc-LQbnWT8fhyDoxyLiHhPX7X15w2u_XVvTNLTTjQhDZ12Bqs4aWMr-WoiWoSHk8tpa-uljyWdeuYZTxTVnZZVpC-ITgNcMhiVJJvgBF9-faM8dX4XySFIyRS33EzZ_zd47zEQmuQSM00BpRa4-P_NRgA6x8yhLCCd1h8MfUjzlkphkM0AWLtXRY6tdZg&tn=-UC-R
photos from Otto, Liba, Bruce and Carrie.