P3T Whale War 3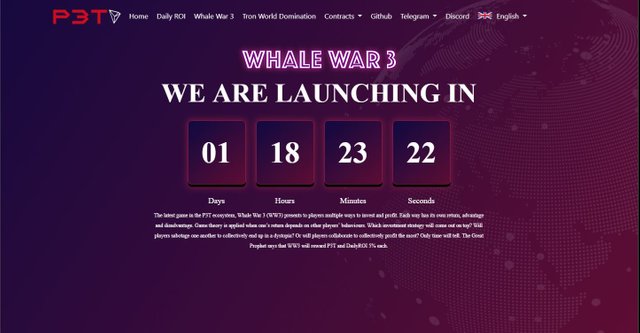 Whale War 3 ("WW3") is being released March 18, 2019.
WW3 is a nice addition to the P3T family of contracts. This game has some really interesting components to it that our whole community will enjoy. It is a nice mix of Daily ROI and Tron World Domination ("TWD") with some other fun twists to it. All users will receive daily rewards. In addition to the regular daily rewards, whales will have incentives to contribute larger amounts to receive extra daily rewards. The whale rewards will help bring larger players to the game, which will circle back to feed dividends to all users including the smaller fish. This will continue to attract more and more players. There is a jackpot component that will build up and be won at the end of each round. We heard our community about the longer rounds of TWD due to the 24 hour reset. This game will only add a few minutes to the clock when purchases are made. This will keep users playing for the jackpot towards the end and continue to feed our early supporters. We look forward to seeing the strategies that people choose when they play Whale War 3. Will you go for the daily rewards? Will you fight with the other whales for the whale rewards? Or will you go for it all to win the jackpot and become the whale?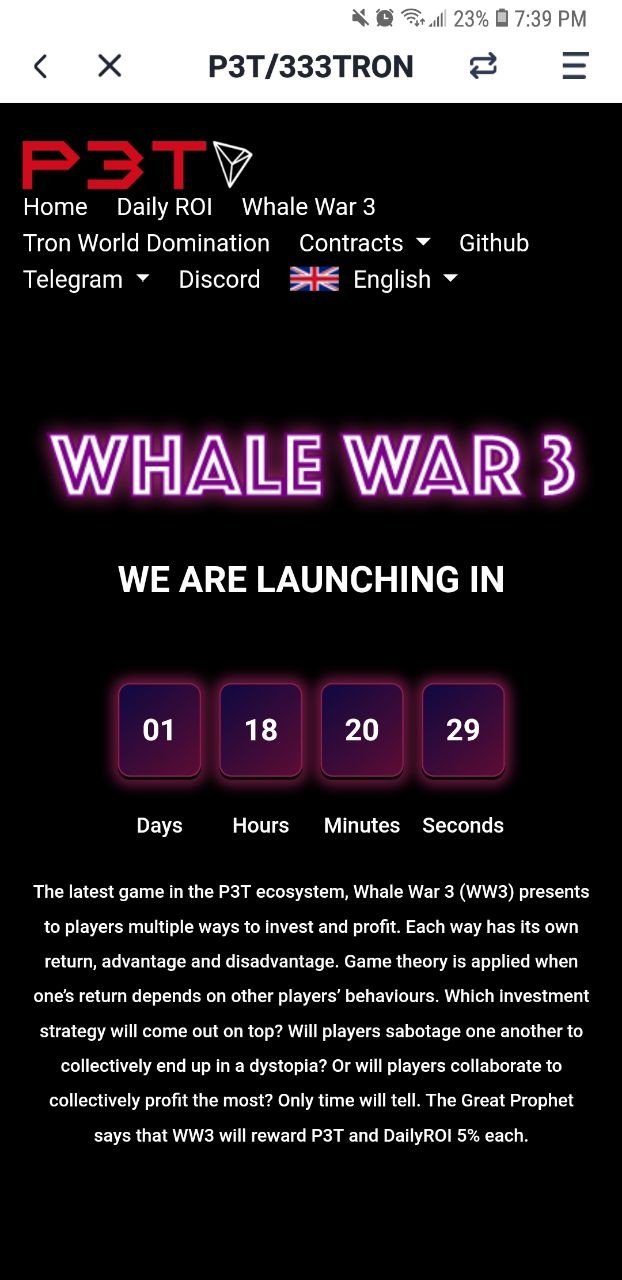 WW3 will have an unlimited number of rounds that will feed both P3T token holders and the Daily ROI contract. All dividends that feed the Daily ROI contract are unable to be withdrawn, so it is not like regular contributions to the contract. The TRX that flows to Daily ROI will grow the pool of TRX there and will be available to be withdrawn by all Daily ROI users. The Daily ROI pool has always been growing, but WW3 will serve to further sustain the contract and give players confidence to keep reinvesting.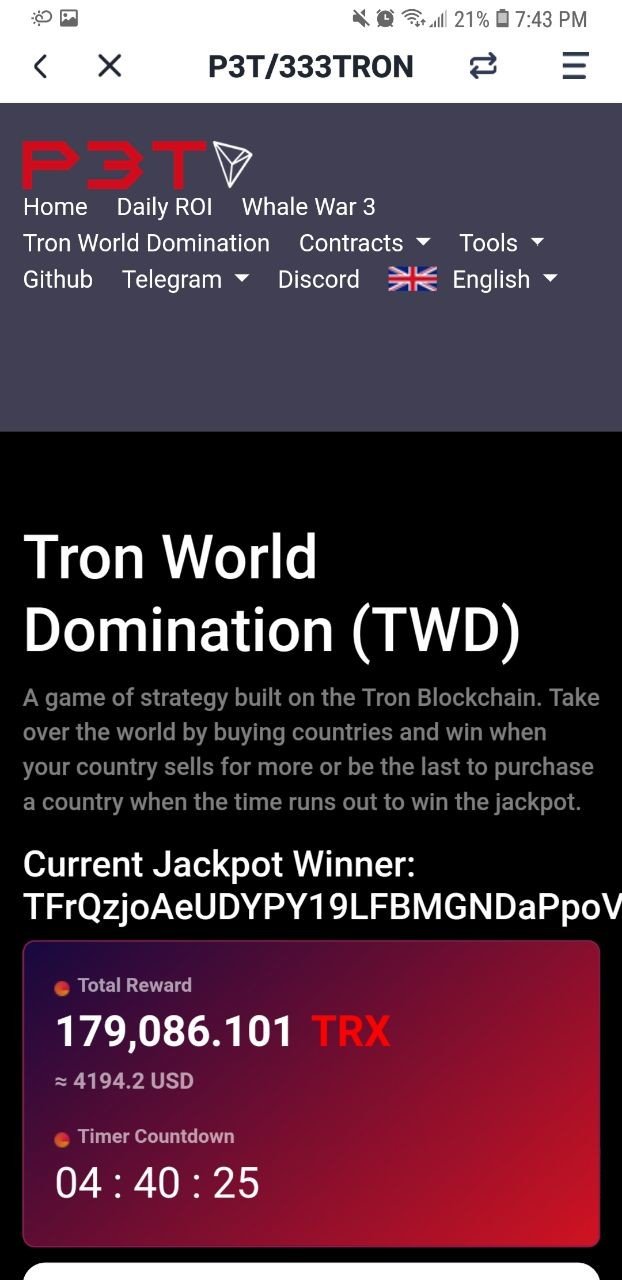 Exact specifications of the game will be released a few hours before launch time. Thank you for your loyalty to the P3T family. We will have some extra surprises coming soon along with sharing our plans for dominating the Tron ecosystem and creating additional use cases for the P3T token.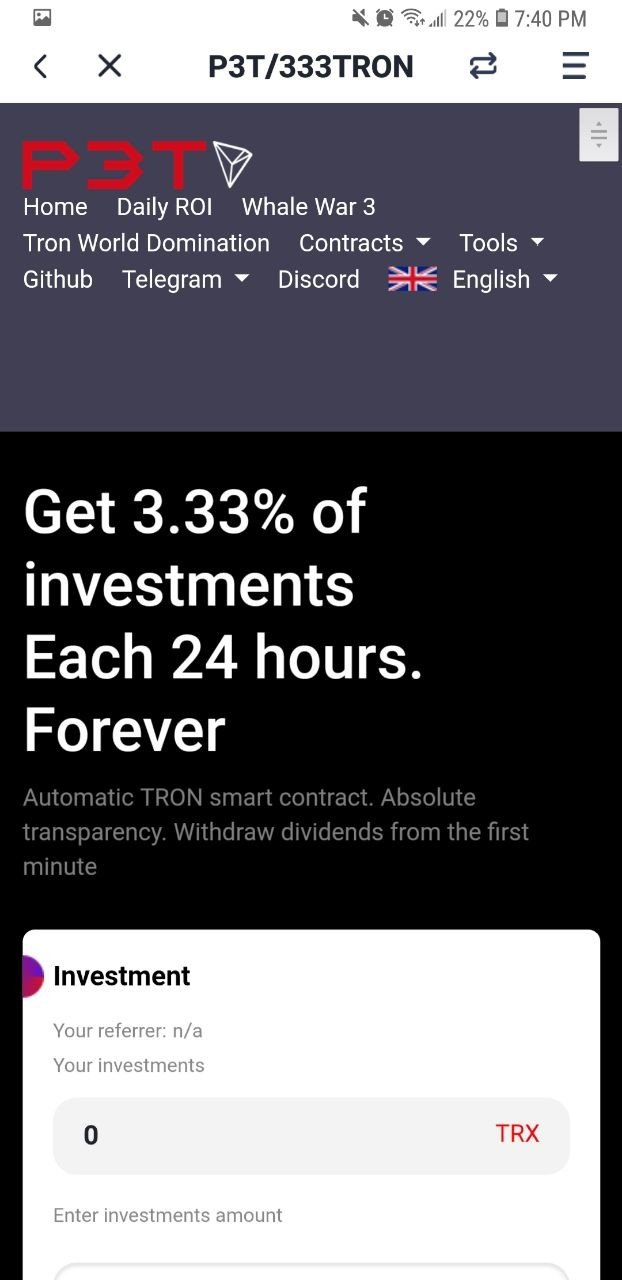 P3T is a safe haven from the bear market. Please continue to share your experience here with others.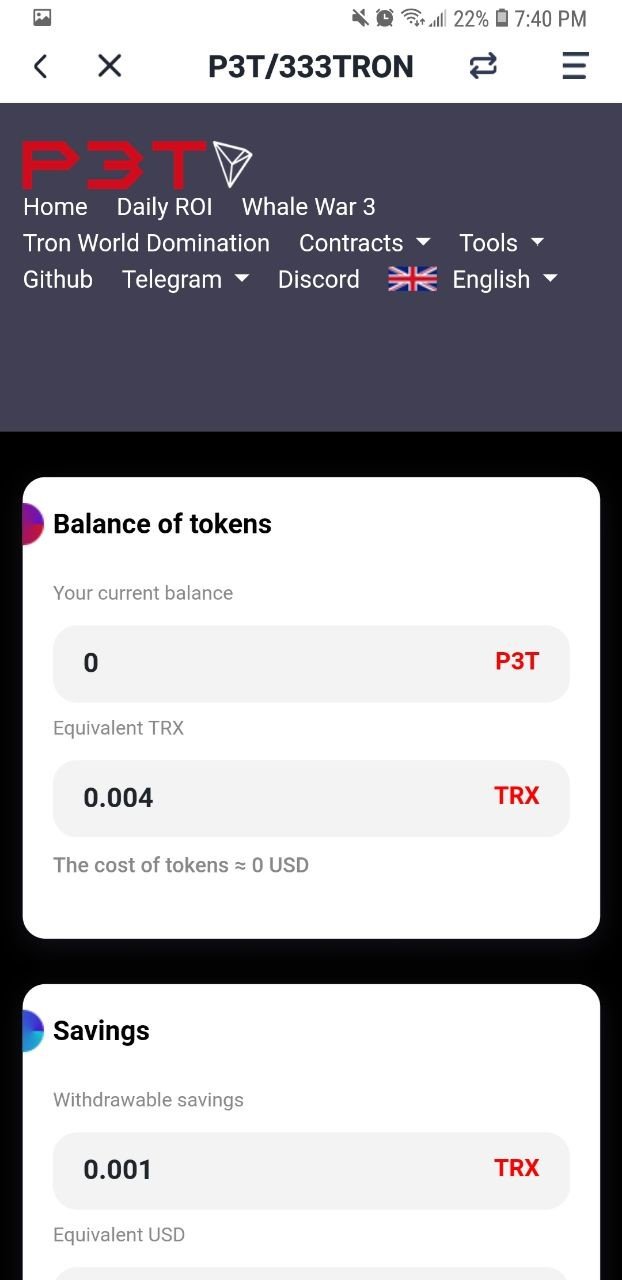 Talk to you soon. Get ready for the WW3 launch
P3T
https://p3t.network/ww3/landing.html
https://t.me/p3t_en
https://discord.gg/GxQXNvy
https://twitter.com/P3T19
https://instagram.com/p3t_network/
https://facebook.com/P3T.network