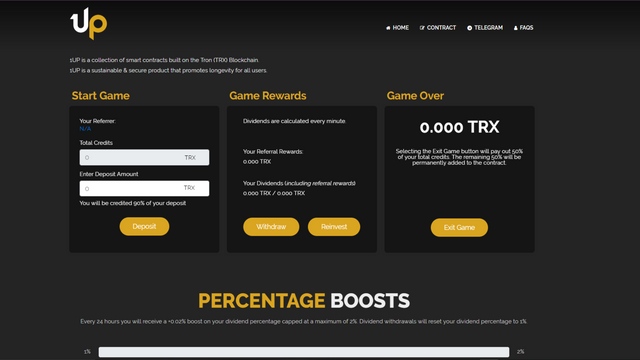 1UP https://1up.games/ is a new ROI game that recently partnered with P3T through the P3T Play 3rd party Dapp program, and just launched about 2 days ago.
1UP is built to be a sustainable and secure ROI contract that starts off with just 1% ROI per day. However, 1UP rewards people playing the game by increasing the rewards by just 0.02% every 24 hours for anyone that doesn't withdraw from the contract. The maximum daily rewards are just 2% per day in order to try to build something more sustainable.
This is one of the more creative ROI games out there because 1UP has incentives to hold onto your investment in their ROI as any withdraws will reset your daily gain back to just 1% per day.
1UP also has the option to withdraw up to 50% of your initial deposit at any time in the game as long as their is enough balance in the contract.
There is also a card game that 1UP has created which allows you to purchase a card which will reward you a percentage of all deposits made into the contract for a certain amount of time. More details on the P3T website.
1UP also has stats at the bottom of their page to show the contract balance including deposits, withdraws, and more.
P3T has audited the 1UP contract themselves and every deposit into 1UP will also feed dividends to P3T token holders.