INTRODUCTION
As we all know cryptocurrency is online digital money built on blockchain technology which is geared towards achieving its global adoption, so as digital assets and data are integrated into them. The security of these assets and data is of utmost importance to the users and organization operating with them. Digital assets and data such as password, private keys and wallets most times are secured and stored inadequately and in an inefficient way, this creates an avenue for panic by individuals and institutions that makes use of these platforms. This is one of the reasons why crypotocurrency is slow to global adoption. There is also need to have full access and security to stored data whether online or offline, this problem is mostly encountered by users trying to access their stored data on physical devices that has their data stored in them when connected to the internet, most times users have their data exposed to hackers in the system. The call for the security of digital assets and data by users arises. There is need to build more secured blockchain and cryptocurrency ecosystem, that's why an excellent team came together to develop Goldilock which is a solution to problems surrounding storage, access and security of digital data and assets.

INTRODUCING GOLDILOCK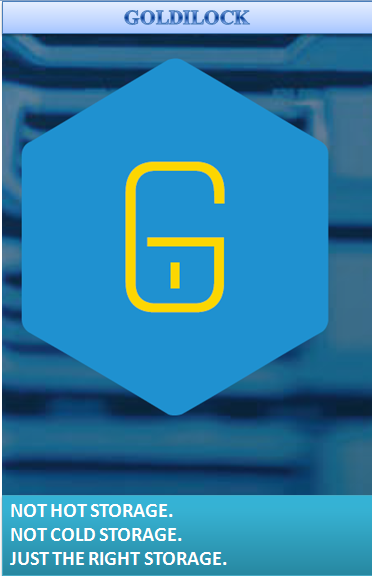 Goldilock is a storage system built in a well secured ecosystem to store and secure digital assets, data and cryptocurrencies for users, organizations and institutions whether offline or online. Goldilock is a system that utilizes a remote physical airgap disconnection method to disconnect storage devices containing highly sensitive data and digital assets from the internet. Goldilock is a system built to guarantee the security of offline data and digital assets in combination with creating a well secured online accessibility anywhere and anytime. Goldilock is a system that utilizes both hot and cold storage means by creating and adding highly secured physical layer, which was unavailable previously in the market. Goldilock is a system designed to change the mindset over the way highly sensitive digital assets and data are handled by users and institutions. Goldilock utilizes encrypted individual HSM vaults to make accessible and available digital assets through a non-IP mechanism at the same time invisible and disconnected from the internet when not in use. Goldilock partners with NEO, combining their core values towards achieving a perfect and secured technology.



GOLDILOCK VISION STATEMENT
The vision of Goldilock is to make available digital data and assets anytime and from anywhere for users at a highly secured platform, even though the data are physically disconnected from the internet.


Goldilock operates on a highly secured suite or platform which is backed up by patent-pending, user-controlled and remotely activated airgap technologies for securing and storing digital assets, data and cryptocurrency keys. Goldilock security suite includes:
The Goldilock wallet: which allows investors in cryptocurrencies to utilize its services.

Integration through Goldilock API: this allows users to store their sensitive data and digital assets including crypto keys using *AIRGAP technology.

Collocations: these are vaults built on Goldilock provided for use by institution and users who needs direct control over their data.

On-premises Deployment Option: it creates a platform were physical devices are enabled on airgap security for use by individuals and organizations.

CURRENT PROBLEMS WITH CRYPTO SECURITY AND DIGITAL ASSET STORAGE
In the past few years cryptocurrency investors and managers of digital assets and crypto keys are faced with the challenge of how to secure these data and keys from being hacked, misplaced, stolen and destroyed whether offline or online. In search for the solution to these heartbreaking challenges, these investors and managers are forced to use the services of personal hardware cold storage system which on the long run proved abortive.
Traditional cold storage system was seen by investors and crypto key managers as not the best solution to managing and securing cryptocurrency and other digital assets because:
The data are vulnerable to hacking
Services may be denied
Companies my collapse as a result of loss of data and digital assets
Companies may be subjected to financial crisis due to poor use of crypto keys
Data is inaccessible without the physical data storage devices
USB keys can be stolen or damaged.
Inability to access encrypted keys and data in USB devices on time.

There are groups known to offer cold storage solutions such as the Xapo and CoinBase, they offer storage services that have limited access by users which in turn do not meet the needs of the user.
Past records have shown that there have been cases where about 4 billion records have been breached on email providers, credit cards and banks, resulting into loss of over 1.2billion cryptocurrency, this is an aftermath of Hot storage as a solution to challenges facing key custody, digital asset and data storage.


Problem with centralized storage methods
Knowing full well about the flaws in centralized data storage, users still operate with online wallet or exchange but do not have any idea on how their cryptocurrency and keys are stored and managed. Centralized storage methods do not give these users control over their private keys in relation to their wallet and exchange. This is really a problem.


Goldilock AS SOLUTION TO CRYPTO KEY AND DIGITAL DATA STORAGE PROBLEMS
Goldilock is built on three core premises, which are:
Goldilock
working solution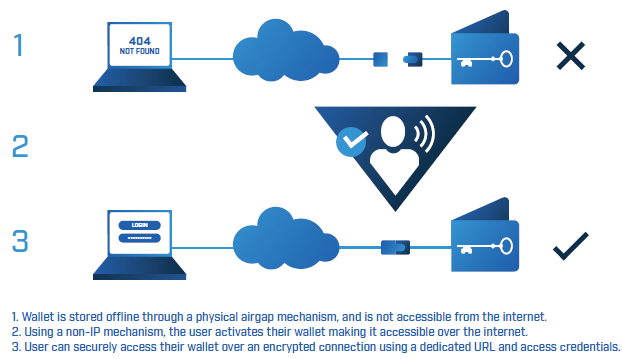 Source: Goldilock White Paper
To enable users have access to their personal and private keys as quick as possible, occasionally and for a short period of time, this in turn prevents online data from being accessed hackers.
To back up, isolate and secure personal data and private keys from human errors and physical contacts.
To provide users with quick access to their personal data and keys when needed at anytime and from anywhere.

PATENT-PENDING TECHNOLOGY AS A SOLUTION
Goldilock holds a U.S. patent-pending protection on implementing technologies that is based on air gap toggled by non-IP triggers. This patent-pending protection allows Goldilockin future to be sole providers of crypto keys and digital data storage platforms in the market as well as prevent other service providers from competing with them.
Goldilock's Patent-pending technology makes these three core premises of utmost important in other to secure key custody and personal data.
Goldilock operating under a proven patent-pending technology offers a unique key custody and data storage solutions which include:
Regressive connectivity and signal processing
Biometric gateways
Personal generated codes
Scalable physically-segregated connectivity solutions
Two-Factor Authentication
Optional multi-signature security
Secured physical vaults
Multi-site encrypted data backup
Goldilock provides users with physical airgap disconnection from electronic networks there by solving the problem of theft while users still access their data and keys when offline. It also allows users to be dedicated to a particular hardware which recognizes the user for storing and encryption of data. This solves the problem of accessibility of data and keys. Goldilock secures users dashboard and notifies them of any unauthorized access to their stored data.
Goldilock using its patent-pending technology, would bring together both hot and cold storage, creating an additional physical layer of security and protocol that is not in the market, this in turn creates an anonymous platform for hackers to operate. This solves the problem of data and keys being stolen by hackers.


SOLUTION FOR CONSUMERS
Private Key Custody
Goldilock would provide users and individual consumers with an encrypted storage device stored in a vault. This device is built on airgap technology which would allow clients to access their data anytime through an authorised non-IP mechanism even when the device is offline or disconnected from the internet. The benefits of using Goldilock encrypted storage device is that it would securely manage private keys and would allow full control of these keys by the users.


Case 1
Mr. Udensi a cryptocurrency owner treats his digital assets and data including his crypto wallet with utmost security. He achieved this using Goldilock device, where he stores all his sensitive data including his crypto wallet. He embarked on a shopping spree knowing full well that he need not to go with physical cash because his currencies are encrypted in a storage device and fear of losing his cash. After shopping, He his payments and other transactions through Goldilock wallet, using an authorized non-IP command through a web secured platform.


SOLUTION FOR INSTITUTIONS
Cryptocurrency Exchanges
Over the past years there have been breaches in the use of public centralized cryptocurrency exchanges by institution and organizations due to low security level.
Goldilock would be a better solution to this problem because it enables crytocurrency exchanges to be highly accessible at utmost security on an online-on-demand platform which preventes delayed transaction time and traffic during market run.
Online/Hot Wallet Operators
Goldilock would provide a remotely automated airgap custody solution in which hot wallet operates can easily integrate into, providing them with an option of either choosing an in-house licence or an outsourced service model, in order to meet the need of their clients.
Goldilock
Hardware/Cold Wallet Operators
Goldilock allows cold wallets to be integrated into their system or work together creating a platform where operators can readily provide a highly secured and accessible service.
Data Storage and Digital Asset Security
Goldilock offers a platform were essential and legal documents can be store and can be accessed anytime. Banks, data storage operators, insurers and credit agencies when partnering with Goldilock would offer its clients better security of their sensitive and legal documents without any fear of losing them. By partnering with Goldilockthis agencies would have several means of handling client's important documents.


Case 2
Mr. Stevens a renowned entrepreneur, decides to apply for a loan through a cooperative society so that he can boost his business, on the long run, he was asked to filled the application form using his relevant documents and credentials. The application time was so limited that he needs not to pass through process in search of his documents. Thanks to Goldilock where he stored all his document, just on a click, he was able to access his documents, filled the application form and at the same time meeting up with the time frame given for the application.


ESTABLISHING SECURITY STANDARDS AS A SOLUTION
Establishing security standards will go a long way solving the problem of data theft and misuse. To achieve this, government agencies sets up strict protection regulations, digital asset and data operators would adhere to, in order to offer sufficient protection of consumer data. Goldilock is keen on positioning itself as solution to achieving adherence to these regulations.


APPLICATION LAYER AS SOLUTION
Goldilock is keen on developing its wallet by running in a web browser authenticated over SSL, accessing through non-IP commands, Encrypted in a hardware devices disconnected from the internet and using two-factor authentication, to store NEO, GAS and NEP-5 tokens, creating a secured platform for transactions and crypocurrency-related purposes. This in turn can boost the security and wider adoption of cryptocurrency worldwide.


After the development of Goldilock wallet, the GoldilockAPI will be developed to allow institutions that have wallets solutions to utilize Goldilockpatent-pending solutions to improve their security.



WHY GoldilockOPT FOR NEO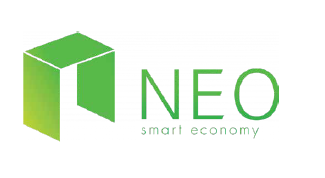 NEO is a non-profit, community-based blockchain project that utilizes blockchain technology and digital dentity to:
Digitize assets
Automate the management of digital assets using smart contracts
Realize a "smart economy" with a distributed network
NEO is a blockchain platform which focuses on enabling a regulatory compliant smart economy and providing features such as:
By combining all this features, NEO plans to establish a secured blockchain that is recognized by government agencies. With all this Goldilock opted for NEO because it aligns with their mission and objectives as well as Goldilock's guiding premises.



GOLDILOCK LOCK TOKEN
This token is registered as LOCK in connection with Goldilock smart contract logic, which is used by users to access Goldilock services.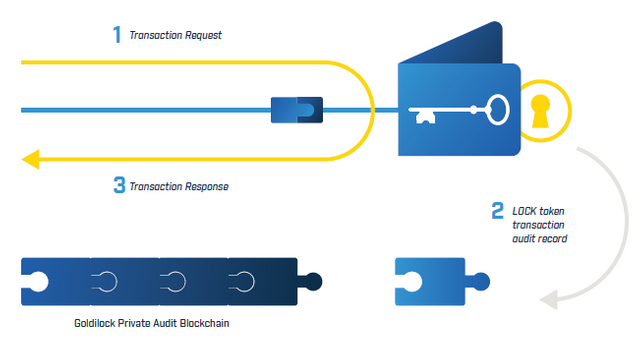 Source: Goldilock White Paper

LOCK token integrated into NEO blockchain, would allow users to access their Goldilock wallets and other personal sensitive related information including crypto keys.
LOCK tokens allows user-owned encrypted data to lock from all access including Goldilock team except the users while providing records of their node activities.



TOKEN ALLOCATION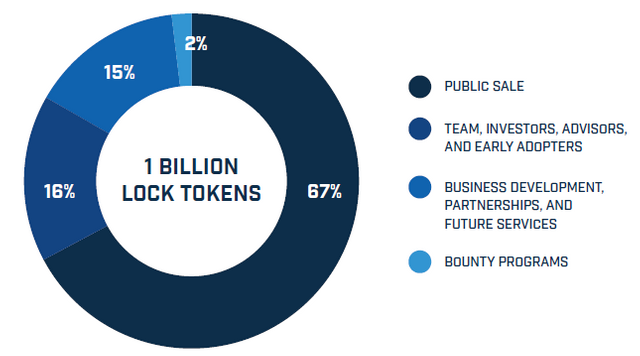 Source:Goldilock Tokenomics


USE OF PROCEEDS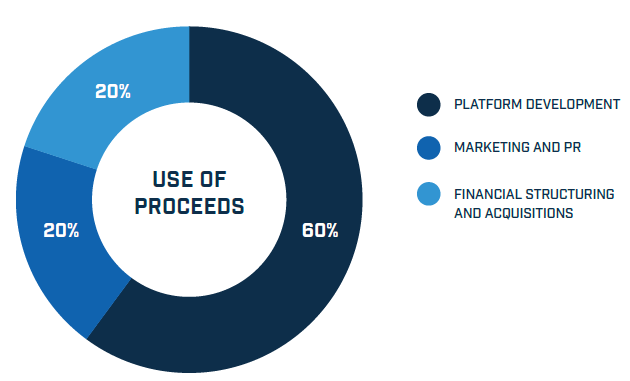 Source:Goldilock Tokenomics

Goldilockcan be applied in so many fields such as:
Identity
Goldilock would offer users an enabling platform where their digital personal identity and data can be store at utmost security. Goldilock would also allow users to access this personal information on per need basis either offline or online.
Wallet
Goldilock would provide users with wallet where their crytocurrency can be stored in a highly secured cold storage while the users still utilizes online services, which they can still access through an encrypted node when connected to the internet.
Voting Machine
Through Goldilock patent-pending security protocol, Goldilock can be added to voting machines that has vaulted encrypted nodes in it. with this, users can easily access their data store, for voting purposes. The backup mechanism possessed by this machines, when disconnected from internet, prevents the data from being stolen.


CONCLUSION
Goldilock has come to revolutionalise the way digital assets and data is being accessed and stored in internet by providing a more secured and user-friendly ecosystem. By integrating into Goldilock services, be rest assured that your documents, sensitive data and cryptocurrencies are safe and can be accessed anytime and from anywhere even when offline. Let us leverage this opportunity to create a long lasting ecosystem of secured data storage.


Goldilock ROAD MAP



Source



MEET THE EXCELLENT GOLDILOCK TEAM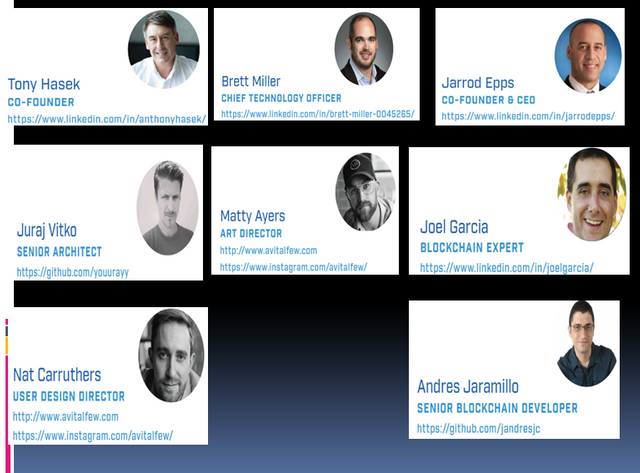 Goldilock PARTNERS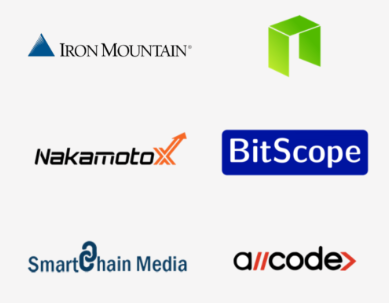 Goldilock ADVISORY TEAM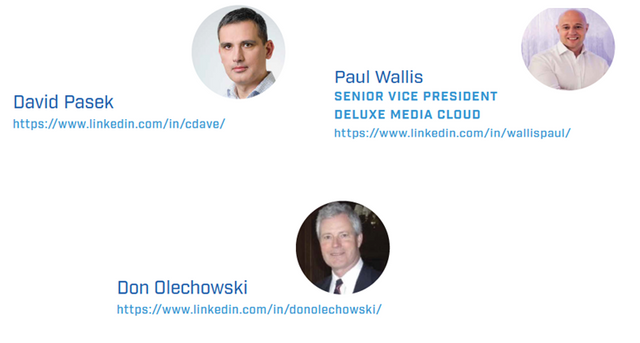 Watch this short introduction to know more about Goldilock


For more information and resources visit
goldilock2018