BEAM THE NEW CURRENCY, BLOCKCHAIN THAT OFFERS YOU CONFIDENTIALITY AND SCALABILITY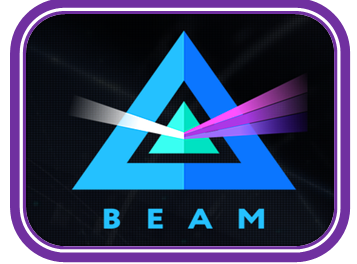 Source

PROBLEM
In the last times of our history we have faced many technological advances, one of those that has changed the world was the Internet and from there a series of advances that have facilitated our life to say it, such as, for example, the messages of email, block, web pages, search engines (google), etc.
But the newest thing is the Blockchain technology or chain of blocks this is not just a large database in which multiple operations can be performed, this has revolutionized the world since it allows the participation of everyone and it is reliable because it is public, that is, we can all ensure the completion of an operation, they are endless.


With the appearance of Bitcoin, this is the best known virtual currency, with its own blockchain, being the currency that leads the largest number of movements in several areas of use including the financial sector.
This is wonderful since you can make contracts without having to attend a public registry, the blockchain allows you to carry out all this type of transactions in a fast and economic way and all this data is stored in the cloud and all this information is distributed in the network being at the access of the whole world.
Then you can say that the blockchain does not guarantee privacy or security to 100%, since the data and movements made by users can be ascertained and get their identity. Leaving in evidence the weakness of Bitcoin as it is the CONFIDENTIALITY.


Another weakness that is currently present in the Bitcoin is the issue of SCALABILITY, since currently the number of people who are involved in the Bitcoin ecosystem has grown in an exorbitant way since day a day more users are added to this blockchain.
The problem of scalability currently affects the Bitcoin network since the large number of users can not be supported to be able to perform all those transactions as quickly as it should, and this is due to the block size limit that is no longer enough to the volume of operations performed.
That is why there is a need to recover the scalability and confidentiality in the blockchain, giving a concern to solve this need a team has given the task of creating a new currency with its own blockchain that offers these two things and this new technology is BEAM.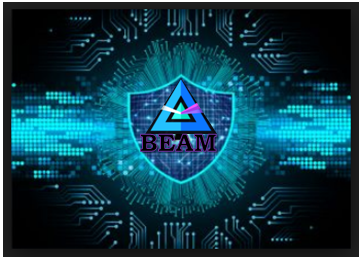 EDITED IMAGE Original Source

WHAT IS BEAM?

BEAM is a next generation confidential cryptocurrency based on an elegant and innovative design, MimbleWimble Protocol

The things that make BEAM special include:
● Users have full control over privacy: the user decides what information will be
available and to which parties, having complete control over your personal data in
according to his will and the applicable laws.
● Confidentiality without penalty: confidential transactions do not cause swelling in BEAM
of the chain of blocks, avoiding an excessive computational overload or a penalty
performance or scalability while completely hiding the transaction value.
● Trust configuration is not required. The blocks are extracted using the Equihash Proof of Work algorithm.
● Limited emissions using a periodic division in half with a total amount of coins ~ 210 million
● There are no addresses stored in the block chain, there is no information about the
The sender or receiver of a transaction is stored in the chain of blocks.
● Superior scalability through the compact size of the block chain: using the cutting characteristic of the MimbleWimble block chain BEAM has orders of magnitude smaller than any other
implementation of blockchain.
● BEAM supports many types of transactions, such as escrow transactions, blocked time
Atomic swaps transactions and more.
● No prejudice. No ICO. Backed by a treasure, issued from each block during the first five
years.
● Implemented from scratch in C ++ by a team of professional developers.
BEAM, offers true anonymity, this offers companies total privacy in their transactions both corporate and personal level for the case of employees, they can also manage the administration financially in a fast and secure way.
This new technological system of the blockchain has a series of benefits just like the bitcoin highlighting that it can not be easily penetrated and copied. Each user has control over the available transaction data, which allows for transparency and privacy
BEAM is based on a code called Mimblewimble: Beam has smaller blocks than any other blockchain, which gives it maximum scalability. It is a fast and efficient system
Bitcoin has been a blockchain revolution but it has still reached perfection when it comes to privacy.
CHARACTERISTICS
1.-Confidentiality
This new system does not store any type of information about the users in the chain of blocks, that is why all the operations carried out are private are not exposed.


2.- Versatility
The BEAM system has the technology that allows to perform several types of transactions that users make that go beyond exchanges and simple things, this technology that makes this possible is"Script Script".


3.- Scalability
Beam has a feature that helps it avoid the excess of overload at the computer level, called Mimblewimble making this blockchain is of low magnitude and in this way you can accept the completion of multiple transactions quickly.


4.- Sustainability
The rewards thrown by the system are destined in a 20% to the team as insentivo so that they continue the development and the promotion of this system.




5.- Usability
This is an accessible system for all, large and small companies since it can be managed easily, and this is designed to support the daily use of users. It also offers a wallet for mobile and computer use.


6.- Compatibility
Beam is compatible with most of the GPU miners since it has a wide variety of tools to perform and manage mining nodes, all thanks to the fact that it has an algorithm called Equihash.




Mimblewimble
Beam relies on Mimblewimble to allow users to send and receive money securely and privately. These properties are the result of the protocol's ability to eliminate the need for addresses and quantities in transaction verification.
Mimblewimble is a protocol published by an anonymous author; very similar to the famous Satoshi Nakamoto; creator of Bitcoin!

Mimblewimble focuses on:
(a) Confidential transactions and
(b) Reduction of transactions.
(a) Confidential transactions, hide and link, that is, give privacy.
(b) Reduction of the transaction, decreases the amount of data absorbing the necessary to make the transactions more quickly.
With this system, transactions can be carried out where only the necessary items are recorded, not the addresses of the users or the quantities exchanged.
Operating Protocol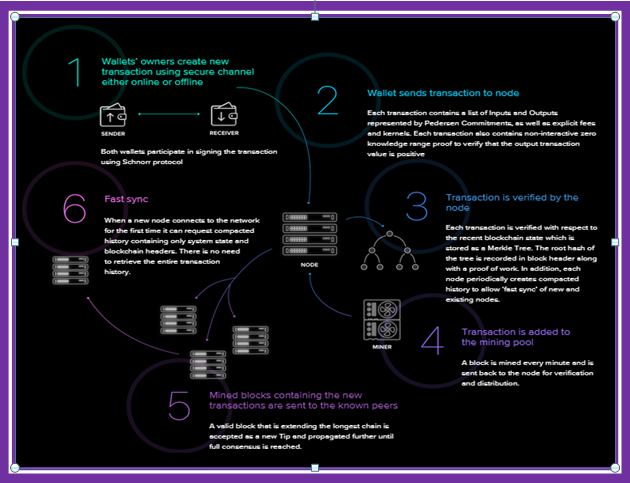 Source
COMPARISON OF BEAM WITH THE BITCOIN AND OTHER COINS
In this table we can see the amount of aspects that BEAM has and also exceeds other currencies and this allows a better operating system giving a better service to users.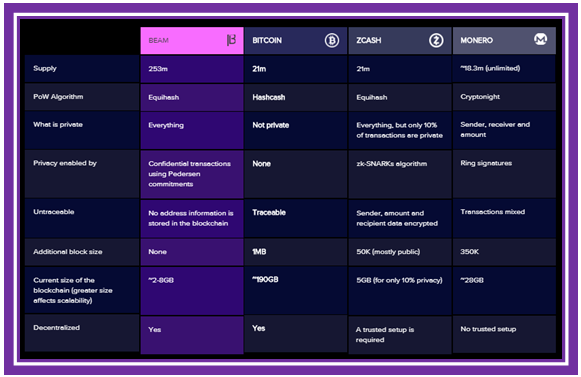 Source
ROUTE MAP
BEAM through this diagram presents the route that has been made referring to its beginnings, moments of applications and launch.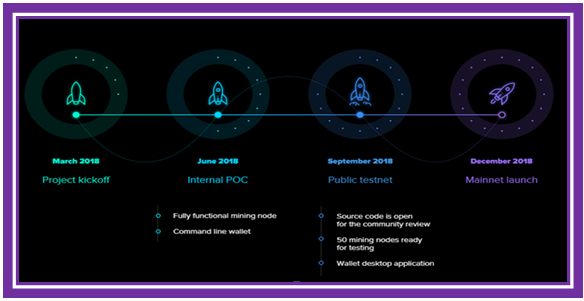 Source
BEAM has a well-complemented team of experts in the field who have made this project a reality by taking responsibility for its operation to offer users a good service.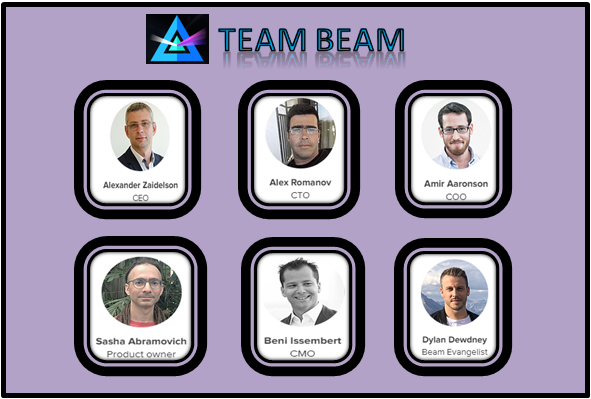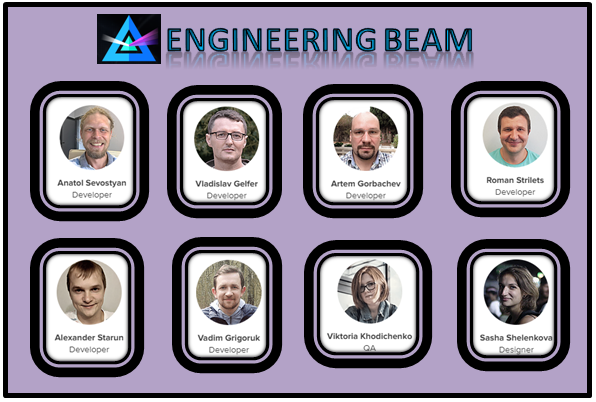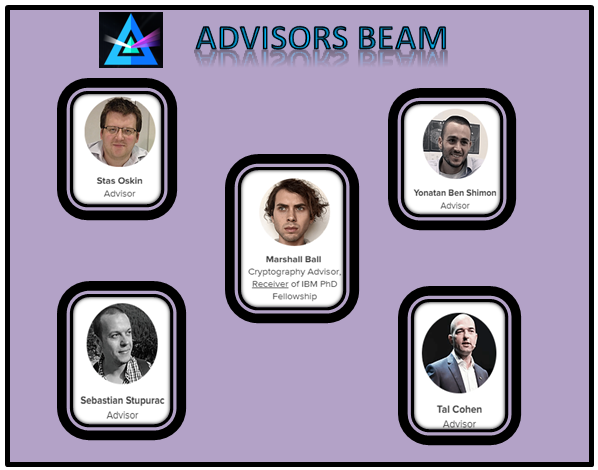 Source

INVESTORS
In this section, those who have invested in BEAM are presented, making the system complete and functioning successfully.


INFORMATIVE VIDEOS OF BEAM
In these videos there are some exhibitions of the representatives of BEAM to show the world its feasibility in the blockchain.



CONCLUSION
BEAM is a new currency that has its own Blockchain as well as Bitcoin, but which covers those weaknesses that are affecting Bitcoin at this time, as they are Confidentiality and Scalability.
BEAM It offers high confidentiality because through its system it does not expose the data and operations of the users, thus making this blockchain more secure. It also offers scalability in such a way that it can process a large number of operations per second in addition to accepting a large number of users, making this system fast and efficient.
BEAM is the new technological option of the blockchain that gives us security because it is reliable and scalable. It makes it possible to enforce the shortage of space and speed, in addition to facilitating the transfer of value in areas where otherwise it would be impossible to reach, it is the solution to problems of insecurity in the digital economy by executing all transactions successfully.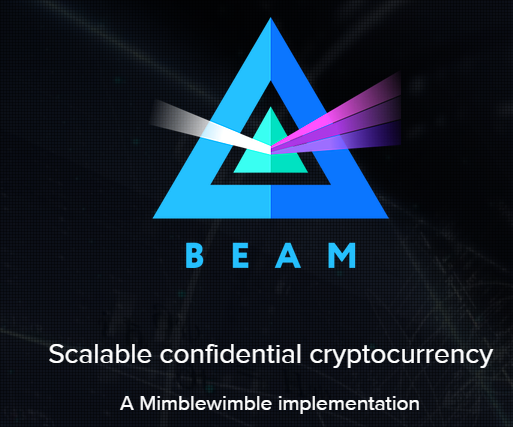 Source

If you want to know more about BEAM you can access the following links:
Beam Website
Beam Position Paper
Mimblewimble Paper
Beam YouTube
Beam Telegram
Beam Facebook
Beam Github
Beam Bitcointalk
Beam Medium
Beam Twitter
This contest is sponsored by @originalworks if you want more information enter this Link
beamtwitter
beam2018