Xaya is entering the crypto world with high ambitions. Building games onto a blockchain isn't new, a number of projects have had this feature. A custom built, gaming Blockchain, where games can be launched and are then truly decentralised is different. Games can be launched, by a very small dev team, without the need for servers and infrastructure. The game will evolve and grow on the blockchain as users interact with it.
Source: Xaya website
As a gamer, this platform has a number of benefits:
Games are unstoppable. Once launched on the blockchain, they will continue forever.
Games are provably fair. There can be no cheating or manipulation.
Through smart gameplay, it could be potentially profitable to play.
Even accounts can be sold, with the Chi coin underpinning the chain and providing more potential profit.
Actual ownership of game items. If you buy a digital asset for the game - it is yours to keep, use or trade.
The team behind Xaya have had a trial run - Huntercoin. This blockchain was launched as a hobby project basically in 2014. It has served as a working proof of concept, and the Xaya platform shows the learnings from this project.
For Game developers, Xaya is beneficial because:
Much easier path to launch a game for small or solo developers
Costs relating to setting up game servers or cloud facilities are no longer an issue,
Development of MMO games with a rich space will be possible, as the space lives on the blockchain.
Much quicker to bring a game to life.
Games launched will be provably fair, and attractive to gamers.
This illustration demonstrates how the ecosystem will function: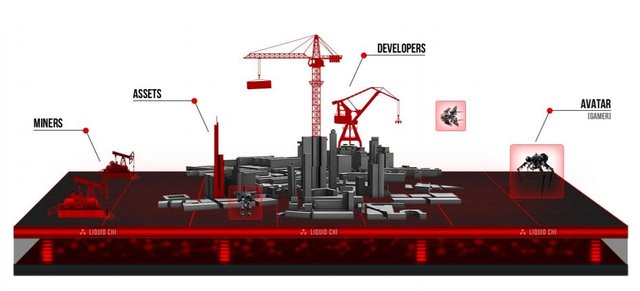 Source: Xaya whitepaper
As you can see, Xaya is the platform on which developers build games, gamers interact with them, and digital assets exist that can be traded. The Chi is the coin that fuels it all.
---
In summary, Xaya is a crypto coin platform attached to a blockchain designed for gamers and game developers. It's use case is undeniable, with gamers searching for new ways to feel more in control of their gaming experience, and Developers looking for more efficient ways to launch and support games without all the overheads
---
This Article has been written for the @originalworks Sponsored writing contest - Link to contest
Xaya2018