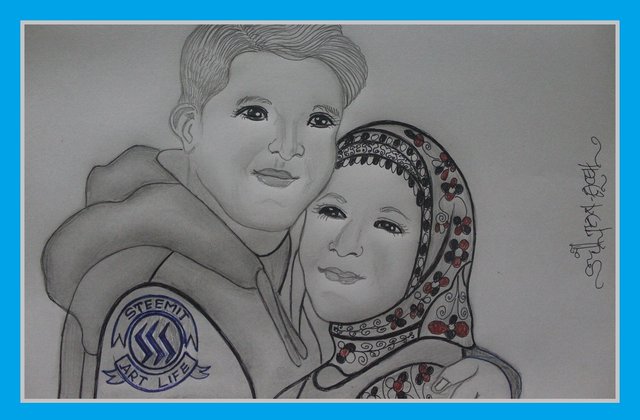 ---
Hello Steemians
Artwork drawing between an engaged male and female lover
Today, I have drawn again, a picture of a young couple, hugging together, the hug that I mean here is the embrace of the love of a man who is engaged to a woman. before going to work with great distance, this man gives affection with a hug, as in the picture.
in the picture that I made, I still give a logo and writing, to the jacket, which is worn by this man. in the picture I also give a floral motif there, so that it looks a good impression in art, in the veil.
as usual, in making this drawing, I did several drawing sequences, from start to finish, this can also help friends who want to make other drawings at home, let's look at the sequence I mean, below:
---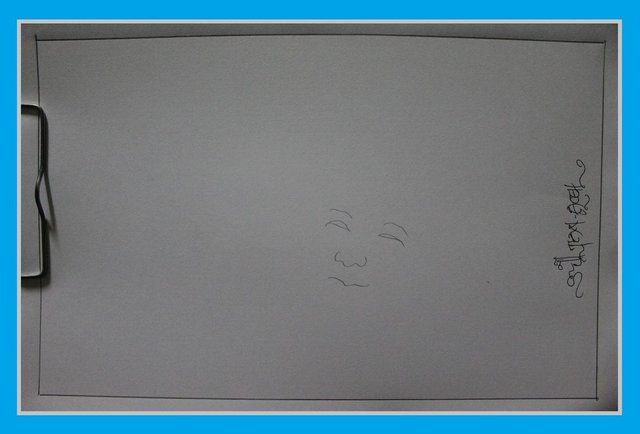 The first steps I made were eyebrows, eyes, nose and mouth.
---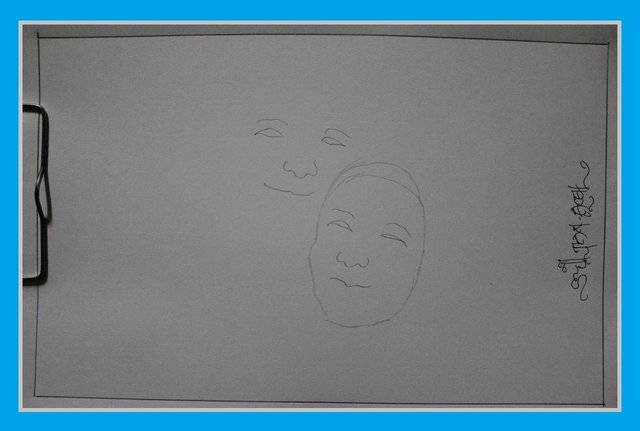 Next connect the face and eyebrows, eyes, nose to both faces.
---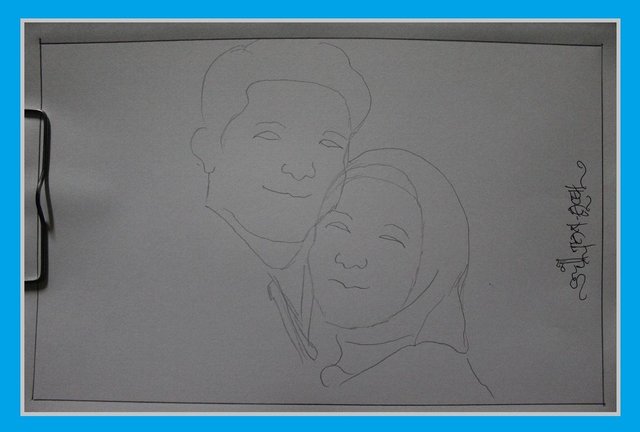 make a line of help, part of the woman's body, slightly add part of the man.
---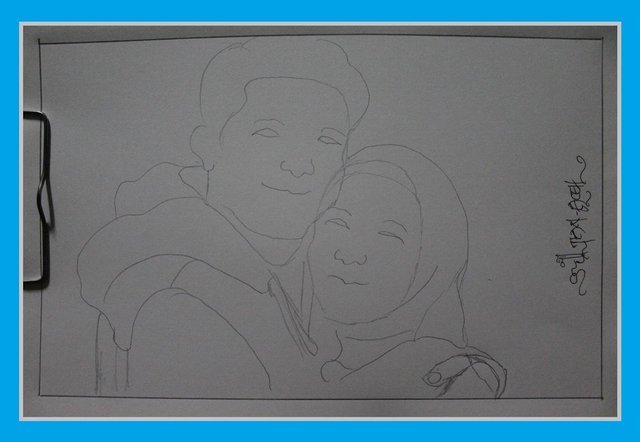 Next I made, a jacket outfit, and added the hand, so it looks like in a hug.
---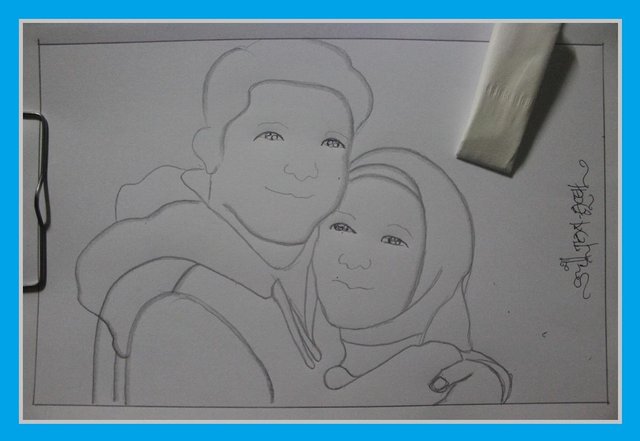 The part above, before I use a tissue, to tidy up the lines and add the eye.
---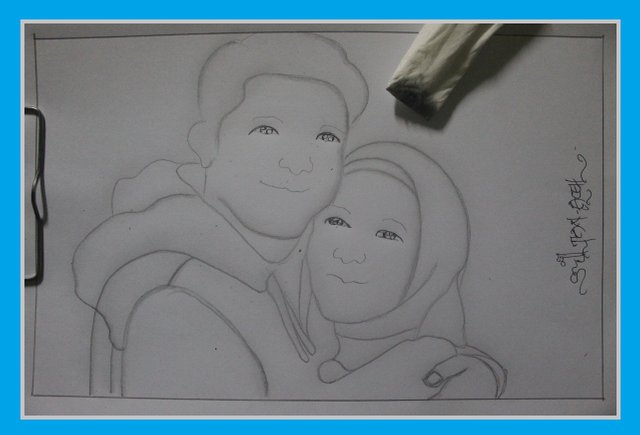 and the picture above, the image display, after I trim the help lines, with tissue.
---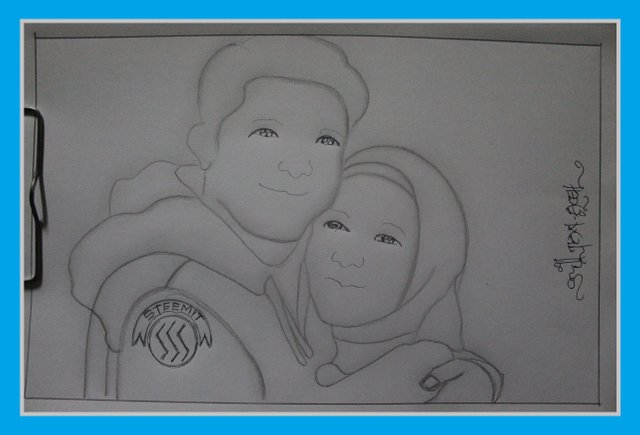 in the picture above, I began to make the logo and writing section.
---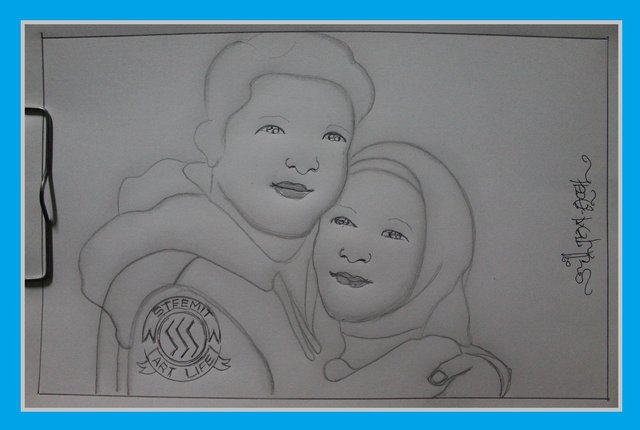 still in the stages of making writing and logo, slightly adjusting, on the lips.
---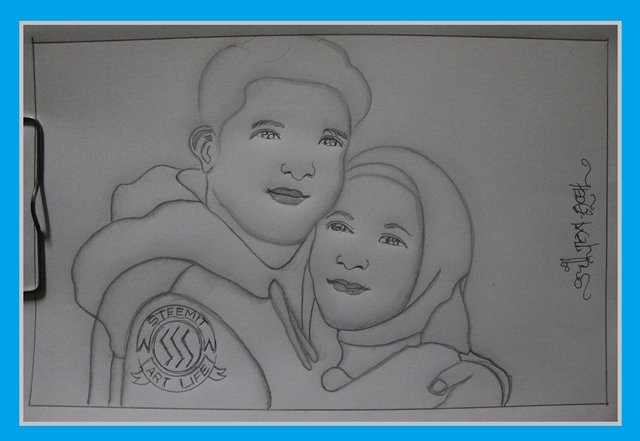 checking the picture, is there still a help line, which I should add to the picture. before I continue drawing.
---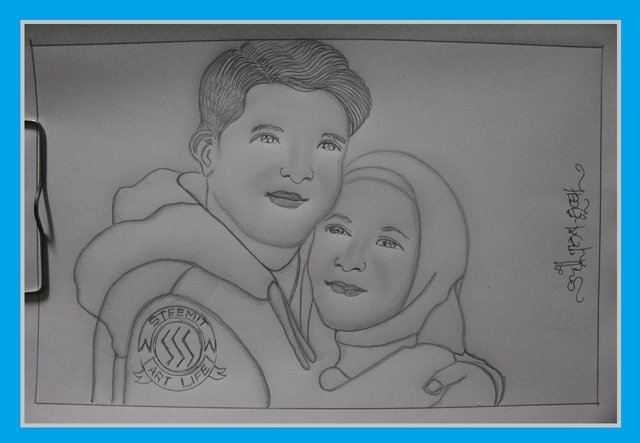 image above, I'm working on the male hair, a little lip polish.
---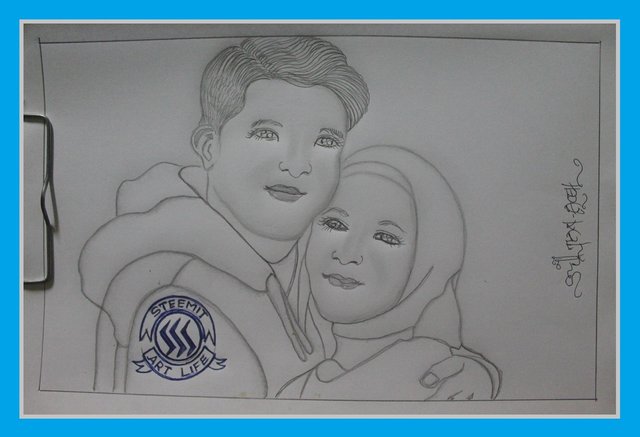 In the sequence drawing above, I began to make a logo and text image, by giving it a blue color there.
---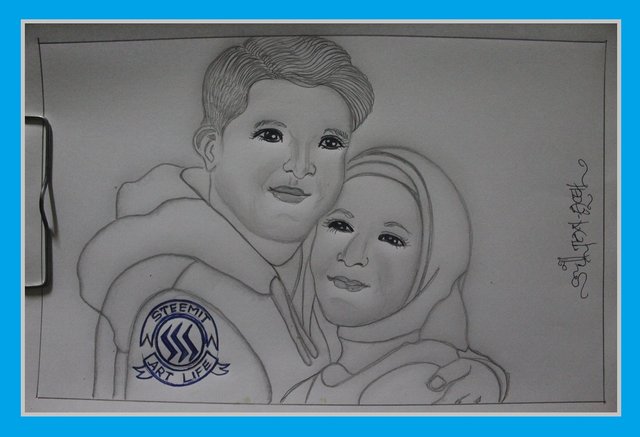 still in the stage of tidying the logo and writing, a little effect on the cheeks and face.
---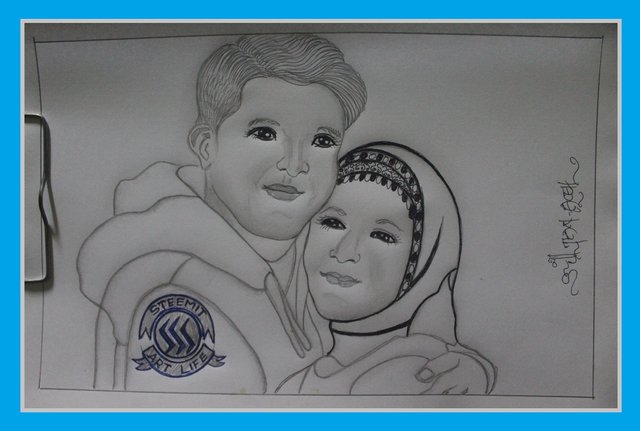 in the picture above, I began to give a floral motif, on the veil, the woman, until it was finished.
---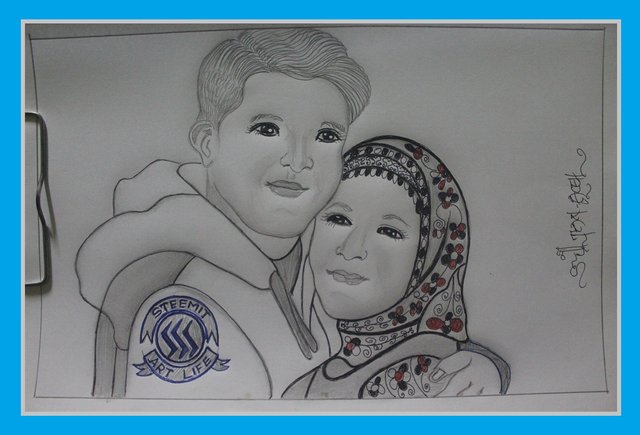 continue to make hijab motifs, adding a little effect to the jacket.
---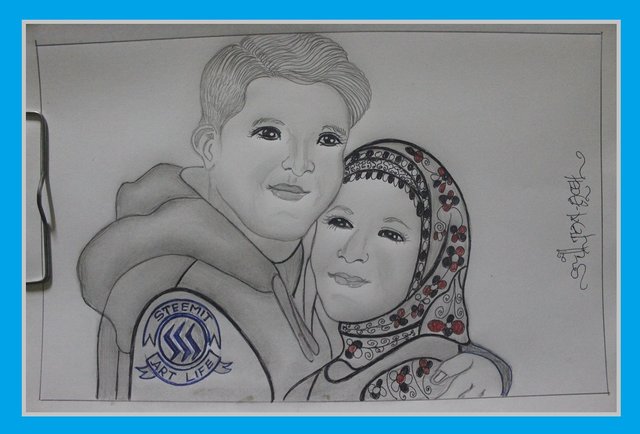 still continuing, making a jacket effect.
---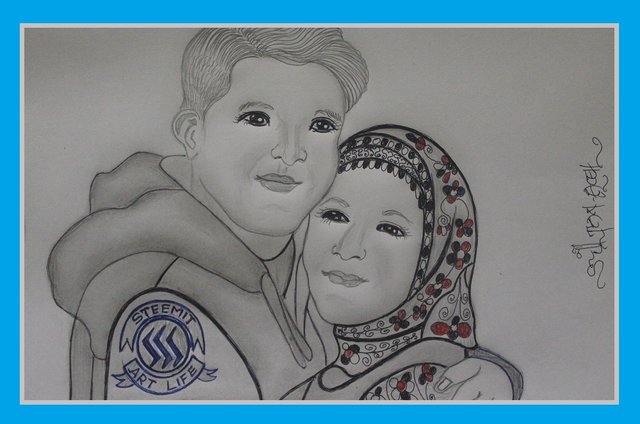 In the picture above, before I finish making this image, I do a double check, while adding what I need to add there.
---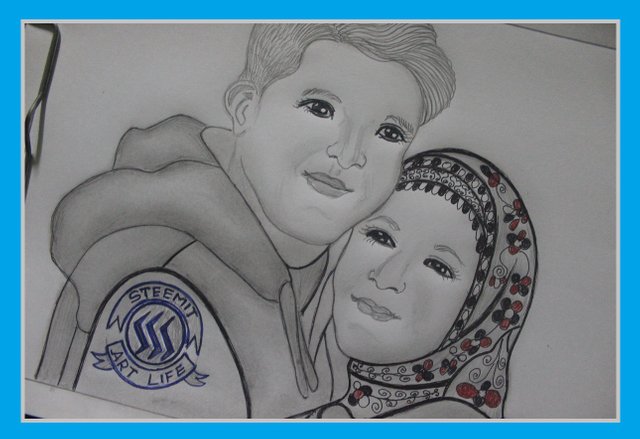 oblique display 1
---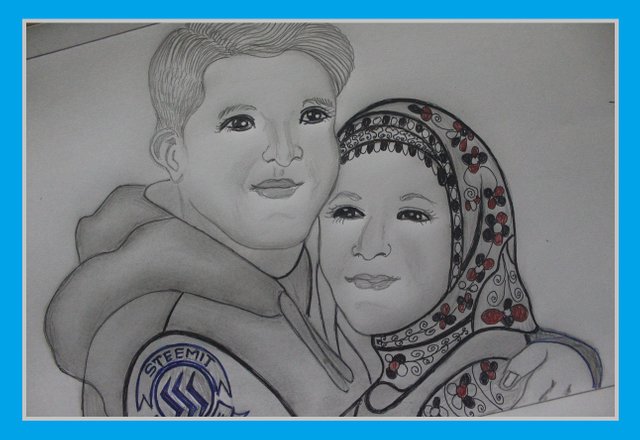 oblique display 2
---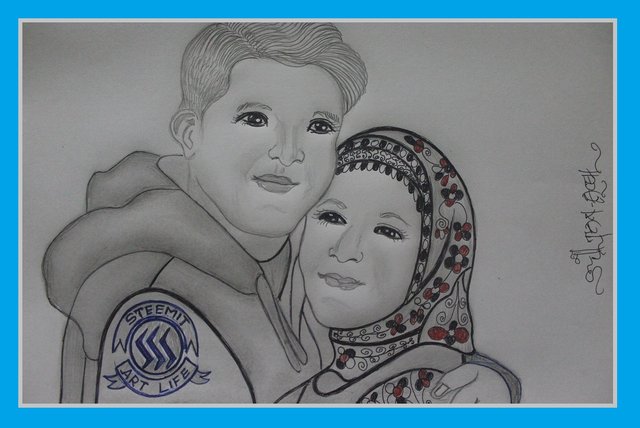 after checking the image, there is nothing else I have to fix, then the picture I have finished making.
---
FINISH
---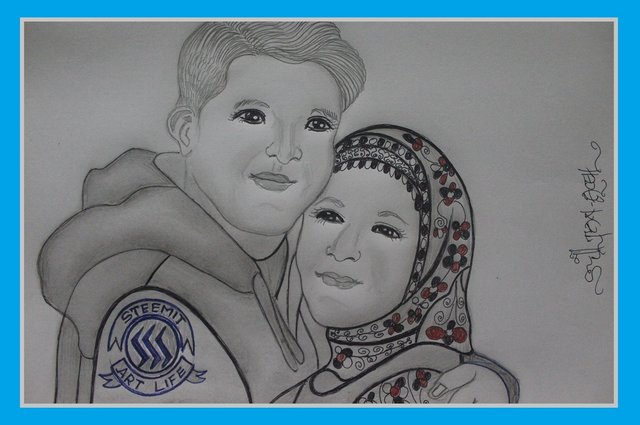 ---
I say thank you, for all your support all this time and Thank you for watching, reading and seeing, hopefully it is useful.
I end with word
Regards from me @sultan-aceh
---
DRAWING MATERIAL
---
---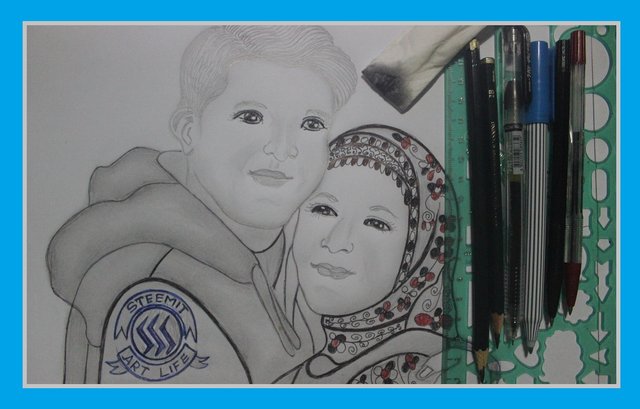 ---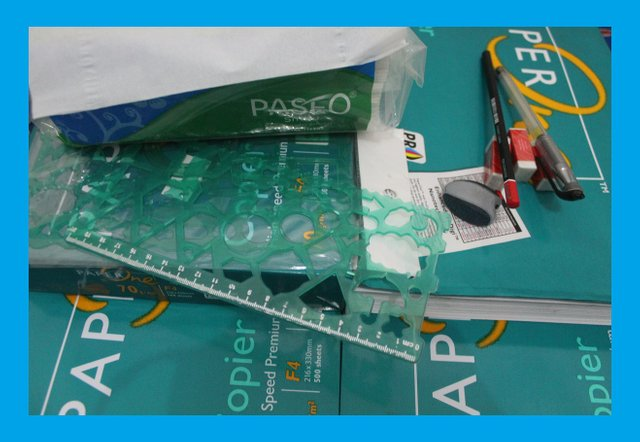 ---
Drawing board
Flashlight
Pencil
Colour pencil
Tisue
Ruler
Eraser
Paper
---
INFORMATION
---
---
---
---
STEEMIT FAQ
---
---
---
| Camera used | Cannon 1300D |
| --- | --- |
| Lens Camera | EF-S 18-55mm |
---

---