Oleh @ayijufridar
SEJUMLAH wartawan dikumpul dan dimintai tolong untuk tidak menyiarkan berita kasus mesum oknum kepolisian di sebuah kabupaten di Aceh. Tidak ada ancaman apa pun bagi yang menyiarkan. Tapi hasilnya, seperti yang kemudian diketahui masyarakat umum, memang tidak tersiar berita tersebut baik di media cetak maupun elektronik. Seorang rekan wartawan di sana, dalam pesan singkatnya mengaku ia tidak berdaya.
Menyedihkan sekali pembungkaman terhadap kebebasan pers masih terjadi di zaman sekarang, apalagi wartawannya mengaku tak berdaya.
Ancaman kebebasan
Kejadian ini menggelitik kembali pertanyaan tentang sejauh mana ruang kebebasan pers di Aceh. Begitu mudah wartawan dibungkam seperti zaman Orde Baru. Terlepas magnitude kasus tersebut kecil untuk kepentingan publik, tetapi pers Aceh memang pantas khawatir dengan kondisi tersebut. Bukan karena kasus itu tidak mencuat ke permukaan, tapi karena wartawan masih bisa dibungkam.
Barangkali masih melekat dalam ingatan sebagian masyarakat Lhokseumawe tentang kasus yang menimpa pelaku mesum di Mon Geudong Kecamatan Banda Sakti, akhir 2007 silam. Pasangan mesum itu dihakimi massa hingga kritis. Beberapa harian di Aceh menempatkan berita itu di halaman satu, demikian juga dengan follow up-nya. Foto korban juga ditampilkan secara lengkap.
Publik bertanya-tanya, ada apa dengan jurnalis di Aceh. Mengapa di tengah kebebasan pers yang luar bisa sampai diplesetkan jadi keblablasan di Indonesia, wartawan Aceh masih juga ragu-ragu memanfaatkannya. Tentunya bukan tanpa pertimbangan jika hal itu dilakukan.
Kalau ditelisik lebih jauh, akan terlihat sebenarnya kebebasan pers memang masih terbelenggu di Aceh, atau kebebasan semu. Ancaman kekerasan masih menghantui kerja jurnalis di Aceh. Kendati secara nasional, kasus kekerasan terhadap jurnalis di Aceh lebih rendah dibandingkan daerah lain. Pada 2016, dari 72 kasus kekerasan hanya satu kasus terjadi di Aceh (Aliansi Jurnalis Independen, 2016). Tetapi faktanya, jumlah kasus lebih banyak dari yang tercatat karena banyak wartawan memilih untuk mendiamkan kasus yang mereka alami.
Ancaman hanyalah salah satu cara yang ditempuh untuk membungkam pers. Cara seperti itu memang lebih mudah dan paling ampuh. Dari beberapa kasus yang dialami jurnalis di Aceh, hampir sebagian besar menggunakan cara kekerasan dan ancaman. Wartawan di Bireuen tercatat paling sering mengalaminya, selain Langsa dan Lhokseumawe.
Semakin sedikit jumlah wartawan di suatu daerah, maka akan semakin mudah mengontrolnya. Dalam kondisi ini dibutuhkan kekompakan jurnalis dalam melawan ancaman kekerasan dari berbagai pihak. Selain itu, penting bagi wartawan untuk membina jaringan dengan wartawan di daerah lain serta berbagai organisasi jurnalis. Tanpa kekompakan, maka ketangguhan jurnalis akan mudah dipatahkan.
Kasus pembungkaman kebebasan pers dengan ancaman kekerasan bisa menjadi preseden buruk jika tidak dilawan. Pengertian melawan di sini tidak dimaksudkan secara fisik. Sebagai profesi yang menuntut kecerdasan, perlawanan terhadap kriminalisasi pers juga harus dilakukan secara cerdas, tanpa perlu mengorbankan keselamatan jiwa. Seperti dikatakan Abdullah Alamudi, pengajar di Lembaga Pendidikan Pers Doktor Soetomo, tidak ada berita yang semahal nyawa.
Catatan tanpa siaran
Ada baiknya setiap jurnalis mencatat semua kejadian yang mempunyai nilai berita tinggi kendati tidak dapat disiarkan pada saat itu juga. Ini bukan semata-mata untuk untuk kejadian itu tetap abadi, tapi kasus tersebut bisa menjadi pelajaran bagi kita bersama. Jika situasi sudah memungkinkan, berita itu dapat disiarkan di kemudian hari.
Satu hal yang barangkali dilupakan oleh jurnalis adalah, selalu ada cara menyiarkan kejadian itu tanpa harus menjadi korban kekerasan. Wartawan selalu berpikir praktis dengan menyiarkan kejadian, tanpa mau bekerja keras untuk mengungkapkan makna di balik fakta dan peristiwa. Dalam kasus mesum oknum polisi, misalnya, mengangkat kejadian tersebut sebagai angle utama sama sekali tidak mencerdaskan masyarakat. Padahal, salah satu fungsi pers nasional selain informatif juga harus mempunyai nilai edukasi. Tapi dalam ruang lingkup lebih besar, bagaimana melihat kasus tersebut dalam bingkai penegakan syariat Islam di kalangan aparat negara. Selalu ada sisi yang bisa dilihat untuk kepentingan jangka panjang.
Bagi pihak mana pun termasuk kepolisian, harus muncul kesadaran bahwa perilaku satu dua oknum tidaklah mencerminkan perilaku organisasi. Akan lebih elegan bila petinggi di institusi tersebut mengakui kesalahan anggotanya, meminta maaf kepada masyarakat sebagai pihak yang membayar gaji mereka melalui pajak, dan kemudian mengambil sanksi sesuai peraturan yang berlaku. Kalau ditutupi, justru akan menimbulkan kecurigaan di tengah masyarakat. Waktu seringkali berpihak kepada kebenaran. []
---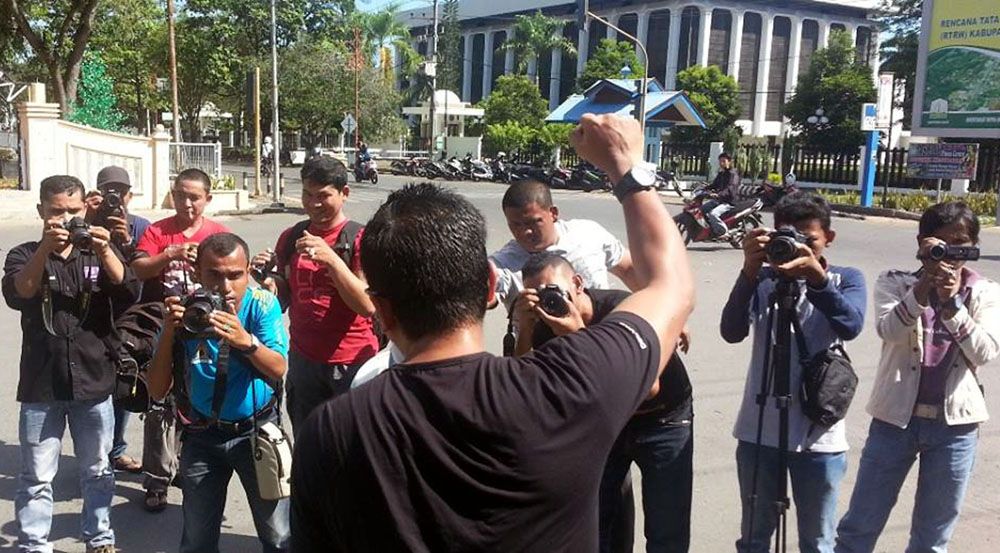 The journalists held a demonstration on the day of World Press Freedom on May 3, 2017 in Lhokseumawe, Aceh, Indonesia.
Test the Courage of Journalists
By @ayijufridar
Some of journalists are gathered and asked for help not to broadcast nasty news stories of police officers in a district in Aceh, Indonesia. There is no threat to the broadcast. But the result, as it later became known to the general public, did not circulate the news either in print or electronic media. A fellow journalist there, in his short message confessed he was helpless.
It is sad that silencing the freedom of the press is still happening today, let alone the journalist claiming to be helpless.
The threat of freedom
This incident tickled the question of the extent to which the press freedom room in Aceh. So easy for journalists to be silenced like the Orde Baru (New Order) era. Regardless the magnitude of the case is small for the public good, but the Aceh press deserves to be worried about the condition. Not because the case did not stick to the surface, but because the journalist could still be silenced.
Perhaps still inherent in the memories of some people Lhokseumawe about cases that befall nasty perpetrators in Mon Geudong District Banda Sakti, Aceh, late 2007 ago. The nasty couple was judged by the masses to critical. Several daily in Aceh put the story on page one, as well as with its follow-up. The photo of the victim is also displayed in full.
Public wondering, what's wrong with journalists in Aceh. Why in the midst of the freedom of the outside press can be spoiled so keblablasan in Indonesia, Aceh reporters still hesitate to use it. Certainly not without consideration if it is done.
If examined further, it would appear that freedom of the press is still fettered in Aceh, or false freedom. The threat of violence still haunts the work of journalists in Aceh. Although nationally, cases of violence against journalists in Aceh are lower than in other regions. In 2016, out of 72 cases of violence only one case occurred in Aceh (Alliance of Independent Journalists, 2016). But the fact is, the number of cases more than recorded because many journalists chose to silence the case they experienced.
Threats are just one way to silence the press. Such a way is easier and more powerful. Of the few cases experienced by journalists in Aceh, most of them use violence and threats. Reporters in Bireuen are the most frequent, besides Langsa, and Lhokseumawe.
The fewer the number of journalists in an area, the easier it will be to control it. In this condition, the compulsory need of journalists to fight the threat of violence from various parties is required. In addition, it is important for journalists to network with journalists in other areas as well as various journalist organizations. Without cohesiveness, the toughness of journalists will be easily broken.
The case of silencing press freedom with the threat of violence may be a bad precedent if it is not resisted. The notion of fight here is not intended physically. As a profession that demands intelligence, opposition to the criminalization of the press must also be done intelligently, without sacrificing the salvation of the soul. As Abdullah Alamudi said, a lecturer at Soetomo Doctor Press Institute, no news is as expensive as life.
Noted without a broadcast
It's good that every journalist keeps track of all events that have high news value even though they can not be broadcasted on the spot. It's not just for it to be eternal, but it can be a lesson for us all together. If the situation is possible, the news can be broadcast in the future.
One thing journalists may forget is that there is always a way to broadcast the event without having to become victims of violence. Journalists always think practically by broadcasting events, without willing to work hard to express the meaning behind facts and events. In the case of nasty police officers, for example, raising the incident as a primary angle did not educate the public. In fact, one of the functions of the national press other than informative should also have an educational value. But in the larger scope, how to look at the case in the framework of enforcement of Islamic Shari'ah among the state apparatus. There is always a side to see for the long term.
For any party, including the police, there must be an awareness that the behavior of one or two persons does not reflect organizational behavior. It would be more elegant if the higher-ups in the institution acknowledge the misconduct of their members, apologize to the public as paying their salaries through taxes, and then take sanctions according to the prevailing regulations. If covered, it will cause suspicion in the community. Time often sides with the truth. []