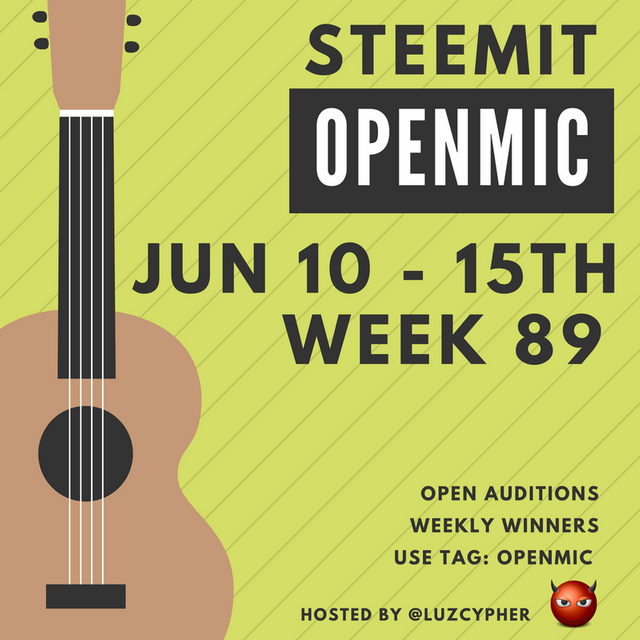 Hola amigos, me alegra volver a participar en este concurso que me parece maravilloso, un saludo al equipo de #openmic, en especial a @luzcypher, quienes semana tras semana inician una semana mas! y ya para la semana 89 traigo un tema que me gusta mucho "VENEZUELA", y cualquiera puede decir que ama su país y le dedica una canción pero lo que impresiona es que estos 2 españoles (no venezolanos) Pablo Herrero Ibarz y José Luis Armenteros Sánchez vieron lo que yo veo y siento por mi nación, esos hermosos paisajes, la calidez de su gente... y en base a su visita en nuestro país escribieron VENEZUELA. Espero les guste y poderles transmitir tan hermosa letra por medio de mi voz.
||Hello friends, I am happy to participate again in this contest that I find wonderful, a greeting to the #openmic team, especially to @luzcypher, who week after week start a week more! and for the 89th week I bring a song that I really like "VENEZUELA", and anyone can say that he loves his country and dedicates a song to him but what impresses is that these 2 Spaniards (not Venezuelans) Pablo Herrero Ibarz and José Luis Armenteros Sanchez saw what I see and feel for my nation, those beautiful landscapes, the warmth of its people... and based on their visit to our country they wrote VENEZUELA. I hope you like them and can transmit them so beautiful lyrics through my voice.||
Autores: Pablo Herrero Ibarz y José Luis Armenteros Sánchez
Video pertenece
@teregogfrey
Piano:
@paul82
Llevo tu luz y tu aroma en mi piel y el cuatro en el corazón

Llevo en mi sangre la espuma del mar y tu horizonte en mis ojos.

No envidio el vuelo ni el nido al turpial soy como el viento en la mies
Siento el Caribe como a una mujer soy así, qué voy a hacer.

Soy desierto, selva, nieve y volcán y al andar dejo mi estela
El rumor del llano en una canción que me desvela.
La mujer que quiero tiene que ser corazón, fuego y espuela
Con la piel tostada como una flor de Venezuela.

Con tu paisaje y mis sueños me iré por esos mundos de Dios
Y tus recuerdos al atardecer me harán más corto el camino.

Entre tus playas quedó mi niñez tendida al viento y al sol
Y esa nostalgia que sube a mi voz sin querer se hizo canción.

De los montes quiero la inmensidad y del río la acuarela
Y de ti los hijos que sembrarán nuevas estrellas.
Y si un día tengo que naufragar y el tifón rompe mis velas
enterrad mi cuerpo cerca del mar en Venezuela.

Y NO TE OLVIDES DE VOTAR POR @pfunk y @cervantes COMO TESTIGO. You can upvote @pfunk and @cervantes as a witness here https://steemit.com/~witnesses

GRACIAS A TODOS LOS QUE NOS APOYAN!!!!, SIN UDS NO SERIA POSIBLE!!!!
THANK YOU TO ALL WHO SUPPORT US !!!!
WITHOUT YOU, IT WOULD NOT BE POSSIBLE !!!!