Steemit Open Mic Week 121 : The Bonnie Whitetail(original)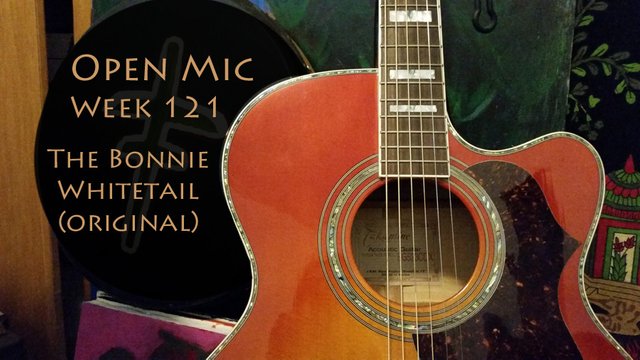 Steemit Open Mic Week 121 : The Bonnie Whitetail(original)
This is a song that I wrote for the Steemit Songwriter's Challenge.
I haven't submitted it to open mic yet, and I was feeling this song this week, so here it is.
The song is about a ship that sails the Abyss, looking of lost and hopeless souls.
The captain captures them with nets, and puts them to work on the ship.
This sense of duty and discipline is exactly what the hopeless souls needed, and they are filled with purpose and pride.
The 'Whitetail' is a reference to the tail of the soul... even when the hopelessness has dimmed the soul, the tail still shines.
This is how the crew of the ship are able to spot the souls in the Abyssal Sea.
Full Lyrics:
She's had the helm since time began
We'll throw the whitetail line
The Bonnie Whitetail is her command
We'll throw the whitetail line
We'll serve this ship for a thousand years
that pulled us from the brine
stealing souls from down below
We'll throw the whitetail line
We pull lost souls out from murk
We'll throw the whitetail line
Brought on deck and put to work
We'll throw the whitetail line
We'll serve this ship for a thousand years
or till our spirits shine
stealing souls from down below
We'll throw the whitetail line
Her orders are sweet as rum
We'll throw the whitetail line
to the hopeless lost until she come
We'll throw the whitetail line
We'll serve this ship for a thousand years
that pulled us from the brine
stealing souls from down below
We'll throw the whitetail line
Sailing over true abyss
We'll throw the whitetail line
we cast our nets and never miss
We'll throw the whitetail line
We'll serve this ship for a thousand years
until the end of time
stealing souls from down below
We'll throw the whitetail line
we'll serve this ship and the captain
until our spirits shine