Steemit Open Mic Week 98 | Say something @rhonbastardo
¡Hola steemians! Luego de estar 2 meses sin subir nada a mi perfil, decidí volver pero esta vez a participar en el concurso organizado por  @luzcypher y @pfunk llamado OpenMic, con nada más y nada menos que un cover de Say Something, que pertenece a la banda A Great Big World y Christina Aguilera. Tuve el placer de estar acompañado de la gran voz de @michellemusica y el talentoso guitarrista @carlosvidal. (Gracias a @acamusiger por ayudarme con el espacio y la grabación de este cover) A quienes agradezco por la paciencia que me brindaron ya que es primera vez que canto con fondo acústico y no fue nada fácil, sin más que agregar los dejo con el video. ¡Espero les guste!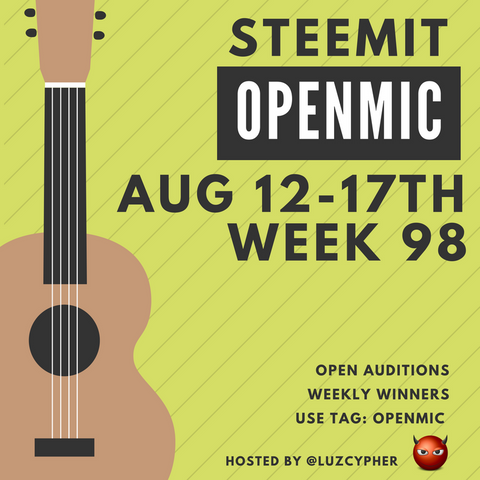 Hello, steemians! After being 2 months without uploading anything to my profile, I decided to return but this time to participate in the contest organized by @luzcypher and @pfunk called OpenMic, with nothing more and nothing less than a cover of Say Something, which belongs to the band A Great Big World and Christina Aguilera. I had the pleasure of being accompanied by the great voice of @michellemusica and the talented guitarist @carlosvidal (thanks to @acamusiger for helping me with the space and recording of this cover) To whom I thank for the patience they gave me since this is the first time I sing with an acoustic background and it was not easy, I hope you like it!