Hi Steemians! This is my entry for OpenMic Week 88.
This song was composed while I was travelling through Guatemala, at Lake Atitlan. A magical place I will be talking about soon on my backpacking posts on this blog.
The song speaks mainly of how I felt while travelling, walking through mountains, swimming in lakes, crossing rivers and watching beautiful waterfallls. How it is regarded as a crazy thing to do, to just pack a few things and head into the unknown by yourself, not really knowing what's going to come to you.
I hope you ike it! thanks for the support!
~~~~~~~~~~~~~~~~~~~~
Hola Steemianos! Esta es la cancion con la que participo en el Openmic semana #86.
Esta cancion la compuse mientras viajaba por Guatemala, en el Lago Atitlan. Un lugar magico del que estare contandoles pronto en mis posts sobre mis viajes mochileros.
La cancion habla sobre como me senti viajando, escalando montañas, nadando en el lago, cruzando rios y observando bellas cascadas. Habla de como se ve como algo muy loco esto de empacar un par de cositas y lanzarte al mundo de lo desconocido fuera de tu hogar y tu pais por ti mism@, sin saber realmente que vendrá que sucederá después.
Espero les guste! Gracias por el apoyo!
Lyrics || Letras
Voy de viaje a la isla del destino
Vamos navegando azul marino
Sombra, playa y mar
Montaña, rio y más
Y vamos empacando en el camino
Y vamos arribando a este lugar
El tiempo se detiene, pero no mi palpitar
Como puede ser que esto exista?
Esta escondido dentro de tu ser
Si, brillas mas que el sol
Iluminame hasta el fondo
Y se, cada vez mejor
Que la sombra es la cura
Es mi locura
Voy de viaje y nacen mas canciones
Todas hablan de muchas visiones
Sueños sin soñar, miradas sin hablar
Lugares magicos son interiores
Y ahi, hay que ir...
Porque todo loco sabe contemplar
El mundo es un espejo, hacia adentro hay que mirar
Como puede ser que esto exista?
Estuvo todo el tiempo justo aqui
Dentro de mi, y ahora sí.
Decidí vivir
Si, brillas más que el sol
Iluminame hasta el alma
Y se, cada vez mejor
Que la sombra es la cura
Es mi locura
---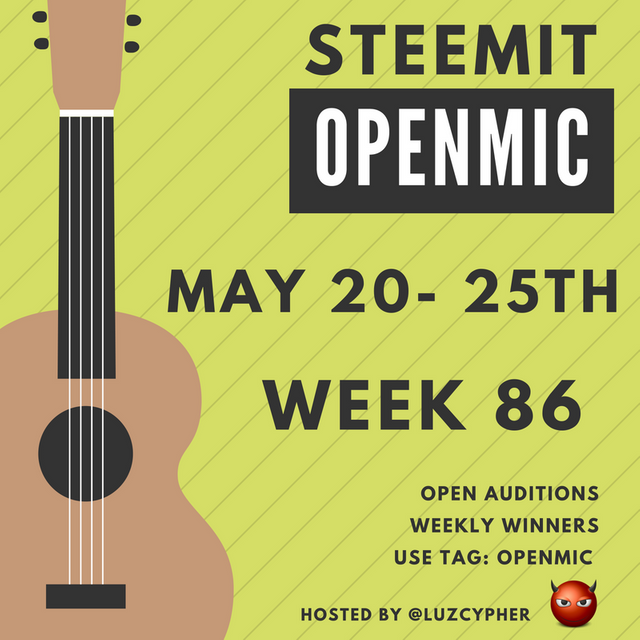 Thanks for watching and supporting! Let's keep rocking steemit with this wonderful Openmic and all the beautiful people that make it happen!
Gracias a todos y todas por visitar y apoyar! Sigamos rockeando steemit con este maravilloso Openmic y todas las hermosas personas que trabajan para hacerlo posible!