OFFICIAL: Open-Mic | @passion-ground's Top-5 Entries for Week 85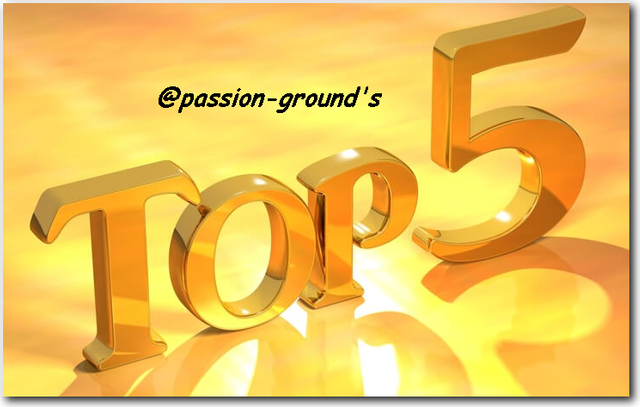 Summary
...This month marks an entire year that I've been on Steemit, and all thanks to the Open-Mic, for without it being here, I would have never stuck around. Come November, it will be a full year that I have been judging these incredible weekly performances!

As time goes on, things naturally change to one degree or another, and we must all adapt and adjust accordingly. I am very much looking forward to celebrating a full year as a judge come November, and look forward as well to celebrating subsequent anniversaries well into the future.

It is my hope that each of you will celebrate similar milestones of your own, and that you will continue to participate in and support the Open-Mic venue for all of its tremendous contribution to the Steemit platform, dedication to musicians, and the Open-Mic's proven ability to elevate and enhance the user experience to levels never imagined nor in my view, matched on this or any other social media platform.

Please, VOTE for These WITNESSES...
IMPORTANT: Before we move on, please don't forget to vote for @Pfunk, & @Teamsteem as witnesses! Both of whom are big supporters and play major roles in helping to run, fund, and curate, build and expand the Open Mic contest.
In addition to the above-mentioned witnesses, I am also adding @curie and @cervantes to my esteemed list of "must-vote-for" witnesses. @curie and @cervantes provide a great deal of support directly to many of our most outstanding musicians, and we should all support them in kind. You can vote for all of them right now by going to this link: https://steemit.com/~witnesses

With all of that said, following some further insights as to how I judge entries, let's get on with it, shall we?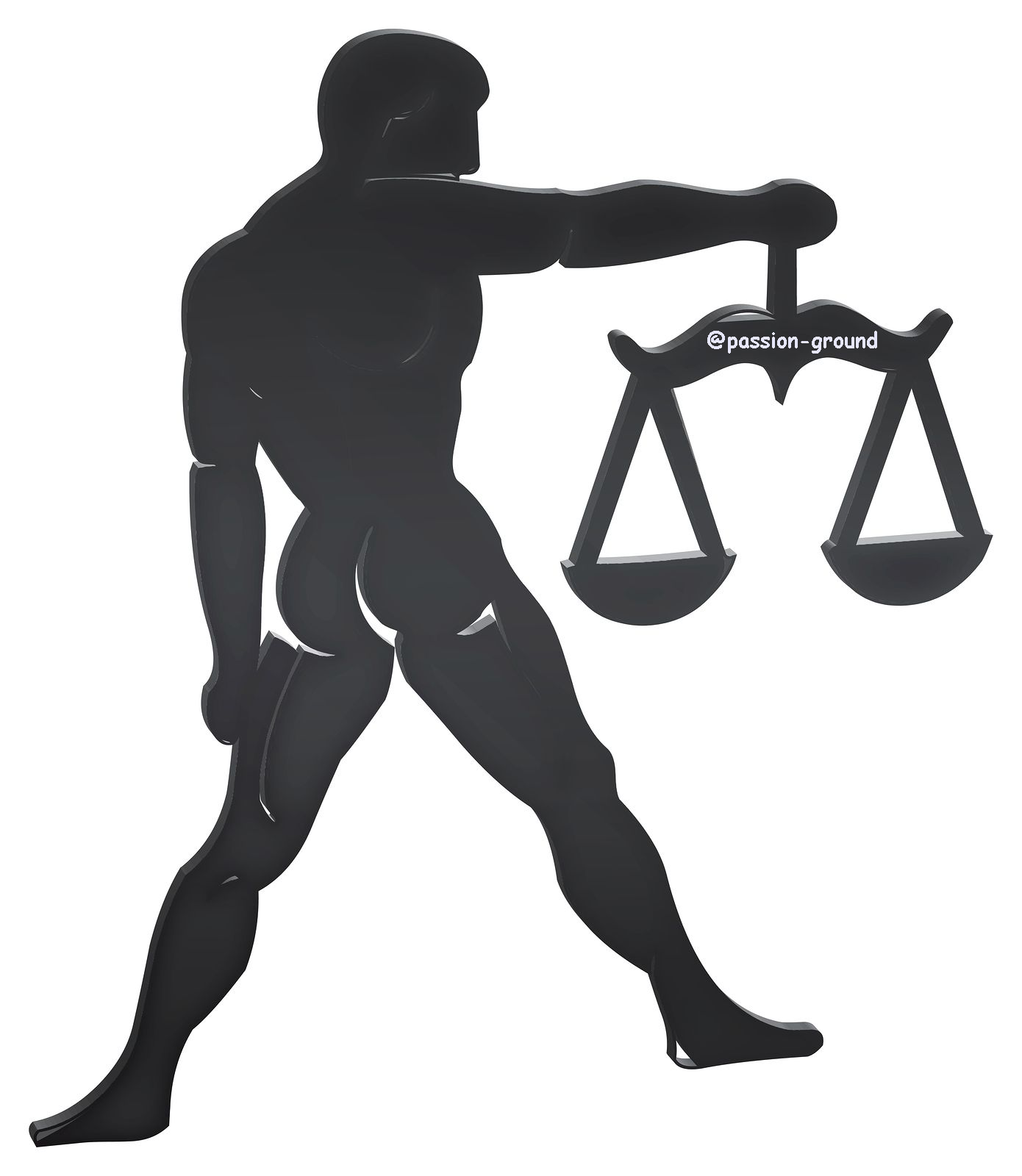 My Process

As one of the esteemed Open Mic judges, it is my job to come up with (or "curate" as it were) a short-list of my top 5 entrants each week. With all of the great talent here, that is by no means an easy task. Sure, tossing in another 5 honorable mentions helps, but not when my weekly list starts out with 100 or more of my favorite entries... You guy's rock - I'm tellin ya!

Yes, I am a Libra – so I have an inherent drive deep within me to be fair and balanced – good qualities for a "judge" if you ask me. That being said, I'm still human – filled with emotion and subjective feelings – just like you. So, in order to mitigate my subjective tendencies to the best extent possible, I've come up with a method by which to narrow down my selections in a more objective vs. arbitrary manner.

Here's how I go about my personal judging process: I first start out with a list of 100 or more of my most favorite entries for the week, and score them (yes, subjectively) in six distinct categories via a spreadsheet. The categories I've selected for scoring are in general harmony with those explained by @luzcypher in his post titled How We Pick The Top 3 Entries, referencing such.

To get a more in-depth perspective as to how I personally go about selecting my artists, please refer to What I go through as an Open-Mic Judge.

Even though it's still a "subjective" process – diligently going through each scoring category to come up with a "total" score for each entrant helps to minimize any overzealous subjectivity that I may harbor with respect to any specific entrants.

Quite often, this exercise doesn't give me the exact results I would personally prefer to see – but that only means that my system of judging is working as intended and designed. With all of that said, here are...
My Top-5 Picks in Order

FIRST PLACE: @silentscreamer – Moving On - (Original)
What an incredible collaboration this is! @pechichemena produced, wrote lyrics, and played multiple guitar, bass, and drum tracks for this song whilst @silentscreamer wrote the instrumental melodies and laid down a rather brilliant vocal performance with, of course, her outstanding signature strings! I also really enjoyed the way her body moved in concert with each section of this most awesome song.
https://steemit.com/openmic/@silentscreamer/a2nc4631

SECOND PLACE: @normamanly – Spooky - (Cover)
This is an incredible all-around performance of a 1970's cover classic! Norma and the band totally nailed the vibe here. She, of course, splashed an intoxicating dose of her signature brand of sultry velvet vocals atop this tune, and I just loved it, and I'm sure you will too!
https://steemit.com/openmic/@normamanly/steemit-open-mic-week-85-dusty-springfield-cover-spooky

THIRD PLACE: @samidbarid – I'm Not Afraid Anymore - (Original)
On its own accord, this is simply an incredibly beautiful and well-written instrumental piece. Sami writes and plays with such depth, dynamism, and feeling that it's near impossible not to get pulled in by all of the emotion! To my ear, this classic piece of music has the power to captivate the very depths of one's soul. As if all that weren't enough, one simply needs to open the post to read the poignant story that accompanies his exquisite melodies. I fell in love with this piece immediately and shall remain so for the rest of time.
https://steemit.com/openmic/@samidbarid/steemit-openmic-week-85-sami-d-barid-i-want-to-return-home-original-piano-song

FOURTH PLACE: @shookriya – Blue Daniel - (Original Vocalise)
I have to say, this is pretty freaking awesome! To take an existing instrumental Jazz classic and then have the audacity to write lyrics for it, and perform it with such natural grace and skill is totally worth several hat-tips and numerous accolades! I loved @shookriya's secondary tandem performance on the upright bass, which just brought the whole thing together in a most impressive way. Lovely guitar passages accompany his most awesome lyrics and signature vocals. This one's a keeper!
https://steemit.com/openmic/@shookriya/steemit-openmic-week-85-original-vocalise-on-blue-daniel

FIFTH PLACE: @builtinfire – Tell Me I'm Wrong - (Original)
Our much-loved passionate rocker, @builtinfire, on-boards a friend, @griptight to the platform with this original song and performance. His signature, larger than life, emotional builds never disappoint along with the inherent dynamism he consistently delivers. Although his entries hold up superbly well on their own, having a solid bass line to hold down the bottom end was a sheer joy to experience.
https://steemit.com/openmic/@builtinfire/steemit-openmic-week-85-original-song-tell-me-i-m-wrong-featuring-griptight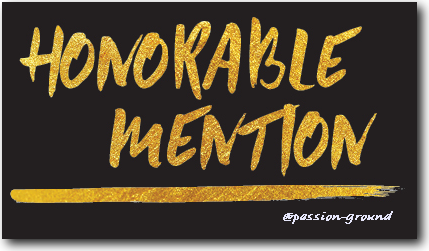 My Top-5 Honorable Mentions in Order:

First: @jumpmaster – Why Georgia - (Cover)
https://steemit.com/openmic/@jumpmaster/steemit-open-mic-week-85-why-georgia-feat-sam-olivia-and-forrest-john-mayer-cover

Second: @lillywilton – Goodnight, My Love, Goodnight - (Original)
https://steemit.com/openmic/@lillywilton/steemit-openmic-week-85-goodnight-my-love-goodnight-original

Third: @ingridkornelia – Blessed Are We - (Cover)
https://steemit.com/openmic/@ingridkornelia/steemit-openmic-week-85-cover-blessed-we-are-by-peia

Fourth: @andreabortone – Walking On Sunshine - (Cover)
https://steemit.com/openmic/@andreabortone/steemit-open-mic-week-85-walking-on-sunshine-version-openmic-by-luzcypher-and-pfunk

Fifth: @paintingangels – Jumping Broken Fences - (Original)
https://steemit.com/openmic/@paintingangels/steemit-openmic-week-85-paintingangels-original-song-jumping-broken-fences-origin-of-my-username

Thank you for reviewing my selections for this week's Open-Mic contest. If you find this content I've curated entertaining and of value to you, then please consider up-voting and/or re-steeming it.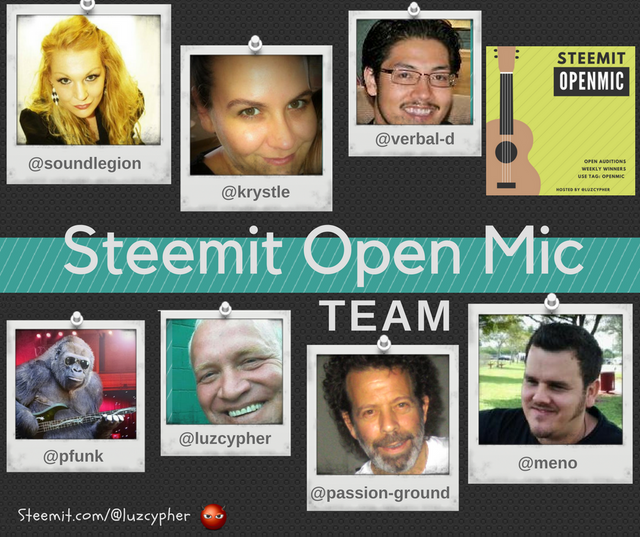 Peace, Love, and Justice for All

A Very Special Shout Out To:
The following 20 artists who were very much on my radar, each within a splitting hair of making it into my overall top-10, and whose performances I loved, cherish, and respect most assuredly. This special list is very much an extension of my most honorable mentions.

They are - in no particular order:


@funkmedia, @moccamonica, @peterkrackpotkin, @juliolunar, @steembirds, @dominiqueguitars, @leomolina, @olvidesantelmo, @addiesworld, @dinoromanelli, @yenibe, @camuel, @lk666, @drewley, @acousticsteveo, @lauriane, @ilazramusic, @melodeons, @enazirma, and @wilins!


Another Special Shout Out To:
The following artists whose performances I very much enjoyed this week.

They are - in no particular order:

@theflorescents, @adreini, @lorenzopistolesi, @lucybanks, @alejandra23, @gibber, @maycorjerjes18, @elliotjgardner, @samjgonz, @carlosvidal, @beeflomein, @joshuacraft, @mcmusic, @teregogfrey, @rodolfoyanez, @jons0318, @graceleon, @carlosfbass, @hugo.exe, @arrozymangophoto, @nior, @carrion, @danne10, @carlosrada, @ceparl, @mendike, @siomarasalmeron, @elisonr13, @ko-may, @ferchemusico, @joss9223, @arismunanda, @emmadux-vzla, @darvingrana25911, @carlosgu, @klynic, @wethepatsies, @juliopalomo, @nachyacevedo, @heatherthebard, @miguelblanco, @guifaquetti, @jgvinstl, @privas19, @k0wsk1, @cabelindsay, @lifetipsbysn, @lorey-bero, @manuelmusic, @ahren707, @josemarimbista, @popsoz, @danieldedosd2, @armandolnrs, @tarotbyfergus, @yulita, @jembee, @edwardstobia, @ismaelhil, @rjcha, @tcpolymath, @robertonavs, @, @dreamrafa, @, and @yetxuni!


Much love and thanks to each and every one of you who have touched a part of my heart and soul - not only this week but forever!