Steemit openmic Semana 83 "In Bloom" Cover de Nirvana @Noustropos
Hola Steemians, les presento mi entrada al Open Mic #83. Ésta ves participo con un cover de la canción de Nirvana In Bloom, segunda del disco Nevermind del año 1991. Sé que no está perfecta, sin embargo siento que capta la sensación de mi ira y mi frustración de vivir actualmente en el caos de Venezuela. Espero que la disfruten.
Hello Stemians, this is my entry for the Open Mic #83. This time I play a cover of the song "In Bloom" by the band Nirvana, the second track from their album Nevermind, from the year 1991. I know it's not perfect, but I feel that it captures the sensation of wrath and frustration of living right now in the chaos of Venezuela. I hope you enjoy it.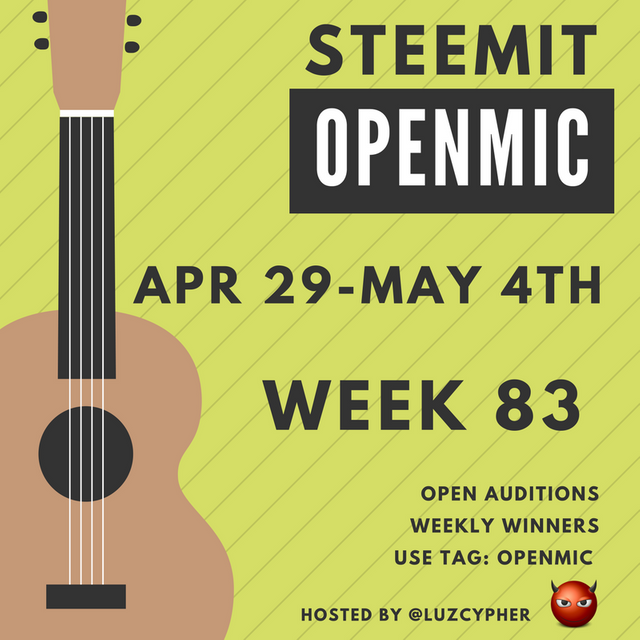 Como siempre, gracias a @luzcypher y @pfunk por hacer este evento, siento que es una de las mayores oportunidades para los músicos de mostrar sus talentos aquí en Steemit. De corazón, muchas gracias.
As always, thanks to @luzcypher and @pfunk for hosting this event, I feel is one of the gratest opportunities for musicians to show their talents here on Steemit. From my heart, thank you both.
¡Ten un bonito día!
¡Have a nice day!

Letra / Lyrics
In Bloom

[Verse 1]
Sell the kids for food
Weather changes moods
Spring is here again
Reproductive glands

[Chorus]
He's the one who likes all our pretty songs
And he likes to sing along
And he likes to shoot his gun
But he don't know what it means
Don't know what it means when I say
He's the one who likes all our pretty songs
And he likes to sing along
And he likes to shoot his gun
But he don't know what it means
Don't know what it means when I say

[Verse 2]
We can have some more
Nature is a whore
Bruises on the fruit
Tender age in bloom

[Chorus]
He's the one who likes all our pretty songs
And he likes to sing along
And he likes to shoot his gun
But he knows not what it means
Knows not what it means when I say
He's the one who likes all our pretty songs
And he likes to sing along
And he likes to shoot his gun
But he don't know what it means
Don't know what it means when I say

[Guitar solo]

[Chorus]
He's the one who likes all our pretty songs
And he likes to sing along
And he likes to shoot his gun
But he don't know what it means
Don't know what it means when I say
He's the one who likes all our pretty songs
And he likes to sing along
And he likes to shoot his gun
But he don't know what it means
Don't know what it means
Don't know what it means
Don't know what it means when I say