Last post for the year my friends, and what a year has it been. We've had so much talent come through this community, so many original musicians submit their materials that this blockchain is just a wealth of talent that is hard to describe.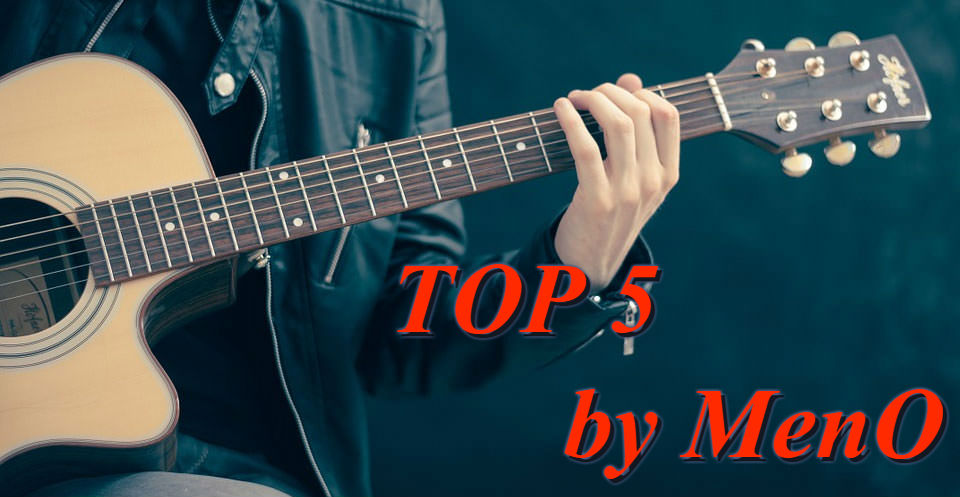 Without any more delays, here we go:
First Place.-
The mountain momma strikes again with a beautiful soulful tune that tugs at the heart, as all the good songs do of course. I know everyone goes through life in their own way, with the ups and the downs, but for some reason it's the songs that talk about fighting through the rough times the ones that sound the sweetest to me.
This song is that, or at least, it's that to me, a song that tells you that no matter what, you are all you need. How can that not resonate with me?
Second Place.-
Well what can I say... I'm a Joni Mitchell fan and when I saw this on my feed I kind of knew I was going to like it. Kay's vocal control and power is one to be reckoned with, and this performance is special in more ways than one. It just had to be on my list, it had to.
Third Place.-
So good to see Darren submitting his originals again, and this little song roughly recorded with a cellphone is one of those special little tunes. It's almost as if he's letting us know, he's still around, just sending a signal to us to let us know.
Fourth Place.-
Listening to this brought back some memories from my childhood. I'm not going to lie, mom used to sing this song to us and of course, that means the song has a shortcut to the heart. Mom still sings btw, maybe not in a choir anymore, just only when she's in a good mood.
At any rate, beautiful performance, thank you for sharing.
Fifth Place.-
Oh wow, I have to say I was not familiar with the song, but this performance made me look it up and I think I'm a fan of the artist and of course this new steemian. Absolutely brilliant, soulful and honestly there is not a whole lot more to say.
Honorable Mentions
In no particular order, these are some of the performances I loved this week.... I'm super grateful for being someone who gets to listen to this talent.
---
---
Don't forget to checkout the official Steemit OpenMic judges picks from @krystle @soundlegion and @verbal-d. Winners selected and announced every Monday on @luzcypher's blog page.
My deepest of Gratitudes
I would like to personally thank
@ausbitbank
,
@curie
and
@aggroed
for helping out our community. It's inspiring to see leadership taking the initiative to keep our beloved
#openmic
alive like this and its to me the biggest bullish indicator that we are on our way to a better, brighter tomorrow.
To our long time patron @pfunk once again, thank you for backing this project as you have for so long. I hope seeing the community rally behind the contest that we love so much made you proud. We have something very special here, and you've been key for it to be what it has become.
Long live the openmic!!!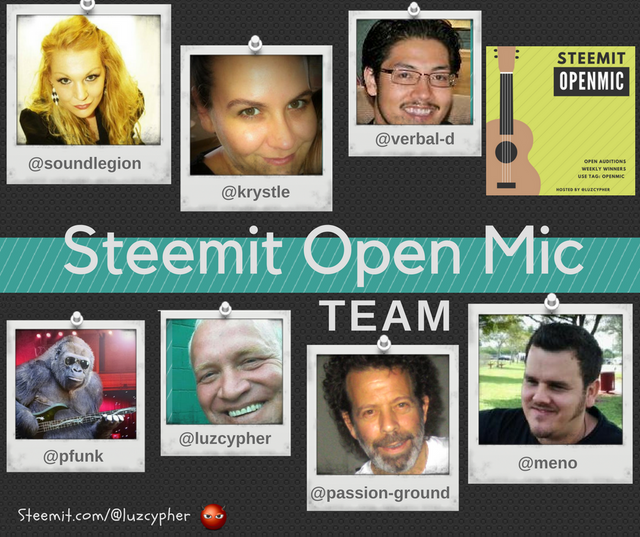 And there you have it folks, last openmic post for 2018!!! can you believe tomorrow will be a brand new year?
But hey friend, before you leave my post musical brother or musical sister, please know that despite the fact that we call this a competition, even though my post says first, second, third place, that is not what matters about the #openmic. In the end of the day the judges are just as human, as flawed and beautiful as everyone else on this planet. The ethos of this contest, of this community, is simply for us to have special place to share our passion for music, for us to laugh together, to cry together and explore emotions that everyday life seems to neglect in one way or another.
Every single one of you is valuable to me, so thank you for being part of my musical family...
Much love