Open Mic Week 108-Capricho do Carmo (Hamilton de Holanda)
Hey steemians!
how is your life going?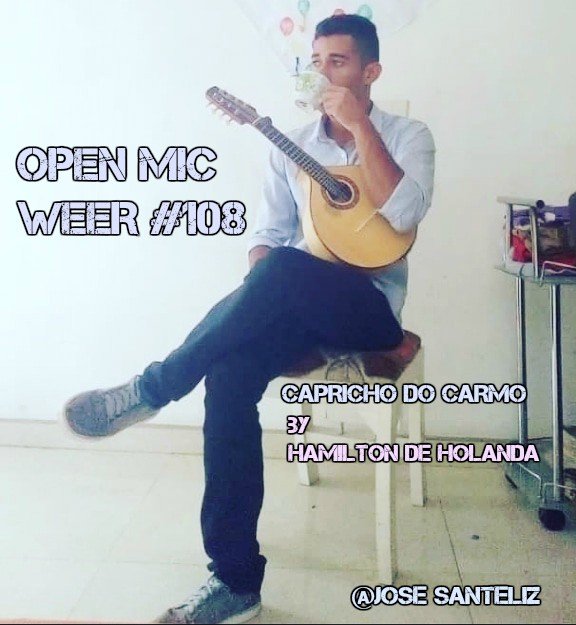 I gonna show you a song that is really fun and joyful, this piece is "capricho do carmo" wrote it by Hamilton de holanda, who in a past oportunity I mention it, is one of the mandolinist in the world (the best in my opinion).
So for this week I (try jaja) play this great capricho, something interesting about this capricho is the fact that the most of them are for mandolins of 10 chords, so I "translate" it to the register of my mandolin, when I began to learn the song I thought that I will be imposible for my instrument, so when I finally finished of learn it, you can not imagine how happy I feel!
Hey steemianos!
Como les va la vida?
Voy a enseñarles una canción que es muy divertida y alegre, esta pieza es el "capricho do carmo" escrita por Hamilton de Holanda, a quien en una oportunidad pasada mencioné, es uno de los mejores mandolinistas en el mundo (el mejor en mi opinión).
así que para esta semana (intentaré jaja) tocar esta gran capricho, algo interesante sobre este capricho es el hecho de que la mayoría de ellos son para mandolinas de 10 cuerdas, así que module hasta el registro de mi mandolina, cuando comencé a aprender la canción pensé que sería imposible por mi instrumento, así que cuando finalmente pude aprendérmela, no se imaginarán lo feliz que me sentí.
I hope that you enyoy this piece like I do
Espero que disfruten
a big hug! J.
Un gran abrazo! J.
Special thanks to @luzcypher for this excellent project that allows us to show and promote our musical talents.
Gracias a @luzcypher por este excelente proyecto que nos permite mostrar y promover nuestro talento musical.
Thanks to @pfunk, @ausbitbank, @aggroed, @curie, @isaria for help and support Open Mic.
Gracias a @pfunk, @ausbitbank, @aggroed, @curie, @isaria por ayudar y apoyar Open Mic.