Steemit openmic semana 100 Jose Cabrera Original.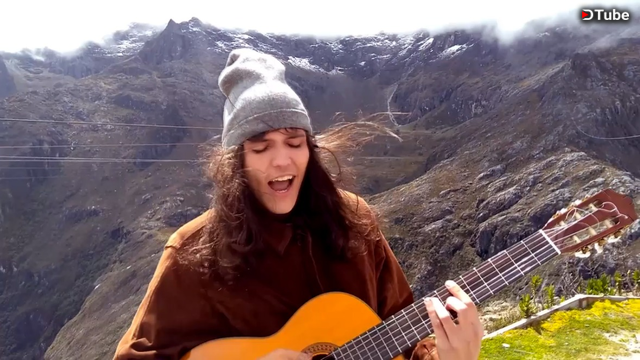 ---
De Mérida el recuerdo más bonito que me pude traer fué mi video para la semana 100 del openmic, es una semana especial y pude hacer algo realmente valioso para mi cajon de la memoria, con los chicos (@elocuenciadsnuda, @sophiegeek, @greciav,@johannfrare) durante nuestro encuentro en dicha ciudad decidimos ir un dia al teleférico, allí el frio era otra cosa para nada comparble a la ciudad donde salir sin abrigo daria como resultado una voz interna diciendo "porque saliste sin sueter?".
Al teleférico no dejan subir instrumentos, le cante a la chica de la entrada y me dejo subir con mi guitarra, de principio a fin en el teleferico estuve cantando canciones, gracias a eso me gané un café, nos dieron un tour por un sitio al que se supone no habia acceso, cante de bajada por el teleférico y grabe este, mi openmic, en el pico espejo.
Fue una energía preciosa, el aire hacia que se me escapara la guitarra de las manos, y mis dedos, ya rigidos por el frío, sentían con dificultad tocar aquellas cuerdas bañadas en Nickel.
Mi sonrisa delata el momento.
Mi alegría aumentaba al ver a las personas acercandose a escuchar y a grabar el momento, conocí a una pareja de adultos mayores que pidieron mi número para que fuera a tocar a su casa.
Espero que el momento capturado les sea de agrado, la cancion es de mi autoría, a veces es bueno cambiar de aires.


si quieres saber mas del viaje mira este post
The most beautiful memory that i brought from Mérida was my video for the 100th week of the Openmic Contest, its a special ocation and i got the chance to do somehing really valuable for my box of memories, with the guys(@elocuenciadesnuda, @sophiegeek, @greciav and @johannfare) during our meetup at said city we decided to go to the cableway, in there the cold wasnt anything at all to the place where going out without cover for the cold would awake an inner voice asking "why didnt i brought a sweater?"
They dont allow intstruments on the cableway, i sang for the girl at the entrance so she had to let me bring my guitar, from start to end of the ride i was singing songs, thanks to this o got myself a free coffee, we got a tour for a place that was suposedly out of bounds, i sang some more on my way down from the cable ride and i recorded this, my openmic, at the Espejo Peak.
The energy there was beautiful, the air would make the guitar slip out of my hands, my fingers, already stiff from the cold, to play the knickel coated strings felt difficult
My smile gives away the moment.
My joy increased as i say a crowd form as people aproached to listen and record the moment, i met an elderly couple that asked me for my number so that i would perform again at their home.
I hope you like the moment we captured, i wrote this song, sometimes its nice a change of scenery


If you want to know more about this trip check out this post
---
▶️ DTube
▶️ IPFS