Un poco de freestyle para el OpenMic!
Con las bajas frecuencias de mi bass entro en el #openmic improvisando con una de fusión Hip-hop/rap con un toque de je ne sais pas, Un Beso de Desayuno una canción de Calle 13 con su estilo típico y único. Esta obra musical esta ensamblada con piano, guitarra, voces líricas, un sintetizador, un batería electrónica. Ya que no poseía un bajo o un contrabajo me pareció perfecta para improvisar sobre ella, espero que les guste mi trabajo:
¡Utiliza audífonos o un buen sistema de audio para apreciar las frecuencias bajas y el groove de mis líneas de bajo!
A little freestyle for the OpenMic!
With the low frequencies of my bass I enter the #openmic improvising with a hip-hop / rap fusion with a touch of je ne sais pas, A Kiss of Breakfast a Calle 13 song with its typical and unique style. This musical work is assembled with piano, guitar, lyrical voices, a synthesizer, an electronic drum. Since I did not have a bass or a double bass it seemed perfect to improvise on it, I hope you like my work
Link delconcurso:
https://steemit.com/openmic/@luzcypher/steemit-open-mic-microfono-abierto-semana-89-registre-su-rendimiento-en-su-telefono-entre-y-gane-steem-patrocinado-por-pfunk-y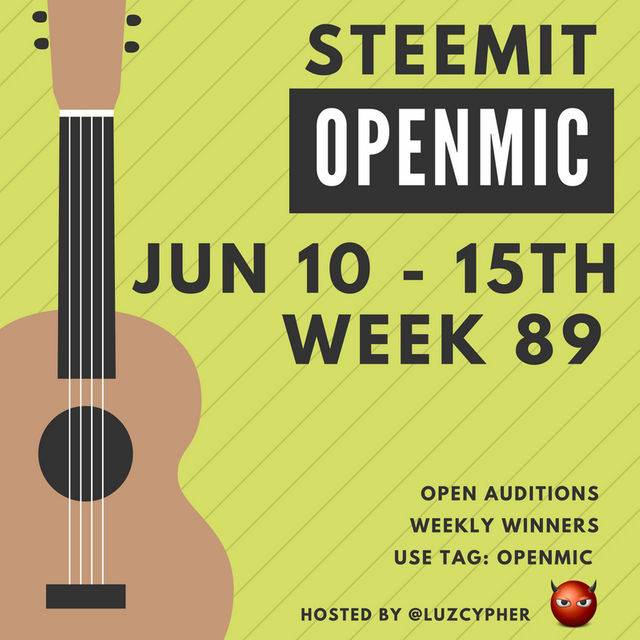 Chicos! Gracias por la iniciativa y gran aporte a la comunidad de steemit @pfunk @luzcypher los master del movimiento musical #openmic @passion-ground @soundlegion @krystle @Verbal-d @meno
Boys! Thanks for the initiative and great contribution to the community of steemit @pfunk @luzcypher the masters of the musical movement #openmic @ passion-ground @soundlegion @krystle @ Verbal-d @meno
Nos vemos la próxima semana, que viva la diversidad!