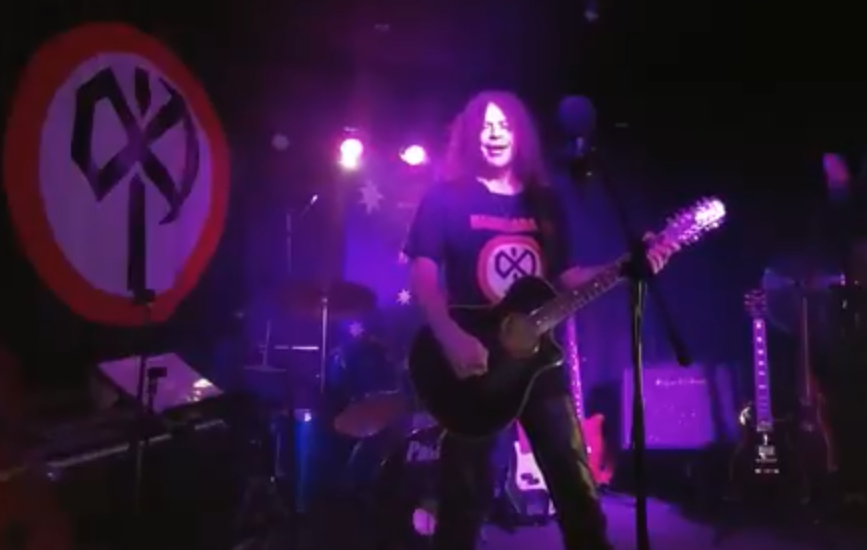 This is my first entry for Steemit Open Mic and what a week to begin…
The song I've chosen to perform for my first entry is a cover of "The Drugs Don't Work", a song by The Verve. It's a wonderful song, one that many people hold onto their own meaning for what the lyrics mean to them. It's a very touching song and I feel it, boy do I feel it!
I performed this song yesterday at our annual "Spudda's Palm Tree Jam" at MusicLand (Fawkner, Victoria Australia), and it was the first time I'd played it in many years.
The Palm Tree Jam, was an event that a dear friend, Spudda, used to hold in his backyard each year, and did so for many years attracting good friends and some great musicians. Under the shade of a huge palm tree, the BBQ would be cooking the snags while everyone enjoyed the tunes coming from the makeshift stage, which was Spudda's back patio.
Spudda passed away in 2016 and the jam has continued on in his honour each year since at MusicLand, his second home.
Playing it yesterday was a bit of a struggle for me actually. As I decided to play it as a dedication to Spudda, I pretty much had a tear in my eyes through the whole song and it was hard to stop myself choking while singing it.
Playing it again after so many years yesterday, reminded me once again how good the song is, so I decided to play it again in my studio at home tonight for my first Open Mic entry.
I hope you enjoy it.


"The Drugs Don't Work" By The Verve (Cover)

Thank you to @luzcypher & @pfunk for hosting Open Mic on Steemit.
Cheers
Thor
@hammaraxx
Rock'N'Roll From Melbourne, Australia




---