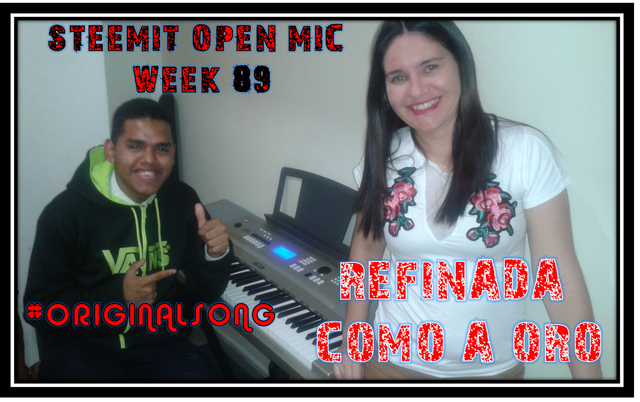 Es un gusto para nosotros participar en este distinguido concurso de talento musical. Esta vez hemos traído para ustedes una composición original de nuestra autoría titulada "REFINADA COMO A ORO".
¡Disfrútenla!


¡Las pruebas de la vida sirven para que al pasar por ellas podamos ser refinados como a oro mas puro y al final de la misma ser aprobados! @graceleon

REFINADA COMO A ORO
I
Que la tierra se estremezca
y los mares se embravezcan
las montañas se remuevan
a otro lugar.
II
Que suceda lo increíble,
que tu mano reaparezca,
maravillas sean mostradas
¡Grande eres tu!
Coro:
No puedo imaginar vivir sin la esperanza
confiar en que harás lo indescriptible.
Sólo tu me das la paz en medio de tormentas.
Refinada como a oro y aprobada estaré.
III
Que en las pruebas tu me ayudes
y mis ganas no se agoten
de cantarte sólo a ti
y sin desmayar.
IV
Que mi mundo se retuerza
y pase lo que tenga que pasar,
pero seguiré confiando
en tus promesas...

REFINED LIKE GOLD

I
Let the earth tremble
and the seas are raging
the mountains are removed
to another place.

II
Let the incredible happen,
your hand to reappear,
wonders be shown
Great are you!

Choir:
I can't imagine living without hope
to trust you to do the indescribable.
Only you can give me peace in the midst of storms.
Refined as gold and approved I will be.

III
That in the trials you help me
and my desires don't run out
to sing only to you
and without fainting.

IV
Let my world be twisted
and whatever has to happen,
but I will continue to trust
in your promises....

Originalsong: Nahir Alvarado @graceleon
Agradecida con el patrocinio del concurso #openmic por @pfunk, @luzcypher y a todo el jurado calificador por su apoyo semanal en cada participación. Así como también a los talentosos steemians del jurado @verbal-d @kevinwong @passion-ground @meno @soundlegion @krystle 𝒚 𝒔𝒆𝒈𝒖𝒊𝒅𝒐𝒓𝒆𝒔 𝒅𝒆𝒍 𝒄𝒐𝒏𝒄𝒖𝒓𝒔𝒐 𝒒𝒖𝒆 𝒏𝒐𝒔 𝒅𝒂𝒏 𝒔𝒖 𝒖𝒑𝒗𝒐𝒕𝒆 𝒆𝒏 𝒄𝒂𝒅𝒂 𝒑𝒖𝒃𝒍𝒊𝒄𝒂𝒄𝒊𝒐́𝒏.