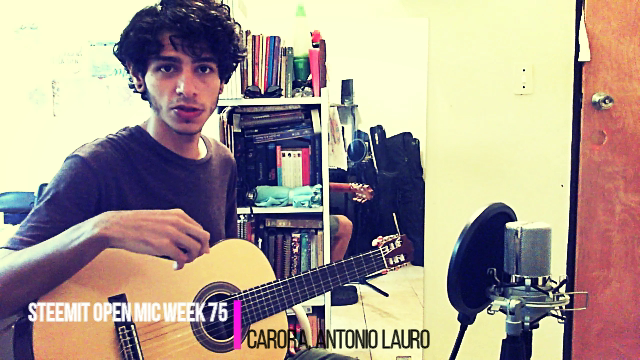 ¡Hola a todos!
¡Saludos a todos! En ésta ocasión me animé a interpretar en mi participación del OpenMic, una canción de Antonio Lauro, cual escuché por primera vez a través de mi novia @winizart, que toca guitarra clásica. En una oportunidad encontré las partituras de Carora, pero para Bandola. Debido a que he estado estudiando la técnica de Economic Picking, con la pajuela ó púa, decidí tomarla como parte del estudio, para luego disfrutar de ella y compartirla con ustedes.
Debo decir que no quedé satisfecho con la calidad del audio, debido a que los equipos que utilicé para la grabación (Condensador MXL 990 e interfaz de audio Scarlett Focusrite), proveen mucha más calidad de la obtenida. Pero por algunas razones, como mi inexperiencia y el inevitable sonido que generaba mi laptop, decidí evaluar mis errores y los distintos factores como aprendizaje para seguir adelante con futuras grabaciones. Más allá de todo, disfruté de la experiencia y como siempre, amé tocar.
Agradezco consejos y comentarios al respecto. ¡Gracias por leer y escuchar!

Hi everyone!
Greetings to all! This time you will make me an interpreter in my participation of OpenMic, a song by Antonio Lauro, that I heard for the first time through my girlfriend @winizart, who plays classical guitar. On one occasion I found the scores of Carora, but for Bandola. Because he was studying the technique of Economic Picking, with the straw or pick, I decided to take it as part of the study, and then enjoy it and share it with you.
I must say that I was not satisfied with the quality of the audio, because the equipment used for the recording (MXL 990 condenser and the Scarlett Focusrite audio interface), show much more quality of the output. But for some reasons, such as my inexperience and the inevitable sound generated by my laptop, I decided to evaluate my mistakes and the different factors such as learning to move forward with new recordings. Beyond everything, disguised as the experience and as always, I loved to touch.
I appreciate advice and comments about it. Thanks for reading and listening!