Steemit Openmic Week 100 - Cover "Brejeiro" @esteliopadilla - Sponsored by @luzcypher and @pfunk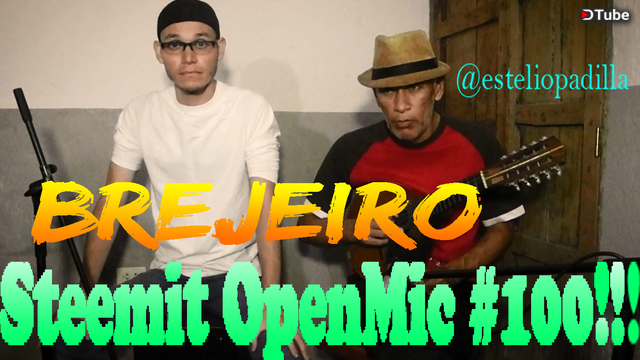 ---
Hello!!!
Here, once again, Estelio Padilla in a new presentation for "OpenMic" in week 100.
It is my pleasure to present myself to you on this occasion with a Brazilian tango entitled "Brejeiro". This work was created by Ernesto Nazareth and was originally composed for piano. Brejeiro means something like mischievous garoto, cunning, mischievous rascal, mischievous, unseemly, sinful.
This time my son @diegopadilla accompanies me in the Peruvian Cajon, to him my most sincere gratitude.
I also want to thank @luzcypher and @pfunk for sponsoring this contest.
Best regards and welcome comments.
Estelio Padilla

¡Hola!
Por aquí, una vez más, Estelio Padilla en una nueva presentación para "OpenMic" en la semana 100.
Es para mí un placer presentarme ante ustedes en esta oportunidad con un tango brasilero titulado "Brejeiro". Esta obra fue creada por Ernesto Nazareth y originalmente fue compuesto para piano. Brejeiro significa algo así como garoto malicioso, astuto, pícaro bellaco socarrón, indecoroso, pecaminoso.
En esta oportunidad me acompaña mi hijo @diegopadilla en el Cajón peruano, a él mi más sincero agradecimiento.
También quiero agradecer a @luzcypher y @pfunk por patrocinar este concurso.
Saludos cordiales y bienvenidos los comentarios.
Estelio Padilla
---
▶️ DTube
▶️ IPFS