Steemit Open Mic Semana 98 / Bachianas Brasileiras N° 5.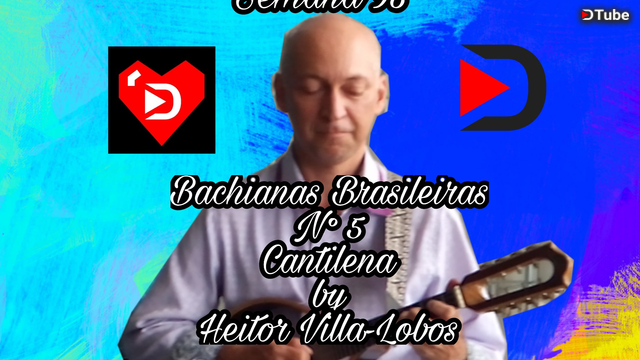 ---
Bachianas Brasileiras No. 5
Heitor Villa Lobos
Un cálido saludo musical.
Para esta semana de Open mic les tengo una obra musical del compositor brasileiro Heitor Villa-Lobos.
Les cuento un poco de la historia...
Heitor Villa-Lobos escribió esta serie de obras musicales entre los años 1930 y 1945. Las título Bachianas Brasileiras porque admiraba mucho al maestro de maestros de la música barroca Juan Sebastian Bach y quiso darle a su música la estructura y el aire de esa época en particular. La más famosa de toda la serie de las Bachianas Brasileiras es la Número 5, Aria (Cantilena), originalmente fue compuesta para voz y violoncello, posteriormente Villa-Lobos realizó un arreglo para soprano y guitarra.
El maestro Villa-Lobos realizó viajes a a zona nororiental de Brasil para recabar información sobre la música y costumbres de esa zona de su país. Mucho se habla de que visitaba supuestas tribus caníbales y de un halo de misterio en sus travesías.
Villa-Lobos se expresaba de la siguiente forma:
"Mi música es natural, como una cascada."
Toda su obra musical siempre refleja su explícito patriotismo.
Esta Bachiana brasileira está escrita en tonalidad de Am y la estructura de los compases tiene algunas variaciones de 4/4 - 3/4 - 6/4 y 5/4.
Esta es mi versión con mi mandolina y piano.
Video de YouTube

Esta es la letra en portugués de la obra.
Bachianas Brasileiras N° 5 (Cantilena)
Tarde uma nuvem rósea lenta e transparente.
Sobre o espaço, sonhadora e bela!
Surge no infinito a lua docemente,
Enfeitando a tarde, qual meiga donzela
Que se apresta e a linda sonhadoramente,
Em anseios d'alma para ficar bela
Grita ao céu e a terra toda a Natureza!
Cala a passarada aos seus tristes queixumes
E reflete o mar toda a Sua riqueza...
Suave a luz da lua desperta agora
A cruel saudade que ri e chora!
Tarde uma nuvem rósea lenta e transparente
Sobre o espaço, sonhadora e bela!
English.
Heitor Villa-Lobos wrote this series of musical works between 1930 and 1945. The title Bachianas Brasileiras because he admired Juan Sebastian Bach very much and wanted to give his music the structure and air of the Baroque period.
Master Villa-Lobos made trips to the northeastern part of Brazil to gather information about the music and customs of that part of his country. Much is said about his visits to supposed cannibalistic tribes and a halo of mystery in his travels. Villa-Lobos expressed himself in the following way:
"My music is natural, like a waterfall."
All his musical work always reflects his explicit patriotism.
The most famous of the entire series of the Brazilian Bachianas is the Number 5, Aria (Cantilena), originally composed for voice and violoncelloy and later Villa-Lobos made an arrangement for soprano and guitar.
English translation of the lyrics.
Evening, a rosy, slow and transparent cloud
Over the space dreamy and beautiful
The Moon sweetly appears in the horizon,
Decorating the afternoon like a nice damsel
Who rushes and dreamy adorns herself
With an anxious soul to become beautiful
Shout all Nature to the Sky and to the Earth!
All birds become silent to the Moon's complains
And the Sea reflects it's great splendor.
Softly, the shining Moon just awakes
The cruel missing that laughs and cries.
Evening, a rosy, slow and transparent cloud
Over the space dreaming and beautiful!
Thank you to @luzcypher , @pfunk and all the team of Open mic for this opportunity.
---
Invitación.
The classical music community at #classical-music and Discord.
Follow our community accounts
@classical-music and @classical-radio.
Follow our curation trail (classical-radio) at SteemAuto or help us out with a delegation!

---
Promoting Original FineArt / Music / Standup / Improve Comedy on STEEM.
Add #artzone tag - receive an upvote!
To Delegate:
50SP 100SP 250SP 500SP 1000SP5000SP.
Artzone Curators:
@SurfYogi @Misrori @Web-Gnar @NMAlove @ArtZanolino @EdPrivat @Twirble @Jacobite @gvand @twirble @Gbija
---
Canal de Discord de Dtube
https://discord.gg/HpXd3Z
¡Gracias por tu tiempo!
---
▶️ DTube
▶️ IPFS