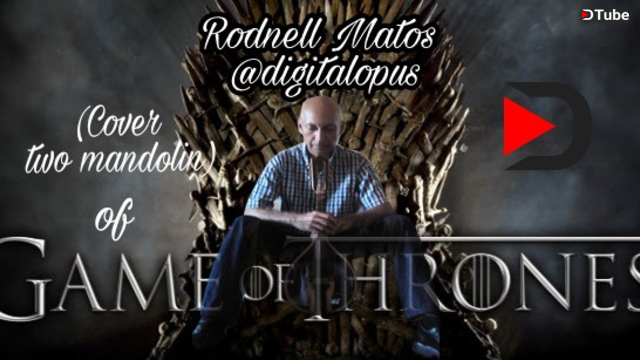 ---
Un cálido saludo musical para todos y todas.
Esta semana para Open Mic te presento esta canción de la cual hablo un poco a continuación...
Hace unos quince días una amiga me pidió que le transcribiera una canción, cuando me pasó el vídeo vi que era el tema principal de la serie original de HBO Game of Thrones confieso que he visto poco la serie pero cuando escuché la música me encantó, este estilo propio de la época medieval con sus escalas menores naturales de verdad que son de una estética musical incomparable.
Juego de tronos es una serie de televisión de aventuras, drama y fantasía medieval que está basada en los libros del escritor estadounidense George R. R. Martin y cuyo primer libro se titula como el nombre de la serie.
David Benioff y D. B. Weiss fueron los encargados de crear la serie para la cadena HBO.
La música de esta serie fue compuesta por Ramin Djawadi, aunque parece nombre de indú, es alemán, 😀.
Aquí te presento mi versión en ritmo de Joropo, con Bajo realizado en Reason, único instrumento virtual. Cuatro venezolano y dos mandolinas que coloque en el vídeo en pantalla dividida en la mitad de la canción.
Aquí el vídeo de Youtube
Espero que te guste y a través de Open mic patrocinado por @luzcypher , con el apoyo de @pfunk , @austibank. Y su equipo.
---
English
This week for Open Mic I present this song which I'll talk about a little later...
About a fortnight ago a friend of mine asked me to transcribe a song for her, when she played me the video I saw that it was the main theme of the original HBO series Game of Thrones, I confess that I have not seen the series but when I listened to the music I loved it, this medieval style with its really natural minor scales that are of an incomparable musical aesthetic.
Game of Thrones is a television series of medieval adventures, drama and fantasy based on the books of the American writer George R. R. Martin, whose first book is titled as the name of the series.
David Benioff and D. B. Weiss created the series for HBO.
The music of this series was composed by Ramin Djawadi, although it seems to be the name of an Indian, it is German, 😀.
Here I present my version in Joropo rhythm, with Bass made in Reason, the only virtual instrument. Four Venezuelan and two mandolins that I put on the video on a split screen in the middle of the song.
---
Aquí el tema original de la serie

---
Invitación.
La Familia Romana es una comunidad de escritores, músicos, artesanos, técnicos, etc; dedicados a proporcionar contenido de calidad en Steemit. Valoramos el arduo trabajo de todos aquellos que hacen vida en esta importante plataforma.
Tu invitación al servidor de la Familia Romana: https://discordapp.com/invite/5Db6S7s
---
"Comunidad Artística Hispano Hablante". Somos un conglomerado de artistas, comprometidos con la difusión, promoción y apoyo para todas las iniciativas y proyectos que refuercen la cultura y las artes en general. También somos el servidor de Discord del proyecto Celf (@celfmagazine), y punto de encuentro de diversos proyectos artísticos en Steem.
Tu invitación al servidor de CELF: https://discord.gg/DgWwCt9
---
Gracias a @dtube por el apoyo a los talentos que existen en nuestra comunidad de Steemit.
Canal de Discord de Dtube
https://discord.gg/HpXd3Z
---
▶️ DTube
▶️ IPFS