Steemit OPENMIC Week #98 - Cover Song - Iglesia Peregrina by @cpereira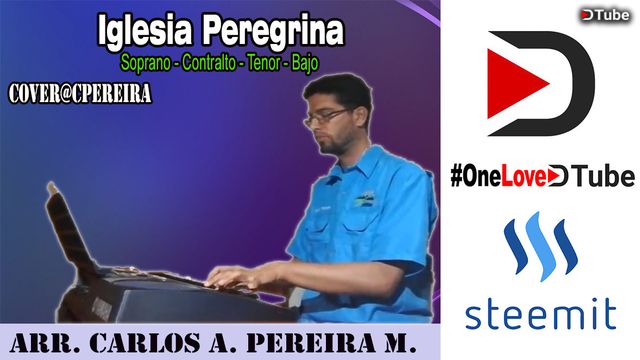 ---
Saludos a la inmensa Comunidad de Steemit! en esta oportunidad me complazco en darles a conocer mi ultimo arreglo para coro mixto, Original de "Cesareo Gabarain" un Ilustrísimo compositor de música Litúrgica del siglo XX. Lleva por nombre: "Iglesia Peregrina" y con este tema participo en el
#openmic
week 98. Está escrito para coro de voces mixtas, el Tenor lleva el tema en toda la pieza, por lo que puede ser interpretado por un solista. Por segunda vez realizaré mi interpretación cantando en los registros de
Soprano, Contralto, Tenor y Bajo.
El arreglo está escrito en la tonalidad de F Mayor, y es un canto de "Entrada" para las celebraciones Eucarísticas. En Latinoamérica es muy popular y la mayoría de las Parroquias lo contemplan dentro de su repertorio "Ordinario", cabe resaltar que sólo puede ser utilizado durante dos de los Tiempos Litúrgicos, el tiempo "Ordinario" y de "Pascua".
Este particular y popular canto de "Entrada" nos presenta 3 Estrofas en las que describe explicitamente la esencia prima de la Iglesia comunitaria, no puede existir Iglesia ni Dios sin comunidad, pues el mismo Dios se manifiesta como comunidad en la Santísima Trinidad. En este sentido, la primera estrofa nos recuerda que todos los miembros de la Iglesia formamos un SOLO cuerpo que nace posterior a la Resurrección de Jesucristo. La Segunda estrofa nos plantea y nos insiste en mantener nuestra confianza en el Señor, a jamás apartarnos de su gracia porque su presencia junto a nosotros es una promesa que perdura y perdurará en la historia. La 3ra estrofa nos recuerda el Bautismo, UN SOLO BAUTISMO y UNA SOLA COMUNIÓN CON DIOS. Por ultimo, el coro nos llama en la comunidad de la Iglesia a ser paz para las guerras y luz entre las sombras para la salvación de las almas.
---
Greetings to the immense Community of Steemit! in this opportunity I am pleased to let you know my last arrangement for mixed choir, Original of "Cesareo Gabarain" an Illustrious composer of Liturgical music of the XX century. It takes its name: "Iglesia Peregrina" and with this theme I participate in the
#openmic
week 98. It is written for mixed voices choir, the Tenor takes the theme throughout the piece, so it can be interpreted by a soloist. For the second time I will perform my interpretation singing in the records of
Soprano, Contralto, Tenor and Bass.
The arrangement is written in the key of F Major , and is a "Entrance" song for Eucharistic celebrations. In Latin America it is very popular and most of the parishes contemplate it within its "Ordinary" repertoire, it should be noted that it can only be used during two of the Liturgical Times, the "Ordinary" time and " Easter".
This particular and popular song of "Entrance" presents us 3 Stanzas in which explicitly describes the primary essence of the Community Church, there can be no Church or God without community, because God himself manifests as a community in the Most Holy Trinity . In this sense, the first verse reminds us that all the members of the Church form a SINGLE body that is born after the Resurrection of Jesus Christ. The Second Stanza raises us and insists on maintaining our trust in the Lord, never turning away from his grace because his presence with us is a promise that lasts and will last in history. The 3rd stanza reminds us of Baptism , ONE BAPTISM and ONE SINGLE COMMUNION WITH GOD. Finally, the choir calls us in the community of the Church to be peace for wars and light among shadows for the salvation of souls.
Infinitely grateful once again with @luzcypher and @pfunk for this initiative, I continue to perfect my productions and I hope to generate a better product every time I participate in this prestigious contest. I hope you have enjoyed my interpretation! Leave your recommendations in the comments and a Like to continue building and improving week by week! SEE YOU!
---
Esta es la Letra que utilicé para producir mi Participación de esta semana:


I

Todos unidos formando un solo cuerpo
un pueblo que en la pascua nació
miembros de cristo en sangre redimidos
Iglesia peregrina de Dios

Vive en nosotros la fuerza del espíritu
que el hijo desde el padre envió
el nos empuja nos guía y alimenta
Iglesia peregrina de Dios

Coro

SOMOS EN LA TIERRA
SEMILLA DE OTRO REINO
SOMOS TESTIMONIO DE AMOR:
PAZ PARA LAS GUERRAS
Y LUZ ENTRE LAS SOMBRAS
IGLESIA PEREGRINA DE DIOS

II

Rugen tormentas
y aveces nuestra barca
parece que ha perdido el timón
miras con miedo y no tienes confianza
Iglesia peregrina de Dios

Una esperanza nos llena de alegría
presencia que el señor prometió
vamos cantando el viene con nosotros
Iglesia peregrina de Dios

SOMOS EN LA TIERRA
SEMILLA DE OTRO REINO
SOMOS TESTIMONIO DE AMOR:
PAZ PARA LAS GUERRAS
Y LUZ ENTRE LAS SOMBRAS
IGLESIA PEREGRINA DE DIOS

III

Todos unidos en un solo bautismo
ligados a la misma comunión
todos viviendo en una misma casa
iglesia peregrina de Dios

Todos prendidos en una misma suerte
ligados a la misma salvación
somos un cuerpo y cristo es la cabeza
iglesia peregrina de Dios

SOMOS EN LA TIERRA
SEMILLA DE OTRO REINO
SOMOS TESTIMONIO DE AMOR:
PAZ PARA LAS GUERRAS
Y LUZ ENTRE LAS SOMBRAS
IGLESIA PEREGRINA DE DIOS

This is the letter that I used to produce my participation this week:

Aquí dejo también el enlace de YouTube!

Here I also leave the YouTube link!

Infinitamente agradecido una vez más con @luzcypher y a @pfunk por esta iniciativa, sigo perfeccionando mis producciones y espero lograr generar un mejor producto cada vez que participe en este concurso tan prestigioso. Espero hayan disfrutado mi interpretación! Dejen sus recomendaciones en los comentarios y un Like para seguir construyendo y mejorando semana a semana! NOS VEMOS!
---

---
▶️ DTube
▶️ IPFS