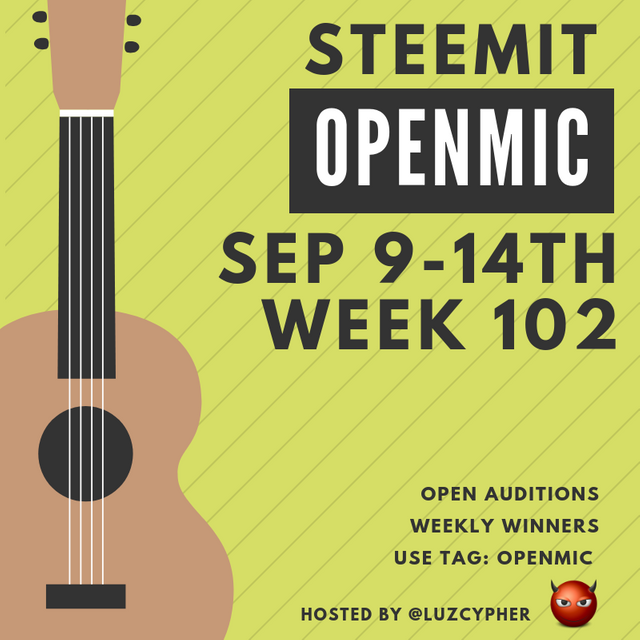 ---
Tenerife Sea by Ed Sheeran (A Cover by @charlocked and @toncentino)
---
Hello! So after several instances of putting this off, I have finally gathered a decent amount of confidence and effort (haha!) to post my first ever entry for the Steemit Openmic Contest hosted by @luzcypher.
For my first entry, I decided to do a cover of Ed Sheeran's Tenerife Sea, which is one of my favorite songs too. This cover would not have been possible without @toncentino, who helped arrange how this cover is going to sound. He's a new Steemit user and he hasn't started posting yet so please go and push him to join in on the fun too.
We recorded this in my room. The lights in my room and our silhouette help set the mood of the song. So, yes, the setup was intentional.
I also tried to revise the lyrics a little bit, so I could turn in into a female version. Although I did kinda mess up some of the lyrics during recording. Sorry about that.
Tenerfife Sea by Ed Sheeran
(Lyrics revised by charlocked)
You look so wonderful in your tux
I love your hair like that
The way it falls just right above your eyebrows
Down your ears and your neck
We are surrounded by all of these lies
And people that talk too much
You got the kind of look in your eyes
As if no one knows anything but us
[Pre-Chorus]
Should this be the last thing I see
I want you to know it's enough for me
Cause all that you are is all that I'll ever need
[Chorus]
I'm so in love
So in love
So in love
So in love
[Verse 2]
You look so ravishing in this light
Your silhouette over me
The way it brings out the blue in your eyes
Is the Tenerife sea
And all of the voices surrounding us here
They just fade out when you take a breath
Just say the word and I will disappear
Into the wilderness
[Pre-Chorus]
Should this be the last thing I see
I want you to know it's enough for me
Cause all that you are is all that I'll ever need
[Chorus]
I'm so in love
So in love
So in love
So in love
[Bridge]
Lumiere darling
Lumiere over me
Lumiere darling
Lumiere over me
Lumiere darling
Lumiere over me
[Pre-Chorus]
Should this be the last thing I see
I want you to know it's enough for me
Cause all that you are is all that I'll ever need
[Chorus]
I'm so in love
So in love
So in love
So in love
[Outro]
You look so wonderful in your tux
I love your hair like that