Steemit Openmic Semana 108 - Abel fernandez - Ilegal (Cover)
¡Semana 108!
La playa, el ambiente tropical, las bellas mujeres de latinoamerica, son cualidades que identifican el sonido de la controversial banda de reggae "Cultura profética", que desde que empezó capto la atención del publico considerablemente, no solo por su sonido reggae roots tan moderno y autentico, si no por los fuertes versos de su compositor, cantante y bajista Willie Rodriguez, quien ha creado películas enteras sin necesidad de un rodaje real, tan solo de unos versos y una música que lo acompaña.
Version original.
Describir el deseo, un encuentro, la pasión que puedes sentir por alguien es intenso, y a veces tanto que dudas de la legalidad de tan profundos deseos; así se desarrolla la composición de estos chicos, titulada "Ilegal" diría que su hit mas iconico, y he decidido hacerle un cover a esta canción para participar esta semana en el openmic.
Pero ya va, aquí no esta el factor determinante, ya que esto es un cover, me tome la libertad de destacar una versión Abel Fernandez, y yo mas que playa y ambientes tropicales, soy ciudad, urbanidad y tranquilidad.
Ya que me gusta tanto jugar con los diversos instrumentos recurrí al looper para elaborar mi pista en vivo de la canción, para finalmente cantarla.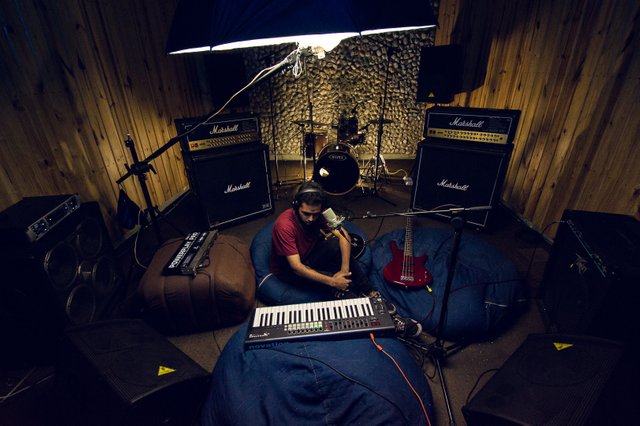 Fotografia tomada por @enriquesalgadoc durante la grabacion.
Utilice un controlador MIDI Novation, un bajo eléctrico Ibanez, y mi confiable guitarra silvertone, grabado desde Berenjena Studios.
Producción musical: Brayan Zapata.
Producción visual: @enriquesalgadoc
Sin mas rodeos, aquí les dejo mi entrada.
Letra:
Tener tus ojos debe ser ilegal
Y mas si cuando miras solo inspiras a pecar
Esa sonrisa peculiar de jugar a tentar letal
Es un dote que si sabes como usar para matar
Te has armado de forma perfecta
Para hacerme agonizar tan muerte lenta
Mientras tu boca violenta revienta
Dentro de mi boca como un rayo una tormenta
Tus manos calientan piel solo de rozarla
Y mis manos van jugando a conocer tu espalda
Con toda la calma se alarga
La delicia de mi expedición hacia tus nalgas
Y no hay mas que una sola versión
Una sola muestra total de perfección
Llenas de luz la habitación con tus brillos de neón
Y yo sin trabajo suelto así un ultimo botón y pienso
Tan solo las doce y no se escuchas voces
Solo gemidos finos, sonidos del goce
Para cerrar la noche con broche de oro
Yo te llego al oído y susurro este coro:
Eso no fue nada, ya estoy en confianza negra
Si me regalas la mañana
Te llevo hasta la noche eterna.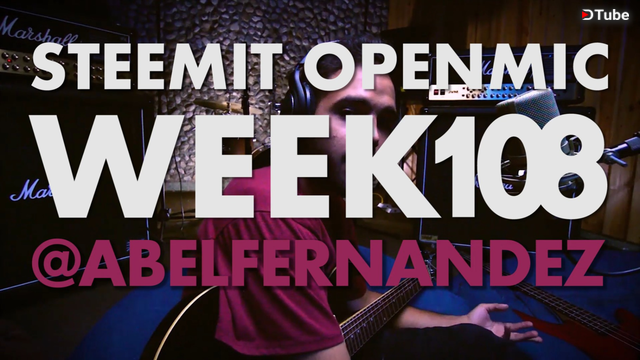 ---
English version:
Week 108!
Today I come with a new entry for my openmic, a truly good production made of course by
@smollrecord
, who is always present and willing to perform the best jobs. I am excited because many projects are coming, projects that will please the steemit community, mainly the artists, moreover, I will take advantage of this and share the last post of
@smollrecord
so that they stay updated.
The beach, the tropical atmosphere, the beautiful women of Latin America, are qualities that identify the sound of the controversial reggae band "Cultura propetica", which since I started capturing the attention of the public considerably, not only because of its roots so modern reggae sound and authentic, if not by the strong verses of his composer, singer and bassist Willie Rodriguez, who has created entire movies without the need for a real film, just a few verses and a music that accompanies it.
Describing the desire, a meeting, the passion you can feel for someone is intense, and sometimes so much that you doubt the legality of such deep desires; So the composition of these guys is developed, entitled "Illegal" would say that its most iconic hit, and I decided to cover this song to participate this week in the openmic.
But it goes, here is not the determining factor, since this is a cover, I take the freedom to highlight an Abel Fernandez version, and I more than beach and tropical environments, I am a city, urbanity and tranquility.
Since I like so much to play with the different instruments I resorted to the looper to elaborate my live track of the song, to finally sing it. </div class>
I used a Novation MIDI controller, an Ibanez electric bass, and my reliable silvertone guitar, recorded from Berenjena Studios.
Musical production: Brayan Zapata.
Visual production: @enriquesalgadoc
No more detours, here I leave my entry.
Letter:
Having your eyes must be illegal
And more if when you look only inspire to sin
That peculiar smile of playing lethal tempt
It's a dowry that you know how to use to kill
You have armed yourself perfectly
To make me agonize so slow death
While your violent mouth bursts
Inside my mouth like a thunderbolt a storm
Your hands heat skin just by rubbing it
And my hands are playing to know your back
With all the calm it lengthens
The delight of my expedition towards your buttocks
And there is only one version
A single total sample of perfection
Full of light the room with your neon shines
And I without work loose so a last button and I think
Only twelve o'clock and you can not hear voices
Only fine moans, sounds of enjoyment
To close the night with a flourish
I reach into your ear and whisper this chorus:
That was nothing, I'm already in black confidence
If you give me the morning
I take you to the eternal night.

---
▶️ DTube
▶️ IPFS