I would like to start by crediting Boersen for the interview, article. OpenLedger Vietnam (OpenLedgerVN) for the original post layout. Then of course Ronny Boesing himself who has allowed me as my first Steemit post to translate and post this into English.  
I met Ronny face to face at one of the successful ITO launches Crypviser that occurred in Dusseldorf, Germany in December. I had talked to him in online social spaces such as Telegram, Discord and reading posts and news surrounding OpenLedger. I cannot stress how much of a genuine and hard working professional he is. His drive passion and determination to ensure OpenLedger and the ITOs that use it are successful radiates from him and makes at least myself very enthused in the entire OpenLedger and Bitshares ecosystem.  
---
Danish Bitcoin-Pioneer Behind Crypto-Adventure
After 25 years as salesman in the music industry Ronny Boesing decided to quit in 2014 before the internet made CDs completely redundant. Instead, he launched the cryptocurrency exchange OpenLedger, where there has so far been traded for more than $300M.
The cryptocurrency exchange owner from Denmark is aiming for the skies - and giants like Amazon and Alibaba.
Bitcoin-Pioneer Behind Crypto-Adventure in Denmark
Ronny Boesing went from selling CDs to having his own cryptocurrency exchange in 2014. Now cryptocurrencies at an estimated $5M are traded daily on OpenLedger.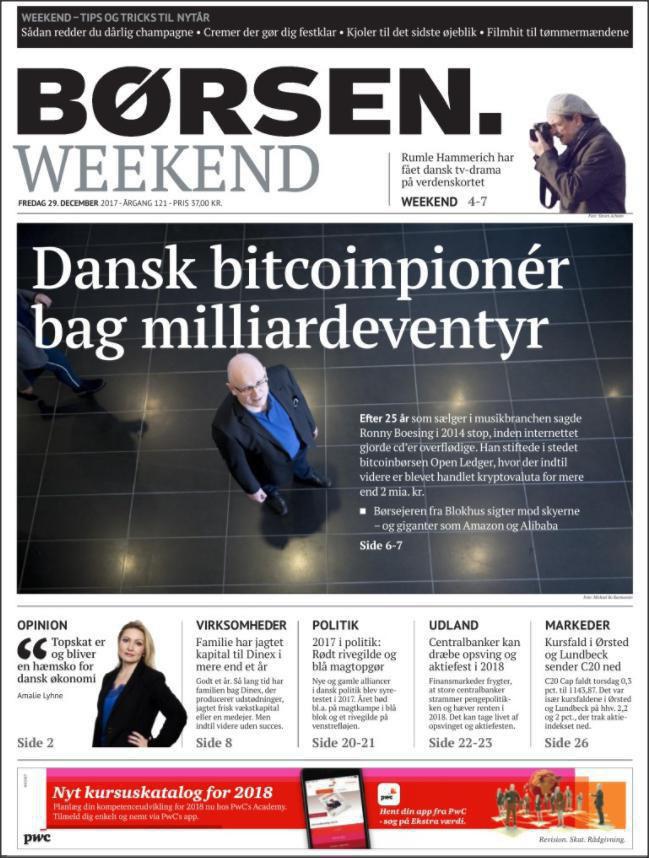 Almost 4 years ago a Denmark-based cryptocurrency exchange was founded. Since then more than $300M worth of cryptocurrencies have been exchanged on OpenLedger. After the market has exploded in 2017 where the Bitcoin price has gone from around $1,000 to a high above $20,000, the daily trading volume on the exchange is around $5M, says co-founder Ronny Boesing, who worked as a salesman in the music industry for 25 years, before the internet made CDs redundant.

OpenLedger also offers solutions within blockchain-technology - Blockchain-as-a-Service. "My hope is that within a 5 year time-frame to have OpenLedger be part of the same club as the big actors like Google, Apple, Amazon, Facebook, and Alibaba, and even having established some kind of partnership with for instance Amazon and Alibaba, as these are the companies I mostly aim for," he says.

Whether the entrepreneur from Northen Denmark will achieve his goal depends according to Rasmus Winther Moelbjerg, expert in digital transformation in Deloitte Digital, on if OpenLedger is successful in creating trust in their systems, for instance trough partnerships: "There are many startups within blockchain-techonology, and there is no lack of ideas. In order to really get a hold of the consumers you have to win their trust and credibility."
Developing tools
OpenLedger began as a cryptocurrency exchange, but one and a half years later Ronny Boesing decided to use blockchain technology itself as part of the development. Blockchain makes it possible to move unique values around on a platform, where everyone can see who is the rightful owner of the value in question. Other than the revenue from the trading platform, where the transaction fee is 0.2 pct., the company offers solutions within blockchain, for instance tool-kits for entrepreneurs. "We are working on making the final touches to a platform that focus on the gaming-industry, called GetGame. After having finished this platform we want to expand the concept to cover all industries in a single platform," says Ronny Boesing.
OpenLedger has in 2016 and 2017 had a combined revenue of $5M.
"The success so far is due to the entrance we have created to a trading platform, which we in time expect to offer all financial institutions to use," he says. The company has a partnership with Bitshares, which is a decentralized trading platform. "We offer the possibility to send different types of virtual currencies to a decentralized account. In contrast to the big Bitcoin-exchanges around the world, like Bitstamp, Bitfinex, and Coinbase, on the OpenLedger exchange it is the actual owner of the account who controls the money when trading. Other places, on these centralized exchanges, it is the exchange who has access to all the currencies, and can in principle shut down a users account. At OpenLedger the responsibility and control is in the hands of the user," says Ronny Boesing.
The users do not have to have to virtual currencies on their own computers. "Part of the service that OpenLedger offers is to store the virtual currencies securely," says the founder, who adds that the users control of the account is due to them being the only ones who can make changes to their holding of the different virtual currencies. "A decentralized exchange cannot change the ledger, or the registry, that records which kind and how many virtual currencies a users has available," he says. OpenLedger created its own virtual currency, Obits, on the Bitshares blockchain two years ago. A currency like that is also called a token and can be used as a sort of voucher to the products and services that the company is developing. Since February last year OpenLedger has been buying back Obits for almost $2M.
"Obits is the first virtual currency in Denmark based on an alternative blockchain other than Bitcoin," says Ronny Boesing.
---
PROFILE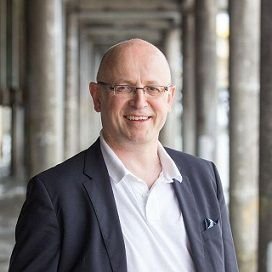 Ronny Boesing
Ronny Boesing CEO and Co-Founder of OpenLedger
Crypto-Exchange Owner Aiming for the Skies throughout his career, Ronny Boesing had been selling CDs, DVDs, video-games and other things all over the world. But in the beginning of 2014 the Dane decided to establish a trading-platform where digital currencies like Bitcoin can be exchanged for fiat money, like the Pound, Dollars, and the Danish Krone. "I have throughout my life earned my money by bringing products to people all around the world. That is in fact what I still do. The product is just a little different," said Ronny Boesing to the Danish newspaper Boersen back when Crypto Coins Exchange Denmark saw the light of day, which was later renamed to OpenLedger. The launch happened in the wake of banning of Bitcoin in China and Mt. Gox's collapse after a hacker-attack, which costed the then biggest biggest Bitcoin exchange its life. "I don't see Bitcoin as a currency comparable to the Dollar or Rubles. It is more like a commodity that in time will be more and more sought after. All the old fiat currencies do not have the same potential as this product has," said Ronny Boesing in an interview with the Danish newspaper Berlingske. The company, which today is called OpenLedger, is relatively unknown in Denmark, but is frequently mentioned in international media. Other than a trading platform OpenLedger offers solutions based on blockchain-technology. The 51-yearold entrepreneur lives in the Northern part of Denmark, in Blokhus, is married, has six children and has invested in cryptocurrencies himself. ".
"It is hard to avoid when you are as involved as I am" says Ronny Boesing, who has a life-philosophy that resembles the Bitcoin exchange rate in 2017 "The sky is the limit".