𝕆ℕ𝔼 𝕐𝔼𝔸ℝ ℝℙ𝔾 - 𝔻𝔸𝕐 𝟝𝟡 [one year rpg - day 59, a collaborative choose your own adventure]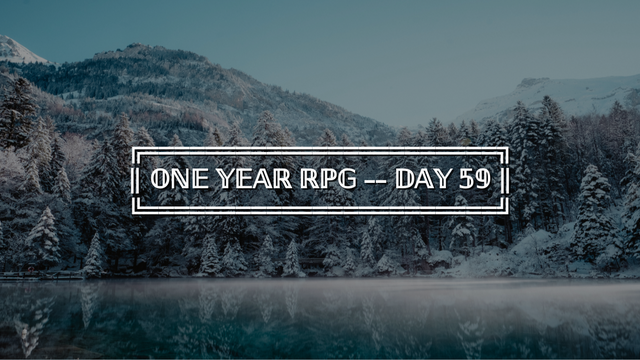 yesterday's results: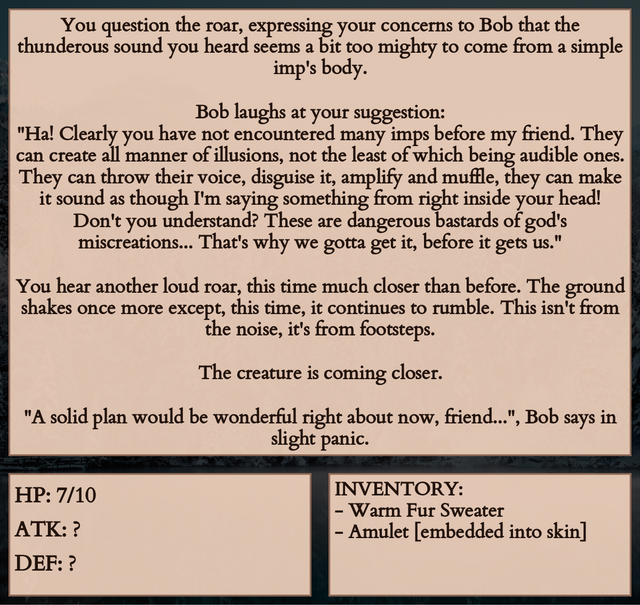 ≋≋≋
You question the roar, expressing your concerns to Bob that the thunderous sound you heard seems a bit too mighty to come from a simple imp's body.

Bob laughs at your suggestion:
"Ha! Clearly you have not encountered many imps before my friend. They can create all manner of illusions, not the least of which being audible ones.
They can throw their voice, disguise it, amplify and muffle, they can make it sound as though I'm saying something from right inside your head!
Don't you understand? These are dangerous bastards of god's miscreations... That's why we gotta get it, before it gets us."

You hear another loud roar, this time much closer than before. The ground shakes once more except, this time, it continues to rumble. This isn't from the noise, it's from footsteps.

The creature is coming closer.

"A solid plan would be wonderful right about now, friend...", Bob says in slight panic.
≋≋≋
| HP | ATK | DEF | INVENTORY |
| --- | --- | --- | --- |
| 7/10 | ? | ? | - Warm Fur Sweater |
| | | | - Amulet [embedded into skin] |
---
---
Additional Links