Introducing the One Thousand Token. Only 1000 tokens ever created. Powered by the Steem Blockchain and Steem-Engine.com
Introducing the One Thousand Token- MAX supply: 1000- HardCapped.

Only 1000 tokens will ever exist as the max supply was set and thus hard capped at just 1000 like the name implies. I believe this token can be a store of value and used to promote steem-engine as a whole with the steem blockchain and its technical specifications and @blocktivity and FCAS scores especially to compare them to BTC ETH LTC and other more popular chains.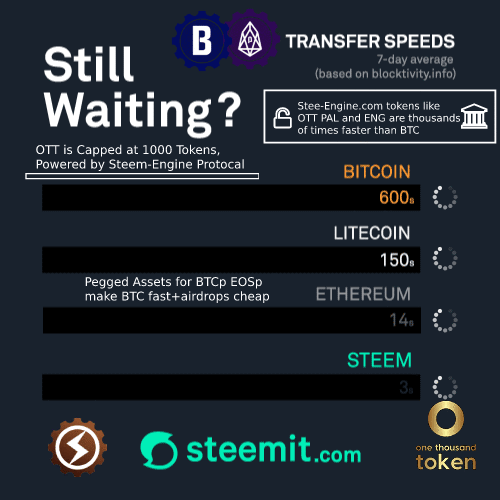 (Here is an example of an Infographic I have altered to also include steem-engine and the One Thousand Token since the same speeds and qualities of steem apply to all of the tokens using the steem blockchain)
Only 500 have been issued, the remaining 500 will be either issued in social bounty faucets to promote the token and for now sinks will be required since the demand will be choked once the max supply has been reached- or if enough OTT is sold stakeholders can vote to burn it.
I hope to create a sense of rarity and scarcity with this token since only 1000 will ever be in existence and there are over one hundred thousand active accounts just on steem, 16 thousand active accounts with over 200 SP and so I believe as long as I promote this token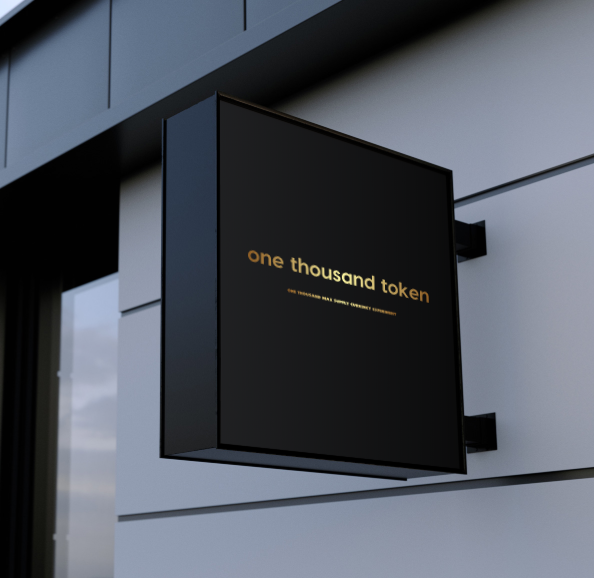 I believe with such a low supply, people will be more likely to hold this token when given one. It is unseen if I will do an airdrop, perhaps starting at 1000 top steemians at x 0.01 each so it is only 10 OTT airdropped or 1% of the 1000 total supply.
You can trade the OTT Token and buy some today at Steem Engine here:
https://steem-engine.com/?p=market&t=OTT
The rare nature of such a token and sheer number of 80-100 thousand active steemians with disposable income leads me to believe that very low supply tokens can become in high demand by various niches, like @neoxian and his neoxian gold token as a great example.
I will be doing extensive Social Media promotions to promote this token and create extremely fancy infographics using this same gold and black theme to dazzle the likes of the crypto twitter and subreddits. I will also be giving out 10 x 0.1 OTT each to 10 lucky users who comment on this post to help kickstart some distribution to steemians. But once a few hundred steemians have some OTT , 1 whole OTT won't be given out so freely.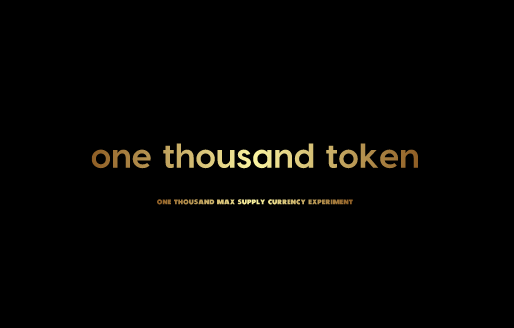 Come to @steemspeak discord https://discord.gg/vMt9T7P to get another chance to 10 more chances to get 0.1 OTT , I will use the @banjo tip bot created by Steem Developer inertia to facilitate tipping of the One Thousand Tokens to help with its initial distribution.
As far as the distribution, airdrops for 0.000229 OTT have already been sharedropped to 436 members of the Palnet discord at https://minnowpond.org and a similar amount has been given to another few hundred members of @steemspeak discord.


No matter what happens with the distribution, the supply will remain low, and as long as no one buys the 10% of the supply or 100 tokens that was put on sale by @onethousandtoken then no one can demand to have a proposal voted on by token holders for what to do with the remaining 500 OTT. My plan for the remaining 500 tokens is to be able to sell them on the market for much higher the my original 10 steem to 15 steem per TCC and I hope this puts confidence in potential TCC buyers. I believe I can drive demand high enough to get interest in buying 1 of these tokens from at least 1% of all active users on steem, roughly one thousand people out of roughly 100 thousand active users on a platform/blockchain with around 1.5 million total accounts.. The next approximate deadline for the white paper and the website is next week, Around Sunday August 11 2019. Or if the result of an airdrop of SOME portion of the remaining 500 tokens is too beneficial to pass up, and if steem community wants and airdrop of the remaining 500 tokens at 0.1 OTT each to the top 5000 accounts that might be very possible. An airdrop of 1000 users being only a few dollars or I believe 20 steem, so around $20 dollars for 5000 , or I can just do 0.5 OTT to the top 1000... It might be a good way to get minnows interested in getting one of these more rare steem engine tokens seeing the top 1000 users getting one half or even 0.1 of a rare coin with only a supply of 1000.
The team for promoting the One Thousand Token will meet on the @steemspeak discord and those who contribute will earn their chance to receive one of just a few whole OTT tokens I have allocated for social bounties and a team of promoters.