TRENDBENDING FROM BOWSERS CASTLE: TIREBASHING, STUPID ROBOT FIGHTING LEAGUE, and EXTREME IRONING CHAMPIONSHIP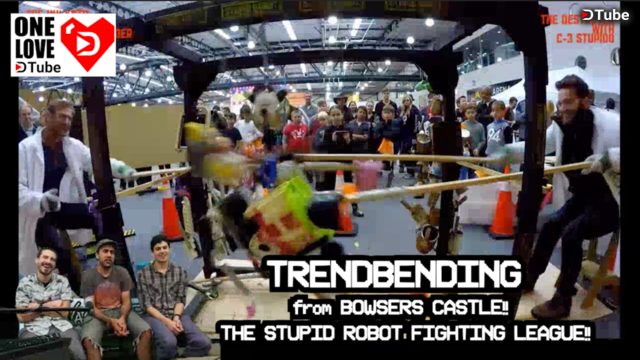 ---
WELCOME BACK TO ANOTHER EPISODE OF TRENDBENDERS, WHERE WE FOLLOW THE TRENDS OF THE WORLD, AND THEN BEND THEM AS NECESSARY.
Come join @influence @avesa @infamousit and special guest Kanye West, as they search Reddit for another trending video. This week they find themselves searching /r/theocho for a lesser known sport of the world. They end up stumbling upon the wonders of Stupid Robot Fighting, a creative game combining the powers of engineering, fighting and robotics. Watch along as we see the beginnings of robot fighting and AI, before they advance at an unprecedented rate and take us all over. Robots aren't even a commonly available thing and we're already warring them against each other... the future looks bright. Thanks for warning though, Elon.
If have any video suggestions for future features, leave a link!!
Thanks as always guys!
JOIN US TOMORROW FOR ANOTHER FRESH EPISODE OF TRENDBENDERS!
---
▶️ DTube
▶️ IPFS