OneLoveDTube IPFS Uploader v0.8.4: Keychain auth support, updated homepage and more!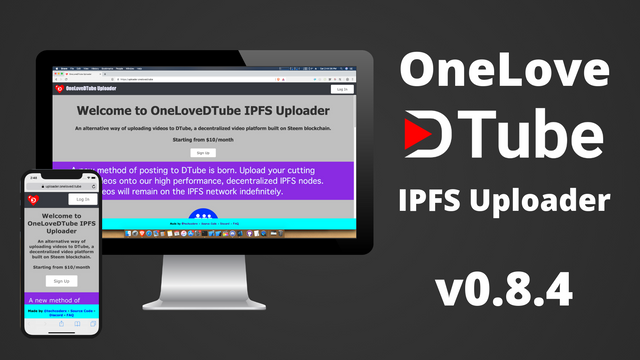 Repository
https://github.com/techcoderx/ipfsVideoUploader
What's new
Keychain Authentication Support Added!

Commits:
Previously, the only way to authenticate to the uploader is through SteemConnect, which is a centralized Steem authentication system. Despite that it is easy to implement (and checking if logged in user is listed in whitelist.txt file), it has some potential problems that users are facing, including the mysterious sc2-sdk-error that also persisted in other Steem DApps that use SteemConnect for authentication. Additional beneficiary fees of up to 2.5% have been introduced for SteemConnect users in their latest update, which most users would not want to incur.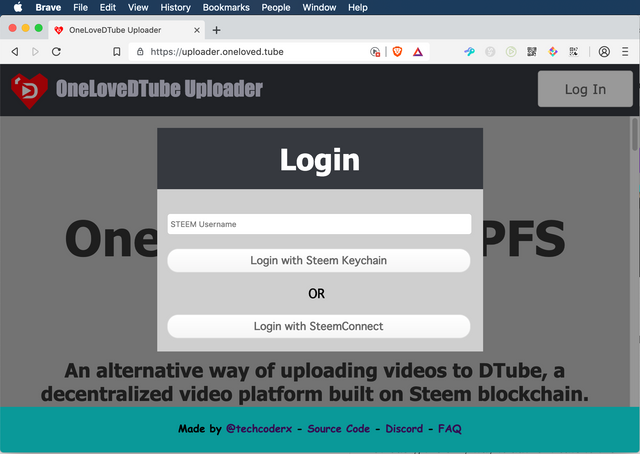 Now, you may login with Steem Keychain, which is a browser extension for secure client side signing, without the need of putting keys onto websites. The user will have to input their Steem account username in a pop up box, then it will be sent to the server to check if the user is in the whitelist.
I have used this tutorial written by @void to create the login API and generate the access token. If the login is successful, the access token will be added in the URL parameter, the same way of how SteemConnect construct the callback URL, with exception of an additional keychain parameter which will be true for keychain logins in order for the upload page to identify keychain authentication when detecting logins.
Homepage just received a refresh!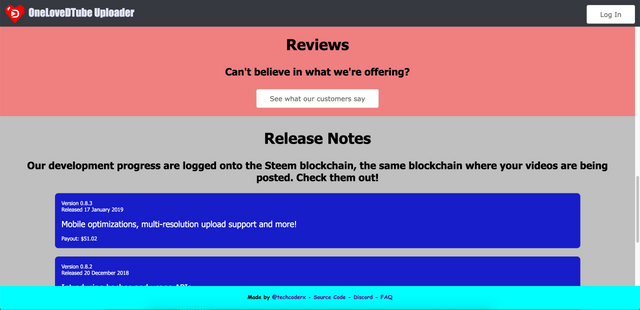 Commits:
An additional 2 sections have been added to the homepage, which are customer reviews (more on that below), and update logs, which is a record of all update releases for the uploader.
To optimise for website load times, instead of loading everything from the blockchain, the update details will be stored as values in a JSON file, which is cached as a variable on the server. Every time the page loads, an API call will be made to obtain update logs data and they will be displayed in a reverse chronological order.
Customer reviews page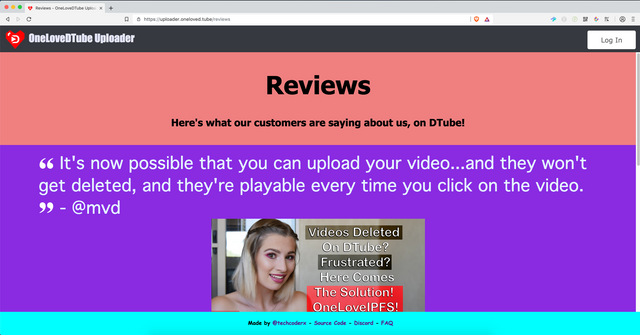 Commits:
This is the place where some good video reviews of @oneloveipfs hosting services are featured to show newcomers about what we offer as part of the service. It is made up of quotes which are pulled straight from either the video narration or in the description, and the embed player next to it, which plays videos from video.oneloveipfs.com gateway announced in the previous update.
Customer reviews page is LIVE on https://uploader.oneloved.tube/reviews
Congratulations to @mvd, @vladivostok, @tanbay and @kenmelendez for making into this page!
More SEO optimizations in HTML
Commits:
As per various marketing campaigns to promote Steem blockchain (and its DApps) outside of the blockchain, I have taken steps to modify the HTML code of the homepage for SEO optimizations by adding relevant meta tags and alt text for images.
Here are the examples of how social media sites and chat apps are rendering https://uploader.oneloved.tube:
| | |
| --- | --- |
| Twitter | Discord |

Github account