Omise/OmiseGO Ecosystem Primer
Background
A couple days ago I posted an article "5 Common Misconceptions About Omise/OmiseGO":
https://steemit.com/omisego/@solveforh/five-common-misconceptions-about-omisego
I was surprised to see the article retweeted by Jun (the CEO) himself. It encouraged me to share this post below...
You may remember when Jun tweeted that people did not understand what is involved and how big the #Omise < > #OmiseGO ecosystem was and proceeded to publish this medium article:
Omise/OmiseGO Strategy Vol. 01 - https://medium.com/@jun_omise/omise-omisego-strategy-vol-01-5c7269bb2008
In this post I hope to add some resources to better your overall picture of the ecosystem in which they exist without expanding relationships beyond what has been announced or details that are already known.
Primer:
A cashless society describes an economic state whereby financial transactions are not conducted with money in the form of physical banknotes or coins, but rather through the transfer of digital information (usually an electronic representation of money) between the transacting parties. It is coming whether you like it or not and with it comes challenges regarding payments.
Interesting read about the motivation and differences between countries:
https://hbr.org/2016/05/the-countries-that-would-profit-most-from-a-cashless-world
The four core challenges according to Jun's medium article:
Limited availability of digital currencies or online payment acceptance by merchants.
Siloed wallet and payment services impeding the usability and functionality.
Low rate of credit card adoption. This is particularly true in the Asia-Pacific region where information about a user's credit score, needed to apply for credit card, is not as easily accessible.
Continued limited coverage and penetration of traditional financial services- e.g. bank branches, bank accounts.
Jun breaks the solutions into 3 layers: the acceptance layer, the decentralized exchange network layer, and the decentralized cash-in/out layer. It is helpful to keep this multilayer solution in mind as you read along.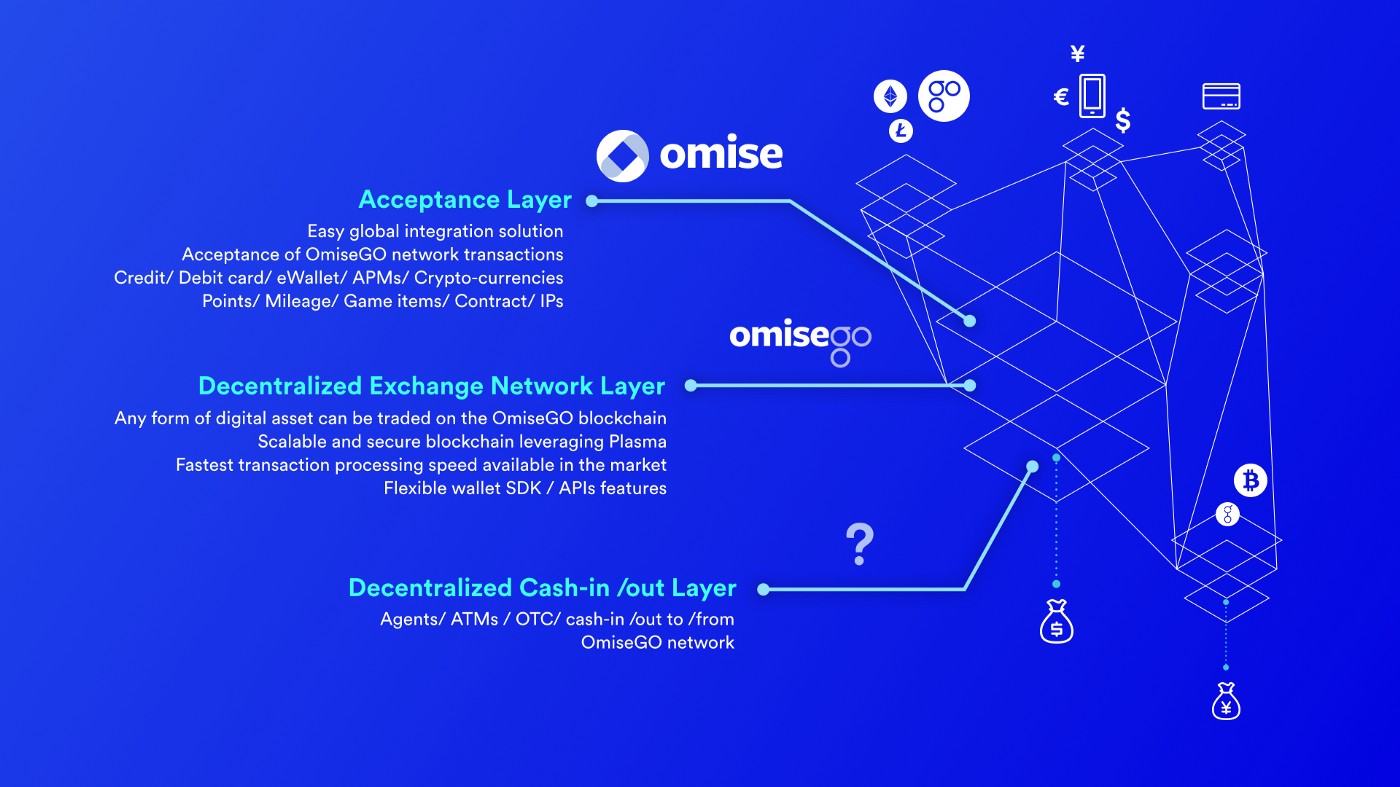 We will discuss Thailand first, then Japan, then globally.
Thailand
In late December (2016), the cabinet approved the Finance Ministry's national e-payment master plan to promote electronic payment across the board with a view to creating a cashless society. Few people know however that Thailand has actually launched a new interbank mobile payments system "to enable money transfers that were cheaper and easier than those offered by conventional banks". The system is called PromptPay and authorization in participation is by the Finance Ministry. Thai Alliance Payment System is one of two bank consortiums that was granted authorization by the Finance Ministry and includes the following five: Siam Commercial Bank, Krungthai Bank, Bank of Ayudhya, Thanachart Bank and TMB Bank.
https://asia.nikkei.com/Politics-Economy/Economy/Thailand-rolls-out-PromptPay-money-transfer-service
https://www.bangkokpost.com/tech/local-news/1242542/promptpay-nears-tipping-point.
How is Omise/OmiseGO positioned?
Thailand's E-Payment System
Thailand's three biggest e-payment service providers included: Paysbuy, AIS (mPAY), and True Money.
I find TrueMoney the most interesting and worthy of further discussion.
Who is TrueMoney?
"TrueMoney was founded in 2003 as part of True Corporation but now reorganized under Ascend Group in 2014, a spin-off of True Corporation and a subsidiary of C.P. Group." The C.P. Group is the sole operator of over 9000 of the 711 stores which allows "The company (True Money) makes use of its extensive 7'Eleven network in the country. The service produced other spin-offs like WeCard, in partnership with MasterCard, and TrueMoney Cash Card, for specialized top-up services like gaming... TrueMoney has offices in Thailand, Vietnam, Cambodia, Myanmar, Indonesia and the Philippines. TrueMoney has licenses to operate e-money in almost every Southeast Asian country. As the flagship venture, Thailand's TrueMoney counts Google and Alipay as partner payment platforms."
https://en.wikipedia.org/wiki/TrueMoney
TrueMoney is connected to the PromptPay system through Siam Commercial Bank. This way "more members of the public can enjoy easy, convenient access to financial services via PromtPay, which has until now only been available via a bank account" and "SCB will serve the more than three million TrueMoney customers by letting them top up eWallet Prompt Pay through the bank's three major channels: SCB Easy App, SCB Easy Net and ATMS, which are all available 24 hours a day".
https://www.pressreader.com/thailand/the-nation/20170918/282011852532440
Japan
Meanwhile in Japan there are talks of launching a digital currency via the banks to push towards a cashless society before the Olympics in 2020.
https://www.technologyreview.com/the-download/608963/japanese-banks-are-planning-to-launch-j-coin-a-digital-currency-meant-to-kill/
How is Omise/OmiseGO positioned?
Globally
Alipay currently is the leader in online and mobile payments. It has 520,000,000 users and it is making its way to the US. Alipay has seen more than 1 billion transactions in a day.
-https://intl.alipay.com/
-https://www.forbes.com/sites/helenwang/2016/10/30/will-alipay-dominate-global-mobile-payments/#21ca8b1760af
-https://www.techinasia.com/alibaba-alipay-1-billion-transactions
Alipay is connected via investment to Ascend (the corporation invested in TrueMoney and Omise/OmiseGO):
"Ant Financial, the company behind China's digital payment giant Alipay, has ramped up its global expansion with an investment in Thailand's Ascend Money."
https://www.cnbc.com/2016/11/01/ant-financial-invests-in-thailands-ascent-money-as-part-of-global-expansion-play.html
https://www.pressreader.com/thailand/bangkok-post/20170623/282071981903554
Omise has already been involved in Fintech that allowed merchants to accept Alipay outside of China without needing to have a Chinese bank account.
-https://www.omise.co/alipay
With all of this said, I look forward to hearing the release of their white-label SDK Wallet details regarding the cash in/out points that have been stated to be announced this quarter. For those who wondered what what meant by Blockchain release "by 2018" in my previous article - I believe the release will occur in stages starting at the transition of the year from my reading of the information that has been provided in the white papers and via Jun's twitter.
Disclaimers: This is not investment advice and it is merely sharing information that is publicly available. Any speculation or decisions regarding your money are your own. I own OMG and really admire their company and I have no other formal relationship.